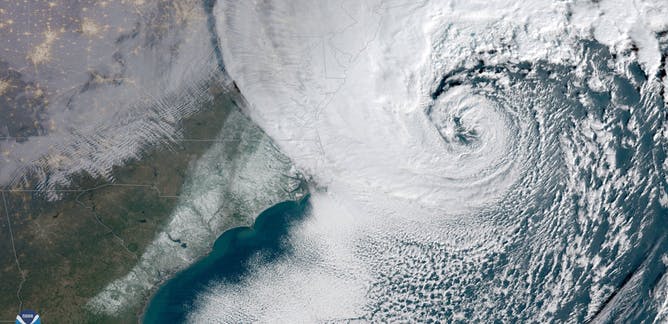 What is an east coast low and how do they affect Queensland?
These are sea borne storms that form in the southern Coral Sea or off New South Wales and have been described as storms that bring a lot of sustained rain to destructive coastal  storms that simply stall for some time and can affect from Central Queensland right down to Victoria.
Broadly, an east coast low is a strong low pressure system that develops on or near the east coast of Australia.
But they are different from both:
Tropical cyclones (which form over the warmer waters of the north); and
Lows embedded within the westerly wind belt that flows around the Southern Ocean (which tend to scoot through quickly).
East coast lows are particularly dangerous because they often linger along the coast, resulting in long periods of high winds and heavy rainfall.
These negative impacts are only made worse when combined with large swells and high tides.
Wind gusts in east coast lows have been recorded up to category two cyclone strength.
There are generally a few east coast lows a year, but every few years there is a big one that does a lot of damage.
Past east coast lows
Sydney to Hobart, 1998 — six sailors died, five yachts sank, more than 60 yachts retired and 55 participants had to be rescued by helicopter. The disaster resulted in a major review of how wind warnings are communicated.
Pasha Bulker, 2007 — it was the morning Newcastle will never forget. As the sun hit the shore, locals woke to find a massive coal ship on the beach. The June storm resulted in nine deaths along the NSW central coast. The ship was pummelled by waves for three weeks before it was refloated in a salvage operation that cost its Japanese owners $1.8 million.
April 2015 — three people died when an east coast low battered Sydney, the Hunter and the Central Coast. At the time, the BOM said gusts reached to 135kph, but the main impact from the storm was the flooding. In a 24-hour period, 119mm was recorded at Sydney Observatory Hill.
June 2016 — this storm is best remembered for the images of a swimming pool falling into the ocean. Five people died during the storm, which brought heavy rain and caused coastal erosion. Impacts were felt from Queensland to Tasmania.
As usual, check the warnings with the BOM or your  emergency broadcaster  such as Moreton Bays Home Of Emergency Information 101.5 or Brisbane 612 Khz ABC on Facebook or radio and heed the advice of your local emergency services.