Artisans' Guild of Caboolture & Districts
Information
Adults Classes
Macrame with Sandy- Saturday  24th OCT, Wednesday  7th OCT and 21st OCT, Learn to Macrame Pot Hangers, Wall Hanging, Tree of Life, Feather Wall Hanging, Owl Wall Hanging and Recycle Rag Rug. For bookings and times call Sandy on  0438 756 837
Craft Working Together Group- Every Tuesday 9.30am-12.30pm, Bring in your craft projects and work together in a studio environment with friendly like minded crafters.  All Welcome. Contact Greta Silk, 549 86 393 or the Artisans' Guild on 388 86 333
Painters' Group- Every Thursday from 10am-2pm. Bring along your artwork to work on in a studio environment. Share ideas, techniques and build friendships. All welcome. Contact Dawn Gallagher 0400 302 166
Watercolour with Rob Thomas- Held every Friday from 11am-1.30pm.
Learn to paint like a master with watercolour in these informative and enjoyable lessons. For more information and bookings contact Rob 388 82 262
Imaginative Art with Chris Edwards- Let your imagination run free with these creative  informative classes. Held every Friday from 10am to 12pm.  For more information and bookings contact Chris 549 57 273
Quilters Working Together- Held every Saturday morning. Bring in your quilting  projects and work together in a studio environment with friendly like minded people.  All Welcome. Contact Lorraine Magowan, 549 86 393
Kids and Teens Classes
Artventurous Kids' Art Lab-  Sign up for term 4. These classes will get imaginations firing again. We explore, innovate and inspire kids' by introducing them to a variety of art styles and mediums.
Classes are designed to uncover students' talents and interests. Mondays' ages 6-10 years and Tuesdays' 11-16 years from 4pm-5pm during school terms. For more information and to book, please visit artventurouskids.com.au or call Karla on 0497 071 003
Jane's Childrens' Group - Fun art for children. Held every Saturday morning.  For more information and bookings contact Jane 388 82 287
Artisans' Guild of Caboolture & Districts
The Artisans Guild of Caboolture & Districts,  was formed in 1988 to promote community interest and improve skills in the traditional arts, to provide a venue for people in the Caboolture district to display and sell their arts and crafts and to provide a meeting place for people with similar interests.
They work closely with all local art and craft groups and with local charities to assist in their activities.
The guild also raises funds and makes donations to various charitable organizations.
The badge was designed to show an artist's easel formed by the letter 'A' for artisan in blue, with the 'G' for guild within it in gold, the two colours of the Artisans' Guild.
Their motto, 'Discordia Frangimur' is Latin for Discord Weakens and was chosen to encourage our members to work in unison even though they may have diverse interests.
The patron is Greg Chippendale. Greg presents the prizes at the annual exhibition, and attends as many functions as his busy schedule allows. His continuing support is greatly appreciated by our members.
The Artisans Guild of Caboolture & Districts has  their Gallery Corner of Old Bay Road and Maitland Road, Burpengary East.
The craft shop is situated in King Street just outside the Lower entrance to Caboolture Square.
Their Postal Address: PO Box 1135, Caboolture, Qld 4510
You can Phone the Gallery: 07 3888 6333
or Phone the Shop: 0410 120 661
Plus you can email the Gallery: gallery@artisansguild.org.au
Their website is at https://artisansguild.org.au/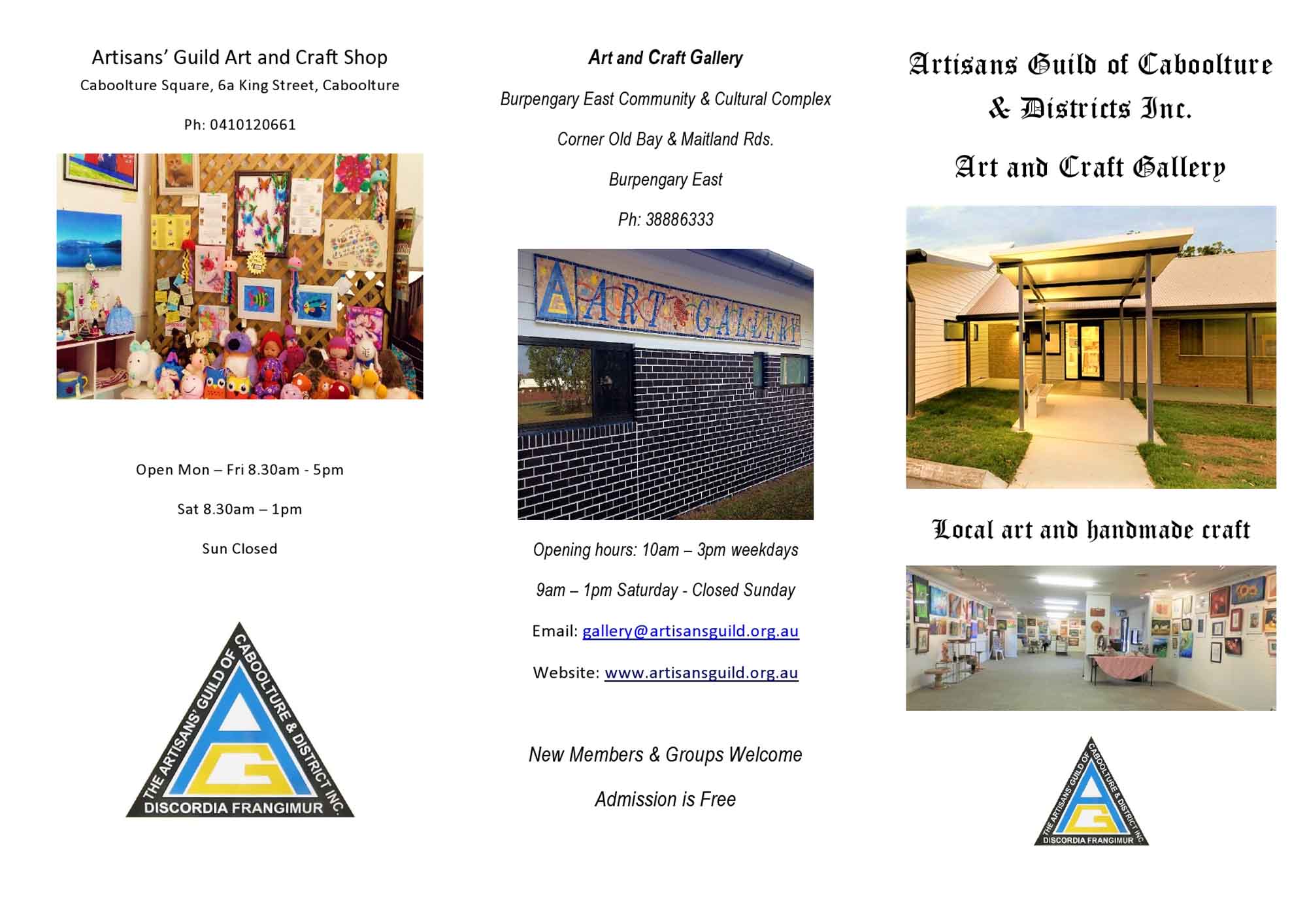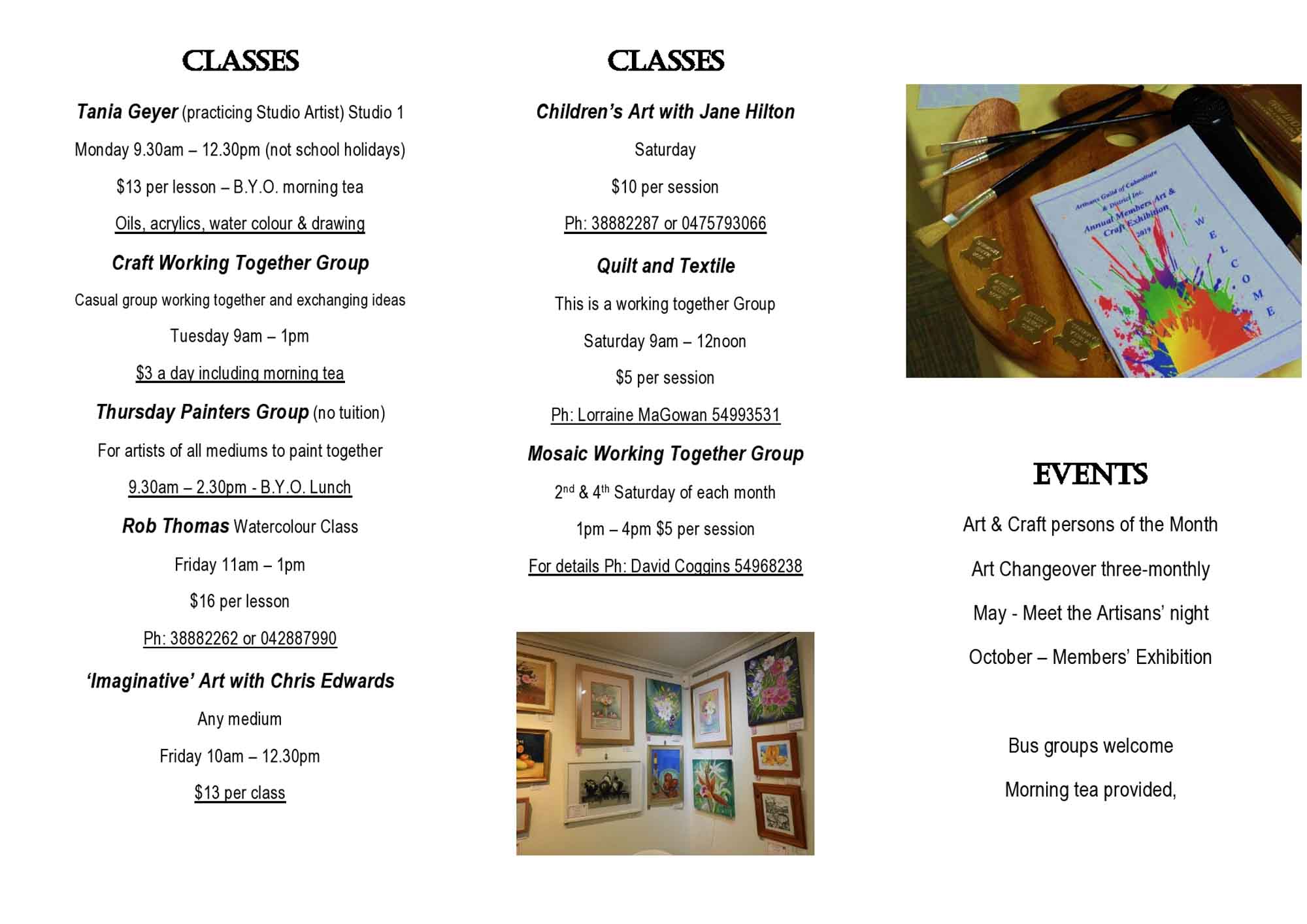 What is Happening at Artisans' Guild
The Artisans' Guild of Caboolture and Districts up and coming Classes and Working Together groups
The Art & Craft Shop in Caboolture Square facing onto King St. and is now opening 3 days a week Wednesdays, Thursdays and Fridays from 9am to 1pm as from May 26.
The Old Bay Road Art & Craft Gallery, corner Old Bay & Maitland Roads, Burpengary East , opened on the 13th January.
Sandy Fish - Macrame Classes  Saturday 25th July, Wednesday 12th August, Saturday 22nd August , Wednesday 26th August. For information and bookings phone Sandy 0438756837
Karla Brown – Artventurous Kids Classes  weekly commencing 20th & 21st July Bookings and information go to www.artventurous.kids.com.au or Ph: 0497071003
Craft Working Together Group every Tuesday 9.30 – 12.30 contact Greta Silk 54986393 or Artisans' Guild on 38886333
Thursday Painters' Group  weekly on Thursdays 10am – 2pm at the Old Bay Road Gallery corner Old Bay & Maitland Roads Burpengary East – contact Dawn Gallagher 0400302166
Rob Thomas Watercolour Class Fridays 11am to 1.30pm for information and bookings    Ph: Rob 38882262
Chris Edwards Imaginative Art – Fridays 9am to 12midday for information & bookings  contact Chris on 54957237
Quilters' Working Together Group – every Saturday morning at the Old Bay Rd. Gallery corner Old Bay & Maitland Roads, Burpengary East, for information and bookings   Ph: Lorraine Magowan 54986393
Jane's Childrens' Group – Saturday mornings -  Call Jane to book 38882287
Exciting new art classes coming
Art Lab by Artventurous Kids
Art Venturous Kids Classes School terms commence Monday 3rd Feb, Tuesday 4th Feb, Thursday 6th Feb, then each week.
Time: 4pm-5pm, Mondays, Tuesdays and Thursdays
Cost: Full Term $153 pp for Term 1 (9 weeks.)  Visitor $25.00 per class, any week (bookings essential)
Ages: 3-5 years Tuesdays,  6-10 years Mondays  & 11-15 years Thursdays
Focus: To introduce and inspire children in all areas of art and craft, everything from, illustration, painting, sculpting, design and more.
For further information and To Book: visit www.artventurouskids.com.au
Macramé classes, teaching  wall hangings, pot planters, owls, tree of life and more. The next available places for 'Sandy's Macramé Classes' will be on the 18th March to book call 0438756837 or email sandyfish58@gmail.com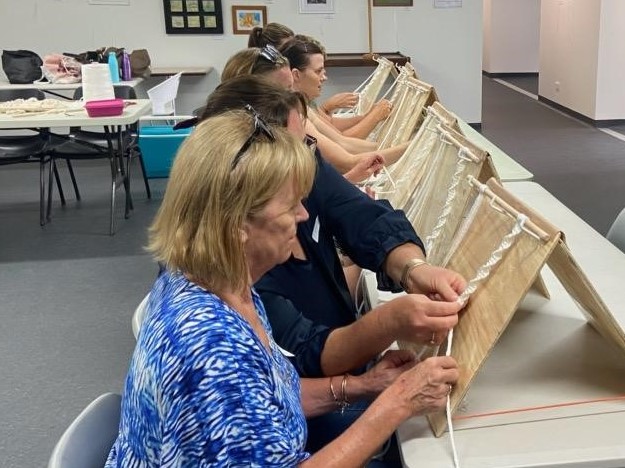 Message From Maurice Hardy from the Artisan's Guild:
A big thank you to 101.5FM for such an informative commentary featuring the Artisans Guild of Caboolture; its events and services.
The Guild, and its hard-working, dedicated committee, provides a valuable outlet for local painters and crafters to showcase and promote their creations.
A community organization, the Artisans Guild strives to offer a friendly environment for members to meet, work and interact in a relaxed, inclusive atmosphere.
This Month