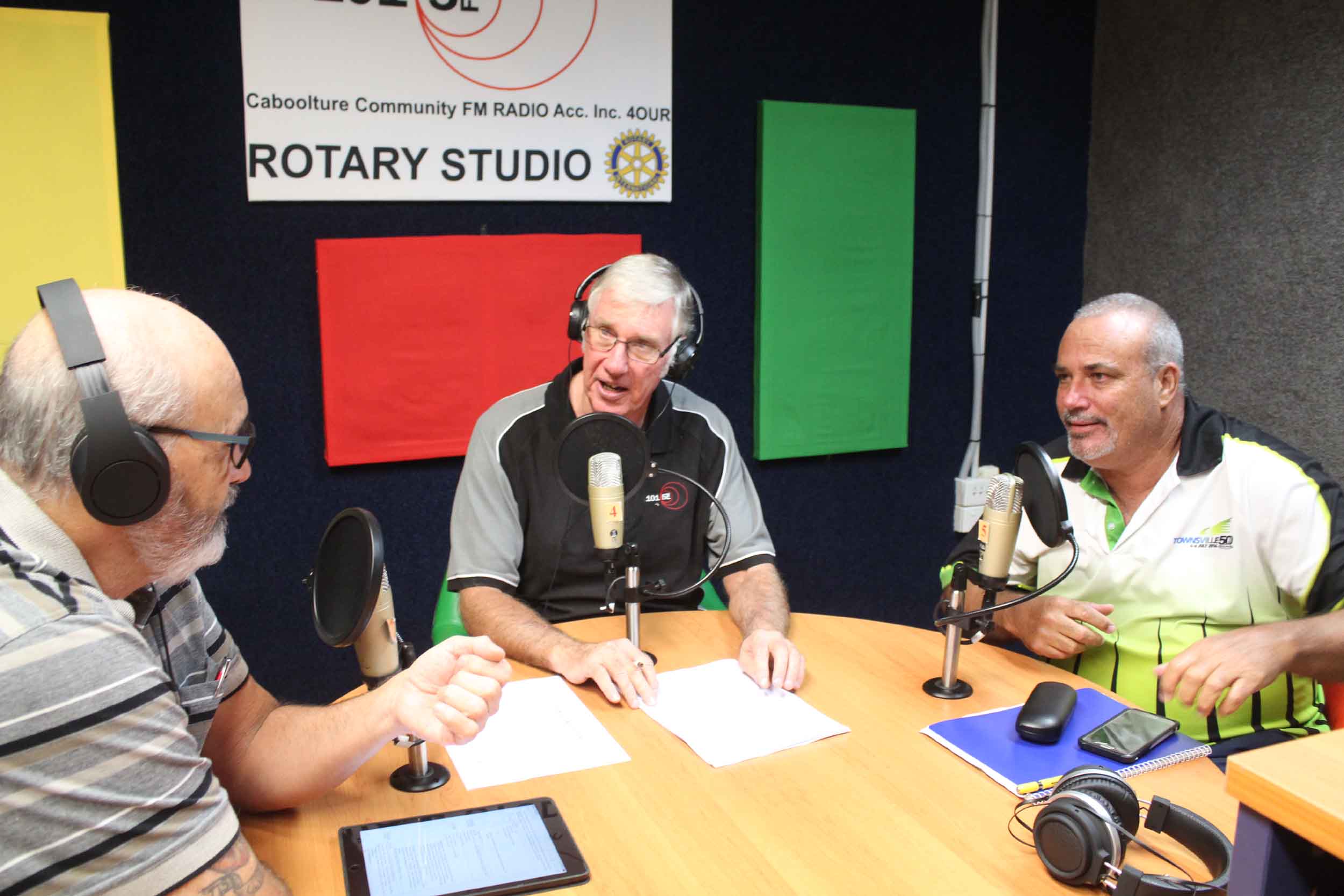 The Grapple on Sport 101.5 2019-05-09
The Grapple: 9 May 2019
Analyse, dissect, bisect all the action from round 8, chat live with Amy Bock from Suncorp Stadium for start of the 1st ever Magic Weekend of RL- 4 days, 16 teams, 8 games and 1 venue, Macca joins us after 6.40 tonight to share his thoughts on the Magic Round and preview round 9 of the NRL.
Time
Segment
6.02-6.19pm
Segment 1: Panel

·       Introduction

·       NRL Round 8 analysis and ladder

·       Local games results:

o   ISC

o   SCGRFL and Brisbane byes last weekend as rep round for the 47th Battalion

·       Rugby League News:

6.22-6.30pm
Segment 2: Interview: Amy Bock live from Suncorp Stadium:

o   Magic Weekend

o   47th Battalion results

6.30-6.38pm
Segment 3:

o   Interview follow up

o   Rugby League NRL news (continued)

o   Preview local games

o   On Saturday, May 11, the Queensland Universities team will play in their interstate match against New South Wales. The student Maroons squad features seven players from last year: Matt Butler, Sam Collins, Dylan Haaijer, Declan Morrissy, Dalton Phillips, Josh Rogers and Brayden Torpy. They will form the core of the Queensland team after being part of the successful side that overpowered NSW Universities 52-12 last year.

o   On Sunday, it's Queensland Residents v NSW Residents at Dolphin Stadium Sunday, May 12 - 1.10pm kick off (Live on GEM in Queensland and NSW); Curtain raiser - 11am – National Under 18 final between Tweed Seagulls and SG Ball winners the Illawarra Steelers.

o   ISC (bye round), SCGRFL and Brisbane A-Grade

6.42-6.58
Segment 4: Greg McCallum

- our resident NRL expert former 1st grade referee, English Super League boss and Chairman of the NRL March Review Committee for 10 years:

·       Thoughts on Magic Weekend- started by English RL in 2007- we're only 12 years behind!!

·       NRL Round 9 predictions

·       Other

6.58
Sign off
Review NRL round 8: few weeks ago 6 games lost by an average of 4 points per game; this round 7 games lost by 18 points per game and 7 home teams won
Broncos 6 Rabbits 38; Walker; Bennett
Cowboys 28 Titans 14 and Sharks 20 Storm 18
Raiders 30 Panthers 12 in Wagga, Eagles 18 Dogs 10 - Reuben Garrick scored all 18 of Manly's points and Roosters 42 Tigers 12
Warriors 18 Knight 36 and Eels 32 Dragons 18
Ladder:
Local games:
ISC round 9:
Tweed (7) 36 d Devils 6 (5); Jets (8)  28 d Capras 18 (11); Dolphins (10) 0 lost to Bears 48 (3); Cutters (9) 22 d Pride (11) 6
Magpies (12) 4 lost to Falcons (1) 7 12 tries to 1; Jon Reuben 4 tries and Todd Murphy 12 from 12- 42-0 at half time; Seagulls (4) 38 d Tigers (2) 22 and Hunters (13) 14 lost to Blackhawks 24 (6)
Ladder
Byes in the SCGRFL and Brisbane competitions as rep games played with the Central Crows Men's, Women's and Emerging Women's teams announced to represent the region in the upcoming month at the completion of the 47th Battalion carnival at Sunshine Coast Stadium- chat with Amy later about selections.
Men's was won by Toowoomba 20-0 over Sunshine Coast and women's won by Rockhampton also 20-0 over Central Highlands. Player of the men's final was Ben Sullivan while Central Highlands Highlands captain Chris Conway was the player of the men's carnival and Tamika Upton from Rockhampton was the women's player of the carnival.
Rugby League news:
In a first, female referees Kasey Badger and Belinda Sleeman (Sharpe) have been promoted to the NRL refereeing full-time ranks. Originally on part-time contracts leading into the 2019 season, both received upgrades from referees' boss Bernard Sutton on Wednesday in a major boost towards their chances of one day officiating a game in the middle. The pair have been steadily working their way through the refereeing ranks as part-timers in recent years - while holding down regular jobs. Emerging referee Todd Smith was also upgraded to full-time.
The Queensland Rugby League announced the Queensland to play New South Wales at Dolphin Stadium next Sunday last weekend but then NRL duties forced the selectors to update the team with Melbourne Storm aligned trio Harry Grant (Sunshine Coast Falcons), Billy Walters (Easts Tigers) and Pat Kaufusi (Easts Tigers) withdrawn while Titans and Burleigh back Jesse Arthars was also withdrawn.
The updated team list is:
Zac Santo – Townville Blackhawks
Richard Kennar – Wynnum Manly Seagulls / Brisbane Broncos
Delouise Hoeter –  Wynnum Manly Seagulls
Connor Broadhurst – Norths Devils
Izaia Perese –  Redcliffe Dolphins / Brisbane Broncos
Josh Cleeland – Ipswich Jets
Sam Scarlett – Wynnum Manly Seagulls
Nat Neale – Ipswich Jets
Mitch Cronin – Wynnum Manly Seagulls
Corey Jensen – Townsville Blackhawks / NQ Cowboys
Keenan Palasia – Wynnum Manly Seagulls
Temone Power – Townsville Blackhawks
Tom Gilbert – Townsville Blackhawks / NQ Cowboys
Christian Hazard – Tweed Seagulls
Tino Fa'asuamaleaui – Sunshine Coast Falcons / Melbourne Storm 
Brett Greinke – Easts Tigers
Darryn Schonig – Sunshine Coast Falcons
Nathan Watts – Redcliffe Dolphins
Coach: Jon Buchanan
Papua New Guinea will be the first host in an ongoing commitment to play NRL pre-season trial matches in Pacific nations as part of a joint initiative between the ARL Commission and Federal Government. As part of the commitment to boost the social impact of rugby league, Peter Beattie, Chair of the ARLC also announced that pre-season trials with some of the game's biggest stars would be held in Samoa, Tonga and Fiji in the years following the 2020 match in PNG.
The Canberra Raiders have landed another major signing coup by coming to terms with English halfback George Williams for next season. Williams will join the Green Machine on a three-year deal taking the number of English imports in the national capital to five. Williams, 24, has played 160 matches for Wigan in the English Super League and as is currently signed with the Warriors until the end of 2021. But the Raiders paid a transfer fee to secure the services of gun import John Bateman this season and the club is believed to have done a similar deal with Wigan. When news of Williams joining the Raiders first surfaced in March, there were reports of Wigan placing a $450,000 transfer fee on the halfback. The Raiders are believed to have been negotiating with Wigan for the past two months and have struck a deal. The Raiders five English internationals include Josh Hodgson, Elliott Whitehead, John Bateman and Ryan Sutton who have already established themselves as brilliant buys for the club.
The apparent disharmony between NRL superstar Latrell Mitchell and the Sydney Roosters reportedly stems from the centre being paid half of what he's worth on the open market. Apparently Mitchell is currently signed to the tri-colours on a contract worth $450,000 a year, which goes up by $100,000 next season in his final year of the deal. Following a phenomenal start to 2019, including a 26-point haul in a terrorising display against the Tigers, rival clubs are now lining up to throw some serious cash his way and more than double the amount of money he's on, once he officially comes on to the open market on November 1. His meteoric rise and the money available as a result of it is the source of the dispute with his current manager Steve Deacon. Deacon has been Mitchell's agent since his junior days and negotiated his last deal in addition to the upgrade and extension that keeps Latrell at the Roosters until the end of next season. Another point of contention is the Roosters' reported treatment of Mitchell's brother Shaquai. Members of the centre's family believe the club could have done more to give his brother a chance to play alongside him in the NRL. After making the club's top 30 roster at the beginning of the year, Shaquai has fallen off the radar. Rival NRL clubs are circling and are prepared to offer the disgruntled star more than $1 million a year with a view to playing him at fullback or five-eighth.
Is State of Origin's most unlikely return gathering momentum. At the start of this NRL season you would have got odds north of 100-1 to see Mitchell Pearce's name back in the NSW Blues squad and they would have blown out even more after a horror month of football from the Newcastle Knights following their Round 1 win. However, two man of the match performances from the veteran halfback in the last two weeks have breathed new life into Newcastle's season, and perhaps revived the longest State of Origin career a player has ever had without tasting a series victory.
The potentially serious knee injury to Maroons incumbent hooker Andrew McCullough has Queensland looking at a hooker crisis heading into the 2019 series. McCullough played all three games of the 2018 series as starting hooker and while his form has been down this season his experience would have been an asset for coach Kevin Walters. In-form Roosters hooker Jake Friend has already been ruled out for the series with a biceps injury. Ben Hunt is considered the favourite to wear the No.9 jersey, but Daly Cherry-Evans injury means the Dragons halfback may be required in the halves. Cameron Smith looms for a potential fairytale return, but coach Kevin Walters is reluctant to sound out the Maroons legend for an Alan Langer style comeback. "I'm not sure where all the rumours started from, but I won't be picking up the phone. Corey Norman injury permitting, Moses Mbye and Anthony Milford could come into consideration for the bench utility role, if Hunt and Cherry-Evans start as expected.
Sydney Roosters halfback Cooper Cronk says he is ready to make a call on his NRL future and will make an announcement in the next few weeks. Cronk is in the final season of his two-year Roosters deal but hasn't ruled out playing on - and potentially breaking through the 400-game barrier. The 35-year-old will run out for his 356th first-grade match on Sunday against Canberra at Suncorp Stadium as part of Magic Round. With it, he will go past former Queensland State of Origin and Australian Test teammate Darren Lockyer into second on the all-time list of most appearances. Only former Melbourne teammates Cameron Smith - who is eight games away from his 400th game - sits ahead of him.
Experienced official Phil Moss is set to be handed the job of getting the Sharks back on their feet off the field. Moss, currently Head of Football at the Titans, has beaten a series of other candidates for the role of general manager of the Sharks. He will oversee the operations of the football team and rookie coach John Morris. Others who were in line for the job included ex Sharks coach Stuart Raper, ex-Cronulla star Adam Dykes, former international Phil Bailey, Players Association executive Paul Massey and former Test cricketer Stuart Clark. Moss worked with the Sharks several years ago and has also held posts at the Wests Tigers, Penrith Panthers and Parramatta Eels.
Leeds Rhinos have sacked head coach David Furner after just 14 games in charge of the English club. The Rhinos sit third from bottom of the Super League and Furner, who previously coached at Canberra, arrived in the off-season. With the signing of a number of high-profile recruits including Konrad Hurrell and Trent Merrin, Leeds had hoped to be higher in the table. Super League ladder after Round 14: St Helens 26, Warrington 22, Wakefield 16, Catalans 16, Hull FC 16, Salford 14, Castleford 14, Wigan 12, Huddersfield 10, Leeds 8, Hull KR 8, London 6.
Amy:
The Men's, Women's and Emerging Women's teams were selected after the 47th Battalion rep games last weekend.
Women will travel to Mackay in two weeks to face the Northern Marlins for possible selection in the Queensland Country Women's team to play at the Women's National Championships at the Gold Coast.
The Men will face off against the Marlins, SEQ Water Dragons and BRL Poinsettias at the QRL State Championships on Friday, May 31 - Sunday, June 2 at Southport.
Congratulations to the following players who were selected.
Central Crows - Men
Chris Aiton (Sunshine Coast)
Sam Bernstrom (Sunshine Coast)
Sam Bielefield (Toowoomba)
Hnaloan Budden (Toowoomba)
Chris Conway (Central Highlands)
Matt Duggan (Toowoomba)
Ray Ebsworth (Central Highlands)
Steve Franciscus (Toowoomba)
Billy Jackwitz (Toowoomba)
Danny Kerr (Sunshine Coast)
Callum Klein (Sunshine Coast)
Rohan Klein (Sunshine Coast)
Blake Mara (Toowoomba)
Nat McGavin (Sunshine Coast)
Dylan McGrath (Sunshine Coast)
Paul McKewin (Sunshine Coast)
Dalton Perrins-Phillips (Sunshine Coast)
Kevin Sheriff (Bundaberg)
Ben Sullivan (Toowoomba)
Coach: Chris Munro
Central Crows - Women
Chelsea Baker (Gladstone)
Deb Barchard (Central Highlands)
Reeghyn Beardmore (Western)
Annette Brander (Sunshine Coast)
Layla Fauid (Central Highlands)
Stef Gallagher (Central Highlands)
Steph Hancock (Western)
Zeah Lane (Gladstone)
Kody House (Gladstone)
Michaela Peck (Sunshine Coast)
Rhiannon Revell-Blair (Rockhampton)
Krystal Sulter (Gladstone)
Lana Sheedy (Sunshine Coast)
Elle Stitt (Central Highlands)
Mariah Storch (Central Highlands)
Tamika Upton (Rockhampton)
Sharnee Werahiko (Gladstone)
Coach: Michael Jeffs
Central Crows - Emerging Women
Rikarra Benjamin (Gladstone)
Gemma Brennan (Rockhampton)
Lauren Cockburn (Western)
Courtney Douglas (Bundaberg)
Kelli Dunlop (Sunshine Coast)
Sarah Field (Rockhampton)
Lakila Gudgeon (Rockhampton)
Zara Johnson-Gamia (Bundaberg)
Tashina Ketchup (Rockhampton)
Cass Marks (Central Highlands)
Meg Neven (Rockhampton)
Nakita Rhind (Gladstone)
Charleigh Robinson (Central Highlands)
Mikayla Roe (Rockhampton)
Kailah Rogers (Central Highlands)
Kiara Taylor (Western)
Coach: Steve Savage
Development camps, National Championships, State of Origin all pre-cursors to the NRL Women's Premiership which will be held from on Friday, September 13 – Sunday, October 6. The competition will remain a four-team, three-round concept with the top two sides to battle it out for the title. The Broncos will be chasing back-to-back titles. The Broncos, Sydney Roosters, St George Illawarra Dragons and Warriors will sign new recruits throughout the season with Premiers Brisbane and grand finalists Sydney Roosters set to appoint new coaches for the Women's NRL Premiership after confirmation that Paul Dyer and Adam Hartigan would not continue in the roles this season. Dyer guided the Broncos to the inaugural NRLW title with a 34-12 defeat of Hartigan's Roosters in the 2018 grand final at ANZ Stadium but both have stepped aside to focus on other roles at their clubs this season.
The Broncos and Roosters are yet to announce their replacements for the 2019 NRLW season but are expected to do so soon as clubs are keen to begin contracting players.
Preview local games:
ISC: Bye this weekend
SCGRFL Vantage Homes Cup Div. 1: Round 7
Beerwah/Gympie, Nambour/Kawana, Caloundra/Noosa and match of round Caboolture v Stanley River
| | | | | | | | | | | |
| --- | --- | --- | --- | --- | --- | --- | --- | --- | --- | --- |
| POS | TEAM | P | W | D | L | B | F | A | PD | PTS |
| 1 | Stanley River | 6 | 4 | 0 | 1 | 1 | 178 | 70 | 108 | 21 |
| 2 | Caboolture | 6 | 4 | 0 | 1 | 1 | 178 | 74 | 104 | 21 |
| 3 | Beerwah | 6 | 3 | 0 | 2 | 1 | 147 | 70 | 77 | 18 |
| 4 | Gympie | 6 | 3 | 0 | 2 | 1 | 110 | 94 | 16 | 18 |
| 5 | Nambour | 6 | 4 | 0 | 2 | 0 | 96 | 98 | -2 | 18 |
| 6 | Maroochydore | 6 | 3 | 0 | 3 | 0 | 122 | 135 | -13 | 15 |
| 7 | Noosa | 6 | 1 | 1 | 3 | 1 | 92 | 166 | -74 | 13 |
| 8 | Kawana | 6 | 0 | 1 | 4 | 1 | 80 | 160 | -80 | 10 |
| 9 | Caloundra | 6 | 1 | 0 | 5 | 0 | 60 | 196 | -136 | 9 |
Brisbane RL A-Grade: All on Saturday: 1pm: Magpies/Dolphins, Diehards/Tigers 3pm and Panthers/Seagulls 4.30pm
| | | | | | | | | | |
| --- | --- | --- | --- | --- | --- | --- | --- | --- | --- |
| POS | TEAM | P | W | L | For | Agst | PD | PTS | % |
| 1 | Diehards | 7 | 5 | 2 | 247 | 154 | 93 | 17 | 160.39 |
| 2 | Seagulls | 7 | 5 | 2 | 210 | 172 | 38 | 17 | 122.09 |
| 3 | Panthers | 7 | 5 | 2 | 166 | 160 | 6 | 17 | 103.75 |
| 4 | Dolphins | 7 | 2 | 5 | 144 | 162 | -18 | 11 | 88.89 |
| 5 | Tigers | 7 | 2 | 5 | 162 | 216 | -54 | 11 | 75.00 |
| 6 | Magpies | 7 | 2 | 5 | 154 | 219 | -65 | 11 | 70.32 |
NRL: Greg McCallum:
Thoughts on Magic Weekend-starts tonight with Titans/Sharks
Preview round 9