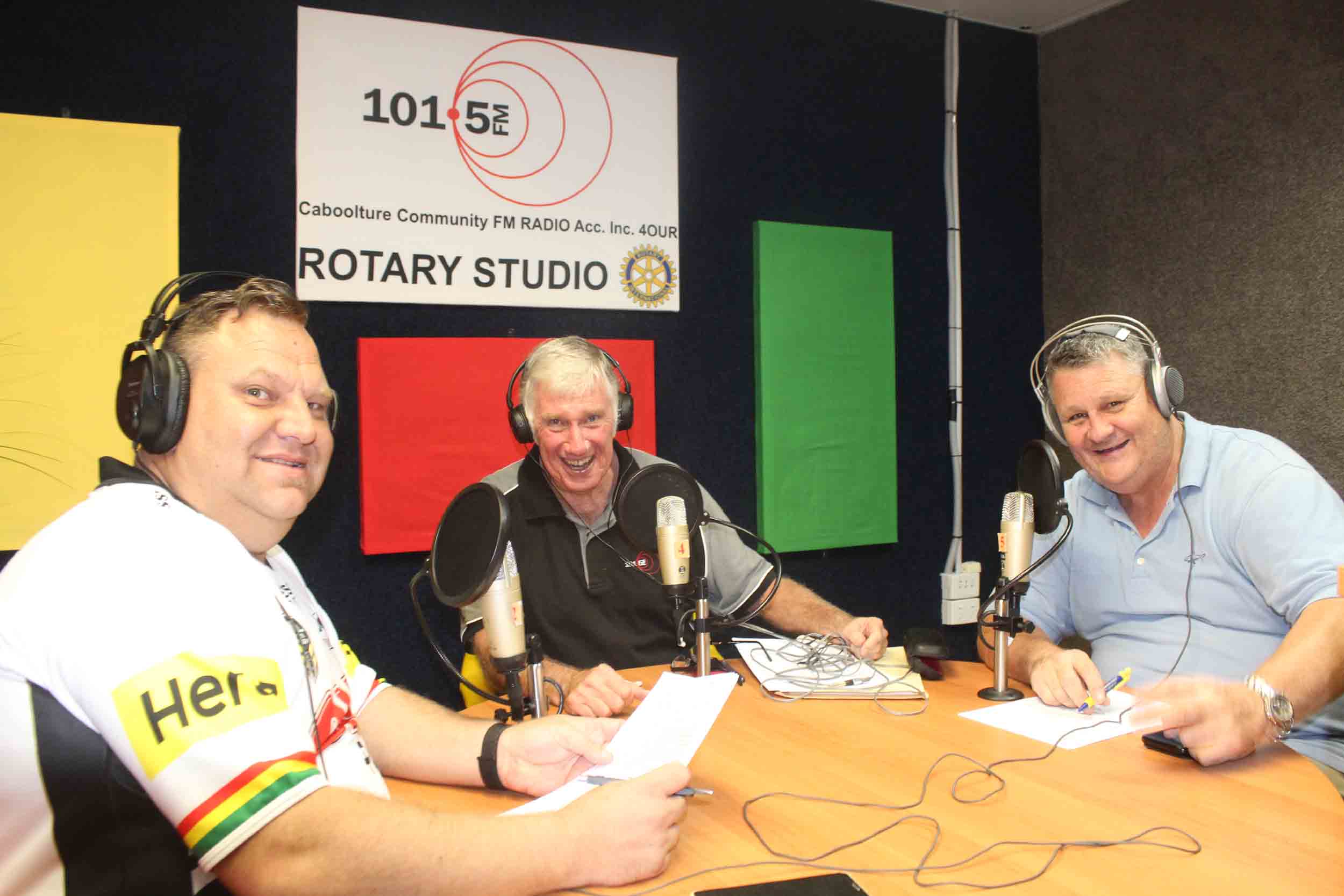 The Grapple On Sport 101.5 2019-04-18
The Grapple: 18 April 2019-good thing about draw this weekend- games tonight, tomorrow, Sat, Sunday and Monday which means only 3 sleeps next week before round 7 starts on Anzac Day Thursday 25- how lucky are the partners
Time
Segment
6.02-6.19pm
Segment 1: Panel

·       Introduction

·       NRL Round 6 analysis and ladder

·       Local games results:

o   ISC, Colts and Mal Meninga

o   SCGRFL

o   Brisbane

·       News:

6.22-6.28pm
Segment 2: Interview: Shane Moon

·       Cowboys news

·       ISC: Cutters, Blackhawks, Pride and Capras news

·       Any local items of interest

·       NRL selections

·       Niff Nuff Award

6.28-6.38pm
Segment 3:

o   Interview follow up

o   NRL news (continued) and preview ISC games round 7

6.42-6.58
Segment 4: Greg McCallum

- our resident NRL expert former 1st grade referee, English Super League boss and Chairman of the NRL March Review Committee for 10 years:

·       GI retirement and interesting comment today by Blues Coach Brad Fittler today saying that had Greg Inglis not declared for Queensland and played for New South Wales, the Maroons' eight-year Origin winning-streak would never have stood.

·       NRL Round 6 predictions

·       Other

6.58
Sign off
Live scores during the program of the Cutters vs Bears and Pride vs Seagulls – started at 6pm tonight and don't forget, straight after the Grapple our motor sports program between 7-7.30pm –Motor Torque spelt torque- with Steve Buchanan from the Qld Motor Sports Officials Association –LIVE FROM BATHURST
NRL: Round 5  - well in round 4 we had 3 golden point games in 1 round for the 1st time in history and in round 5 we had the 1st 3 games all won by 6 points
ISC: Round 6
Falcons 30 d Tigers 6 at SC Stadium with a dominate first half performance setting up the big win in the round 6 top-of-the-table clash; plenty of Melbourne Storm talent on display as the club's two feeder teams faced off on a historic day for the Sunshine Coast, as locals and visitors alike filed through the gates in droves to watch Round 5 NRL clash between the South Sydney Rabbitohs and the New Zealand Warriors; Falcons hooker Harry Grant plenty of good work to help Falcons lead 16-0 at half-time and then 22-0 after 2 minutes; Falcons are now sole leaders of the Intrust Super Cup after an impressive six wins from six games in season 2019.

Nathanael MCGAVIN double and Todd Murphy try and 5 goals (14 points) -64 points for season to date.
Townsville Blackhawks put the Redcliffe Dolphins to the sword, scoring 36 unanswered points in their convincing 36-6 victory with hooker Krys Freeman and centre Justin O'Neill -2 tries had strong games.
Bears 26 d Seagulls 18
Souths Logan winger Matthew Soper-Lawler make a key impression in his 50th Intrust Super Cup game; crossing for two tries as the Magpies held on against the Pride to win 16-12 after Pride attempted to claw back from 16-6 at half-time.
The Tweed Seagulls made use of a stiff tailwind in the first half to take a hold on the contest before withstanding a spirited comeback from an undermanned Mackay side, holding on for a narrow 14-12 win. Shane Wright a double for Cutters.
PNG Hunters came out firing against Central Queensland Capras at McIndoe Park in Emerald determined to get their first win of the Intrust Super Cup season with the fire and the passion paying off as the Hunters finished 28-10 victors. Hunters coach Michael Marum said he was very pleased with his team's efforts.

The Capras' 500th Intrust Super Cup game was quite the spectacle; there was a massive crowd, including a big Papua New Guinea contingent proudly waving signs and flags, fire, sparklers and a drone even dropped the ball off before kick-off.
Devils proved too strong for the Jets winning 31-14
Ladder:
Colts: Pride on top of ladder on 12 points with Blackhawks 2nd on 10
MM: Table after 6 rounds-top 4 into finals:
Wynnum (2) v Falcons (3) and Magpies (1) v Tweed (4) - both games at Kougari Oval next Saturday at 1.45 and 3.20pm respectively
SCGRFL: Vantage Homes Cup Division 1-round 5- all played last Sunday as the NRL game on Saturday at SC Stadium-Rabbits v Warriors
Division 1: Kawana- bye
Beerwah 42 d Nambour 12-Matthew Kidd 2 tries and 7 goals-was only 18-6 at half-time;
Gympie 24 d Caboolture 16-1st loss of season for the snakes; Riley Moore 2 tries and Jacob Harney 43 goals for Gympie and Connor Cox double for Caboolture who led 12-6 at half-time
Maroochydore 46 d Caloundra 6-Rohan Messer 3 tries and Tyler Oxenham 5 goals
Stanley River 46 d Noosa 10- even until 18th minute and became the Brett Doherty show- try and 4 goals for SR to lead 24-0 at the break
POS
TEAM
P
W
D
L
FF
FA
B
F
A
PD
PTS
1
Caboolture
5
4
0
1
0
0
0
178
74
104
17
2
Stanley River
5
3
0
1
0
0
1
152
58
94
17
3
Beerwah
5
3
0
1
0
0
1
123
42
81
17
4
Gympie
5
3
0
1
0
0
1
98
68
30
17
5
Nambour
5
3
0
2
0
0
0
88
92
-4
14
6
Maroochydore
5
2
0
3
0
0
0
88
119
-31
11
7
Kawana
5
0
1
3
0
0
1
64
126
-62
9
8
Noosa
5
0
1
3
0
0
1
64
142
-78
9
9
Caloundra
5
1
0
4
0
0
0
54
188
-134
8
Round 6: Easter break so back on 27 April with Gympie v Stanley River; Kawana v Maroochydore; Noosa v Beerwah; Caloundra v Nambour and Caboolture-bye
Division 2A: Bribie 26 d Beerwah 24-Tony Ainsworth 4 goals for Beerwah and Nathan Beckett 3 for Bribie but 5 tries to 4 was the difference after Bribie led 20-0; Caboolture 44 d Gympie 6; Maroochydore d Caloundra, Stanley River 30 d Noosa 28 in a very entertaining game with Noosa almost scoring on the siren after 60 metre play downfield and Coolum d Kawana 34-8
U/18's: Wins to Nambour, Caboolture, Maroochydore, Noosa and Kawana
Division 2B: all at Beachmere saw Mary Valley d Pomona 32-22-Tom Wheeler 4 goals for Mary Valley, Kilcoy d Palmwoods and Beachmere d Yandina 28-20 with Drew Hooper double for the home team
Women' Comp: Very own local women's comp with 8 teams- round 2 on the weekend
BRL A-grade round 5:
Diehards 30 d Dolphins 18- 5 tries to 3
Panthers 30 d Magpies 16 –again 5 tires to 3
Tigers lost 32-16 to Seagulls – 5tires to 3 yet again
Ladder:
Team
W
D
L
+/-
Pts
1
Valleys
5
4
0
1
69
13
2
Wynnum
5
4
0
1
56
13
3
Wests
5
3
0
2
2
11
4
Easts
5
2
0
3
-26
9
5
Redcliffe
5
1
0
4
-22
7
6
Souths Logan
5
1
0
4
-79
7
Round 6: Break for Easter next weekend so back on 27 April: Seagulls/Magpies, Tigers/Dolphins and Diehards/Panthers
BRL Reserve Grade: Wests 20 d Carina 16, Wynnum v Beenleigh, Easts v Normanby and Valleys bye
SEQ Women: Also have the break over Easter
Division 1: round 3- Easts 24 d Brothers Ipswich 12, Burleigh d Toowoomba and Wests d Tweed with bye for Souths Logan
NRL News:
Clint Gutherson was tight-lipped on his future at the Eels after reports emerged that he will test the market.
Parramatta has kicked off their preparations for the Easter Monday clash against the Wests Tigers in style by officially launching Bankwest Stadium last night with an open training session.  More than 8,000 fans jumped at the opportunity to watch the Eels get put through their paces under lights at the newly-built venue. Spectators were treated to a state-of-the-art light show before players signed autographs to round out the night.
The Eels will play nine home games at the venue through the rest of 2019, with the Wests Tigers hosting four games (starting with the Raiders on June 7) while the Bulldogs have one home game at Bankwest Stadium, against the Panthers on August 3. The venue will also host NSWRL Grand Final Day on September 29 as well as the Rugby League World 9s on October 18-19.
Jack de Belin could learn the outcome of his case against the NRL and ARL Commission as early as next Tuesday, meaning he could be free to play for St George Illawarra in their Anzac Day blockbuster against the Sydney Roosters. de Belin's case will wind up in Federal Court today with Melbourne Storm chairman Bart Campbell to take the witness stand and closing remarks.
The Dragons star forward is suing the game after he was stood down under the game's controversial "no fault" policy. For the past three days, de Belin's lawyers have argued NRL CEO Todd Greenberg and ARL Commission chairman Peter Beattie had no justification for the policy, which was described by barrister Martin Einfeld as "draconian. de Belin's legal team have argued that the NRL had no evidence of de Belin's actions or purported misconduct before standing him down. The case has also been made that there are a plethora of reasons why people might walk away from the game including refereeing controversies, concerns about concussion and alcohol and gambling advertising. In his testimony yesterday CEO Todd Greenberg said that he was concerned about the impact player behaviour was having on women and that they would walk away from the game. He told the court some of his daughter's friends had told him they were refusing to play casual touch rugby league because of the game's so-called "summer from hell". I sense Todd is being hung out to dry here
Paul McGregor's impressive 3-2 start to the season in the face of adversity has been rewarded by the Dragons' board in the form of a new two-year deal. McGregor's contract extension will keep in charge of the club through the 2021 NRL season.
English Super League:

Has not closed the door on Israel Folau making a return to rugby league. As an aside, the man who will defend Israel Folau in the biggest workplace termination battle in Australian sports history has been revealed as an experienced lawyer who has represented Jarryd Hayne, Dylan Walker and Salim Mehajer in their respective legal battles. Ramy Qutami has been hired by Folau to fight his corner in the code of conduct hearing with Rugby Australia that is expected to begin later this month.
Bids to bring New York and Ottawa into the British game are one step closer to becoming a reality. The decision now rests with the RFL board who will rubber stamp the two clubs' bids. If successful, Ottawa and New York would join Toronto in the British rugby league system.
A shoutout to Wales international Rhys Williams who was given a well earned rest on the weekend after 177 consecutive games. Williams' remarkable run stretched back to his 24-game stint with Central Queensland Capras in Intrust Super Cup in 2014 before he signed with the London Broncos where he featured in 138 straight games. He also played 15 Tests for Wales in that time. The winger, however, still falls short of ex-Cronulla prop Luke Douglas' incredible run of 215 consecutive games.
Melbourne centre Cheyse Blair signed with Castleford on a three-and-a-half year deal with immediate effect. The former Parramatta and Manly player had struggled to get first grade game time with Will Chambers and Curtis Scott in front of him.
Super League ladder after Round 10: St Helens 18, Warrington 16, Castleford 12, Wakefield 12, Hull FC 12, Catalans 10, Salford 8, Huddersfield 8, Hull KR 8, Wigan 6, London 6, Leeds 4.
ISC this weekend: Round 7
Mackay Cutters v Burleigh Bears Mackay on Thursday, April 18 – 6pm
Northern Pride v Wynnum Manly Seagulls Barlow Park on Thursday, April 18 – 6pm
Easts Tigers v Souths Logan Magpies Langlands Park, on Thursday, April 18 – 7pm
CQ Capras v Sunshine Coast Falcons Browne Park on Thursday, April 18 – 7pm
PNG Hunters v Ipswich Jets Port Moresby on Saturday, April 20 – 3pm
Norths Devils v Townsville Blackhawks Bishop Park on Saturday, April 20 – 5pm
Redcliffe Dolphins v Tweed Heads Dolphins Stadium on Sunday, April 21 – 1.10pm* (Live on Channel 9 QLD)
Macca: