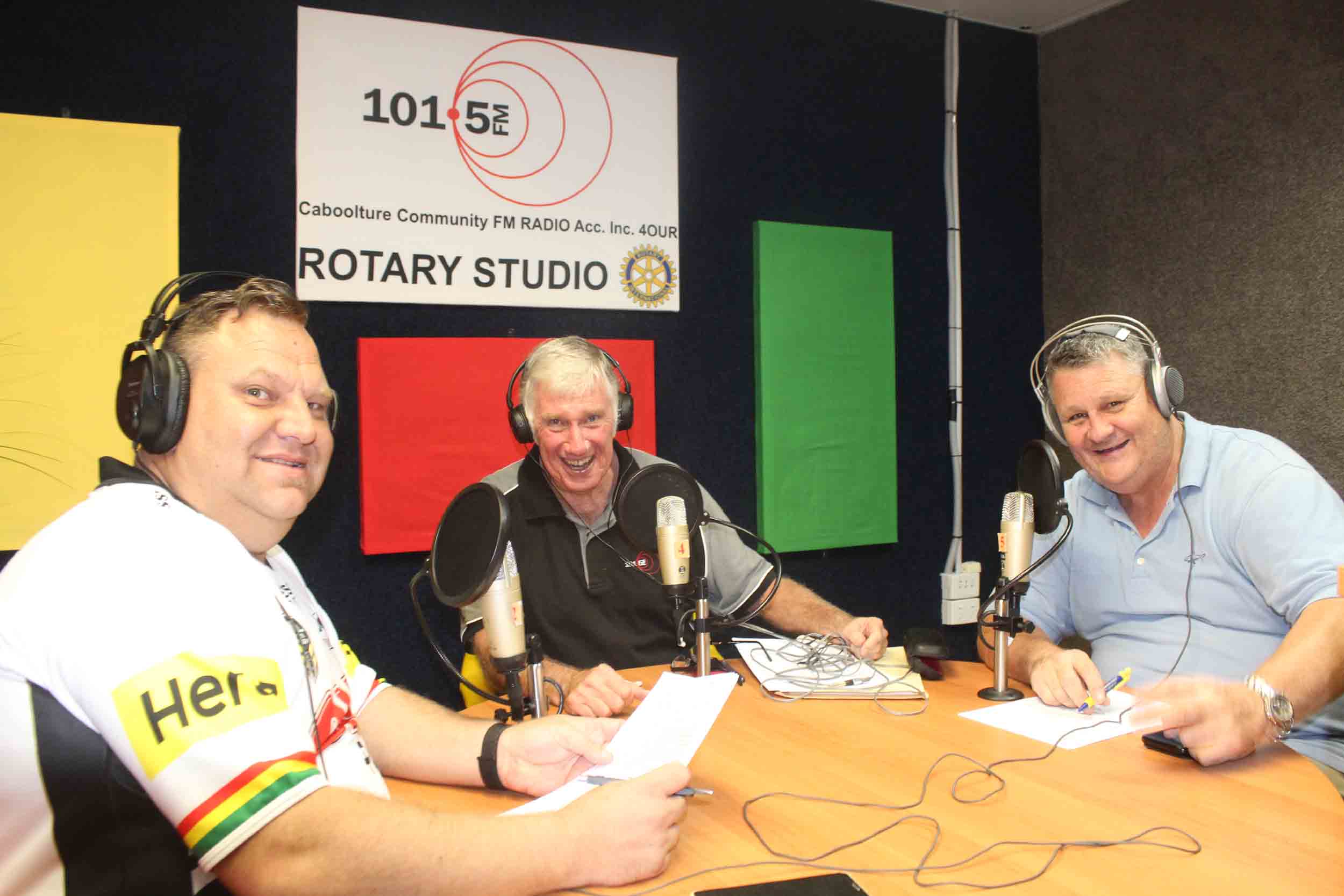 The Grapple on Sport 101.5 2019-03-29
The Grapple: 28 March 2019
Time

Segment

6.02-6.18pm

 

Segment 1: Panel

·       Introduction

·       NRL Round 2 analysis

·       Local games results:

o   ISC, Colts and Mal Meninga 

o   SCGRFL

o   Brisbane

o   Qld Police Service RL State Carnival at Noosa 25-29 March-history dating back to 2001 

·       News:

·       Mooney's Niff Nuff Award 

 

 

6.22-6.36

 

Segment 2: Greg McCallum

- our resident NRL expert former 1st grade referee, English Super League boss and Chairman of the NRL March Review Committee for 10 years

6.36-6.38

Segment 3: Panel: Interview follow up/comment

 

 

6.42-6.58

Segment 4: Panel

·       Local games: ISC, SCGRFL and Brisbane RL

·       NRL Round 3 predictions  

·       Other 

6.58

Sign off
NRL Round 2-bounce back round
Rabbits/Dragons; Raiders 10 lost to Storm 22; Broncos hammered Cowboys 29-10 at Suncorp in the other Friday night game scoring 6 tries to 2-Anthony Siebold – good win 1st up at home otherwise might have been lynched!
Sharks 20 d Titans 6- ordinary performance by Titans; Newcastle and Penrith; Manly/Roosters; Dogs/Eels- Can Eels continue on their path of destruction, when they face the premiers the Roosters in round three tomorrow night at ANZ Stadium?; Tigers/Warriors at Campbelltown
Competition ladder
ISC Round 3:
Saturday 23rd March:
Pride (2nd) v Blackhawks (6th): A clinical Townsville Blackhawks beat Northern Pride 20-4 in slippery conditions at Barlow Park in Cairns on Saturday night. The Blackhawks, coached by Aaron Payne, held Pride scoreless in the first half; centre Levi Dodd proved to be very strong in defence and attack throughout the game.  
Jets (14th) vs Tigers (1st): Bottom-placed Ipswich Jets were looking to ignite their 2019 Intrust Super Cup campaign with a win over long-time rivals Easts Tigers, but it wasn't meant to be. While Easts have won their first two games with strong wins over Mackay Cutters and Norths Devils, Jets have suffered heavy defeats at the hands of Townsville Blackhawks and Burleigh Bears. Tigers were boosted with the late inclusions of Melbourne Storm contingent Billy Walters, Pat Kaufusi, and Albert Vete; and Jets had new recruit and former Wynnum Manly Seagulls cult hero Peter Gubb run out for the first time but Tigers won 22-20.
Cutters (11th) vs Capras (8th): Mackay Cutters notched their first win of the 2019 Intrust Super Cup season, downing fierce rivals CQ Capras. The game lived up to its billing for XXXX Rivalry Round, a see-sawing contest that hung in the balance until the Cutters eventually proved too strong for their southern foes, running away with the contest in the final quarter to post a convincing 42-20 victory.
Sunday:
Seagulls 18 d Dolphins 10 - Seagulls had all the running and after eight consecutive penalties, Junior Pauga continued his perfect afternoon with the boot, adding two extra points to the tally to take the Seagulls out to a 14-4 lead with 28 minutes to go in the game. The Seagulls handed the the reigning premiers their third straight loss to start the season and in the process marked themselves as a team to beat in 2019.
Bears 32 d Tweed Seagulls 4; Magpies lost to Devils 42-16 
The Sunshine Coast Falcons held out a fast-finishing PNG Hunters side to deny them their first win of the 2019 season, holding on to win 28-26. The goal-kicking boot of Nicho Hynes was the main difference in the end for the Falcons with both sides crossing for five tries; with the former Cutter converting four out of five attempts; while unfortunately for Hunters fans, Charlie Simon was only able to slot over three of his five attempts. It was a close game throughout, with the Falcons holding a two-point 18-16 lead at the halftime break. Hunters centre Joe Joshua, who crossed for a hat-trick of tries.
Dolphins- no wins in any grade so far; sitting with Hunters and Jets and bottom of ISC
Colts: wins to Cutters, Tigers, Pride, Burleigh, Devils, Falcons over Mustangs Wynnum over Dolphins
MM: Tweed over Burleigh, Falcons, Cutters, Tigers, Blackhawks, Wynnum and Devils/Magpies 18-all
Sunshine Coast Gympie RL –Vantage Homes Div 1 round 2-Noosa bye
Saturday:
Gympie v Nambour- Gympie bye in round 1 so raring to go but Nambour won 18-10 after Gympie led 10-6 at half-time-2 tries to Paul Mckewin from Nambour 
Maroochydore d by Caboolture 48-0-Josh Totoro try and 8 goals = 20 points 
Caloundra lost 30-0 to Beerwah-Matthew Kidd 5 goals
Sunday:
Stanley River 34 d Kawana 20 at Woodford –Rowan Klein double for the locals and Brett Doherty try and 4 goals= 12 points   
Div 2 a - wins to Beerwah, Maroochydore, Nambour, Bribie and Coolum
U'18's: wins to Caloundra, Maroochydore, Gympie, Beachmere and Kawana
Div 2 b- Beachmere d Palmwoods, Yandina over Pomona and Mary Valley lost 12-4 to Kilcoy.  
2019 In Safe Hands Cup – RLB 'A' Grade round 2:
Saturday: Panthers 26 d Dolphins 6
Sunday: Seagulls 32 d Diehards 30; Tigers 32 d Magpies 22
QLD Police Services RL State Championships at Noosa 25-29 March-history dating back to 2001-men's and women's finals held earlier today
 12pm: Wide Bay Crocs -v- FNQ Marlins
1pm: SE Muddies -v- Beefa's Southern Boars
2pm-Plate Final: Mt Isa Mongrels -v- Northern Stingers
3pm-Womens: City Cyclones -v- Country Thunder
4.15pm-Final: Brisbane Bulldogs -v- CQ Razorbacks
NRL News:
Tevita Pangai jnr could become the next player breaking the $1 million contract barrier per season. Not because he is worth that much, but if he can replicate last round's performance against the Cowboys on a weekly basis then he will go close to earning seven figures. The Broncos have the inside running, but expect the Newcastle Knights to come in hard for him. Saw Roosters mentioned!!
Expansion, relocation or whatever- still the big talking point:
Billy Moore now saying that its twenty years since the North Sydney Bears played their last game in the NRL but amid growing talk of expansion and relocation in the NRL, Bears legend Billy Moore has urged CEO Todd Greenberg to end the historic club's exile. "The Bears supporters would take anything, some recognition — the colours, the badge," in a potential relocation of the Bears' 111-year-old brand to Perth, the Gold Coast or Brisbane.
Phil Gould:
The NRL should have a second club in Brisbane and a team in Perth before the next broadcast rights deal, Phil Gould says. The Penrith Panthers football boss and Channel Nine commentator believes that the NRL should then create a second team in Auckland. That would mean the NRL could play games in Brisbane and Auckland every weekend.
"You can't relocate. It's not going to work," Gould said, echoing sentiments from Brisbane Broncos great and club director Darren Lockyer.
Gould said that the NRL should be able to offer broadcasters an additional game, via an 18-team competition, when the next broadcast rights deal begins in 2023.
"I don't think relocation is the key. If it's expansion that we need to get a greater footprint, I think we need another team in Brisbane, a team in Perth, which is an ideal sort of timeslot for television and broadcasters as well.
"And if we were going to have another team, I'd have it in Auckland, if we were going to have another team in New Zealand. They'd be the three key areas that I'd be looking at.
"The second New Zealand team needs to be in Auckland, not anywhere else. Auckland is the only place [in NZ] that can sustain another NRL franchise, in my opinion.
"It's a game in Auckland every weekend, the same as a game in Brisbane every weekend. They're playing home and away, and the local derby becomes a big event every season."
Gould has previously flagged the idea of a 20-team, two-conference competition, saying it was a concept that had been discussed. Yet he has also questioned whether the NRL would have the fortitude to push ahead with either relocation or expansion in the near future.
Gould said that a second Brisbane team was "absolutely inevitable".
Gould said that the NRL could not be justified in relocating a Sydney team unless it was no longer financially viable.
Benji Marshall:
Keen on a second New Zealand team, said that he would hate to see his club relocated from Sydney. Of a second Kiwi team, Marshall said: "I think a second team in New Zealand would be unbelievable, next year in the competition 50 per cent (of players) will be of New Zealand or Polynesian descent. "We're crying out for a second team, at the moment everyone goes for the Warriors. I think down south — whether Christchurch or Wellington would be good, judging by how much Kiwi talent is coming through the ranks."
Pacific Test 2019:
Leichhardt Oval has been announced as the host ground for the 2019 Pacific Test Invitational on Saturday 22 June featuring some of the best rugby league players in the world. For the first time the legendary venue will feature the inaugural women's match between Papua New Guinea and Fiji, and two men's matches - Fiji vs Lebanon and Samoa vs Papua New Guinea. For the last two years the event has been held at Campbelltown Stadium but 2019 will be the first year Leichhardt hosts.
Teams are also set to hold a fan day sometime during the week of the Invitational, with further details to be announced closer to June 22.
Shane Flanagan:
Former Cronulla coach Shane Flanagan has denied any knowledge of salary cap rorting at the Sharks during his time at the club in the wake of a damning report. Documents claim that Flanagan emailed a list of undisclosed player payments to himself in 2017, linking him to the investigation. The NRL Integrity Unit's probe revealed cap breaches stretching back to 2013, with a list of promised payments to select players totalling close to $1 million outside the cap uncovered. Payments were reportedly arranged to Luke Lewis, James Maloney, Wade Graham, Valentine Holmes, Josh Dugan, Jack Bird and Chris Heighington, although there is no suggestion the players or their managers were aware of the salary cap breaches.
It is also unclear whether the players actually received the payments.
Pre-season 9's in 2020:
The NRL has approached the clubs to gauge an appetite for the potential return of the Nines next pre-season after what would be a three-year hiatus. The World Cup Nines is already locked in to be played in Western Sydney this October, with the NRL now exploring the possibility of building off the back of that with the return of the Club Nines next February.
While Bankwest Stadium has been floated as a potential venue there is also a demand for more high-level rugby league in Perth which could allow the game the chance to continue to expand its footprint into Western Australia given recent talks about potential expansion in the future.
ISC Round 4:
Saturday: Jets v Pride; Tigers v Hunters; Dolphins (12th) v Magpies (11th); Capras v Tweed
Sunday: Seagulls v Cutters; Falcons v Devils; Blackhawks v Bears
SCGRFL: Vantage Homes Cup Div. 1: Round 3-Beerwah bye
Sat: Kawana v Caboolture; Maroochydore v Gympie; Stanley River v Caloundra
Sun: Nambour v Noosa
Brisbane RL: Round 3: Tigers v Diehards, Dolphins v Magpies and on Sunday its Seagulls v Panthers   
| | | | | | | | | | | | | | |
| --- | --- | --- | --- | --- | --- | --- | --- | --- | --- | --- | --- | --- | --- |
| POS | TEAM | P | W | L | FF | FG | D | B | For | Agst | PD | PTS | % |
| 1 | Tigers | 2 | 2 | 0 | 0 | 0 | 0 | 0 | 72 | 48 | 24 | 6 | 150.00 |
| 2 | Diehards | 2 | 1 | 1 | 0 | 0 | 0 | 0 | 66 | 44 | 22 | 4 | 150.00 |
| 3 | Seagulls | 2 | 1 | 1 | 0 | 0 | 0 | 0 | 48 | 48 | 0 | 4 | 100.00 |
| 4 | Panthers | 2 | 1 | 1 | 0 | 0 | 0 | 0 | 38 | 42 | -4 | 4 | 90.48 |
| 5 | Magpies | 2 | 1 | 1 | 0 | 0 | 0 | 0 | 40 | 48 | -8 | 4 | 83.33 |
| 6 | Dolphins | 2 | 0 | 2 | 0 | 0 | 0 | 0 | 32 | 66 | -34 | 2 | 48.48 |
NRL Round 3