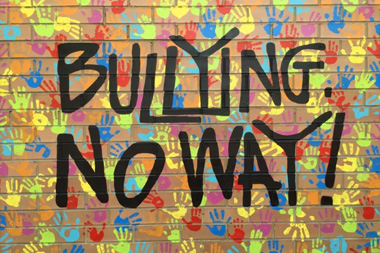 Tanja Bell Yr 12 Level Coord talks chaplains on 101.5 2019-03-12
Last year our Chaplain helped students paint a wall in our school with the "Bullying No Way!" slogan and we invited every student, teacher, aide and administrative staff to mark their commitment to the initiative with a hand print on the wall. This wall has become a great source of pride amongst students at our school and is an everyday reminder that they all hold a special responsibility to protect each other and stand together against bullying and violence.
After discussing with the students what they would like to do this year, we came to the decision to get enough t-shirts for everyone in the school to share in a hand printing activity, where each student will place a handprint on their shirt, tag it with a slogan against bullying and then gather together on the oval for an aerial photo to be taken with everyone wearing their t-shirt.
We have been fortunate to receive sponsorship for the event from several sources.
Caboolture Sports Club Community Chest has donated $1000, NSW Health Share has raised $400 in donations, Kmart Caboolture has donated a $50 voucher, Morayfield Bunnings is supplying all the paints and brushes, and Best and Less Morayfield has organised discount on 500 t-shirts.
We have invited the Honourable Mark Ryan and Member for Federal Parliament Ms Susan Lamb to be in attendance on the day.
Mark Ryan will be participating in a t-shirt printing activity and speaking with our Year 6 Student Council representatives about the National Initiative as well as presenting a talk to the entire student body with representative from the local Police force between 12pm and 1:30pm. Ms Susan Lamb time of attendance is TBA.
In addition to participating in the National Day of Action, as a whole school approach, we run several programs to support student's with this very important social issue, the main one being our Highway Heroes recognition awards. Students are delivered a program to assist them with standing up for themselves and others and then encouraged to speak up about situations where they have helped someone, walked away from a potential problem, or sought adult support to deal with an issue. Students that speak up are given a Hero reward, a wrist band to wear so others recognise their act of goodwill and offered a Hero cape to be worn so they feel empowered in their decisions. These students are also recognised on Parade and invited to an afternoon tea with the Principal.