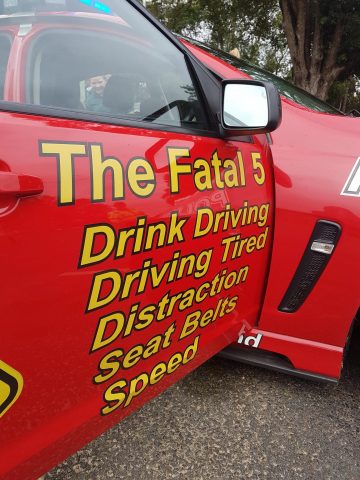 Road safety at Christmas and New Years Holiday period
As usual this Christmas there will be a high police presence and a series of targeted traffic operations.
This year's Christmas campaign will run for 50 days from December 8 to January 25.
Motorists will see extra police on the roads from now until the end of January 2019.
As motorists, we must consider many factors when driving and be aware of our constantly changing environment.
There has been over 231 people die on our roads so far this year, with 1 in 5 involving speed and 1 in 4 fatalities involved a driver under the influence of drugs or alcohol.
Please remember the Fatal Five – Speeding, drink and drug driving, distraction, fatigue and seat belts.
We need to be at our best when we're out on the roads, for everyone's safety.
Remember to share the road safely with other road users – follow the road rules, be patient and courteous.
Give other road users the extra space they need, especially heavy vehicles – they take longer to stop.
Tailgating increases your risk of a crash.
The speed limit is the maximum legal speed that you can drive at, not the speed you must travel.
Be aware of your environment, including blind spots, cycle lanes and pedestrian crossings.
Always drive to the conditions.
The Queensland Police Service want everyone to have a safe start to the school holidays and taking a bit of extra care can make sure it's a safe start to the break.
If you have information for police, contact Policelink on 131 444 or provide information using the online form 24hrs per day.
You can report information about crime anonymously to Crime Stoppers, a registered charity and community volunteer organisation, by calling 1800 333 000 or via crimestoppersqld.com.au 24hrs per day.