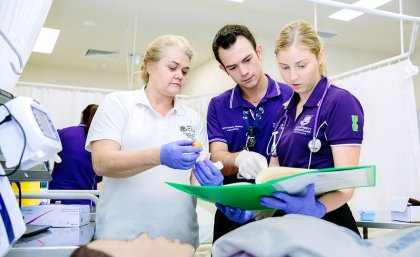 More funds for Queensland's nursing students
The Palaszczuk Government is making it more affordable to study to become a nurse.
Minister for Training and Skills Development Shannon Fentiman at the Princess Alexandra Hospital today announced the subsidy to study a Diploma of Nursing will be doubled.
"We want more Queenslanders undertaking vocational education and training (VET) in the fast growing industries of the future," Ms Fentiman said.
"The Jobs Queensland Anticipating Future Skills report showed health care and social assistance were the top industries predicted to grow, with a 20% or over 13,000 increase in nursing to 2022.
"And we have seen more than 90,000 additional Queenslanders enter the industry in the decade since 2006.
"We want to make sure Queensland has the right people with the right skills to meet our workforce demands."
"It is anticipated the increase in subsidy will lead to a growth in enrolments and as a result more than $12 million will be invested in the Diploma of Nursing in 2019."
"This subsidy increase will make the Diploma of Nursing more than $4,000 cheaper for eligible students."
"Employment demand for enrolled nurses has been strong and it's vital that we continue to increase enrolments to meet the demands of a growing and ageing population."
Metro South Health Executive Director Nursing and Midwifery Services Veronica Casey said she welcomed the subsidy increase, which would support more people to gain the skills and knowledge needed to become an enrolled nurse.
"Enrolled nurses are a vital part of our nursing workforce and play an important role in delivering high-quality, patient-centred care in a wide range of clinical environments and specialties at Princess Alexandra Hospital and across Metro South Health," she said.  
"The increase in subsidy levels in this critical training pathway is aimed at minimising the costs for students planning a career in nursing and boosting the number of students," Ms Fentiman said.
For further information about training subsidies visit http://www.training.qld.gov.au or call 1300 369 935.
Visit www.tafeqld.edu.au or phone 1300 308 233 to enrol or enquire about their intake for Diploma of Nursing commencing in January 2019.
Subsidy increase: 
Diploma of Nursing (HLT54115) subsidy has increased from $4,185 to $8,218 for non-concessional students and from $5,441 to $9,979 for concessional students.