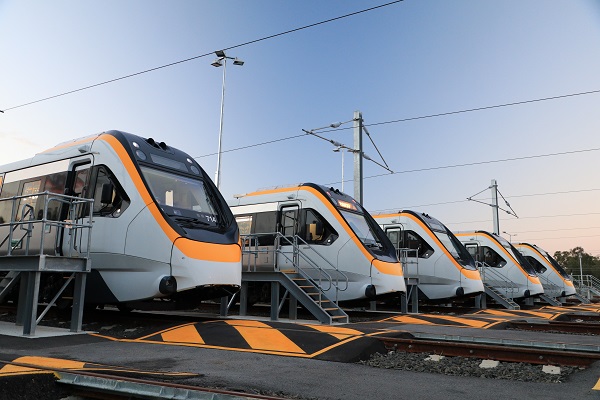 Making Our New Trains Accessible for Everyone
Queensland will have one of the most inclusive modern train fleets in Australia with accessible toilets on every NGR train and double the priority seating for people with disabilities.
The enhanced rectification plan announced today includes a second toilet on all 75 NGR six car sets, increasing the size of toilet modules by 10% and new functional improvements for people with disabilities.
The $335.7 million fix follows the Forde Inquiry into how Queensland's New Generation Rollingstock was designed and ordered.
"I am pleased the Inquiry has provided a thorough examination of this process and we are getting on with the job of fixing what went wrong," the Premier said.
The Inquiry was critical of the previous lack of consultation with and adherence to the rights of people with disabilities.
The Premier said making the trains right was agreed to after long and careful consultation with the disability sector.
A special project working group was established with members from the TMR and Qld Rail accessibility reference groups.
They worked in partnership with engineers from TMR, Bombardier and Downer to ensure the rectification designs were not only compliant with legislation, but as functional as possible.
"This will also create jobs for Queenslanders with the work carried out in Maryborough," the Premier said.
Following extensive consultation with disability advocates on design options, including a trial run by Griffith University, the government will be extending the footprint of the existing toilet module and making sure there are two larger toilet modules on all 75 new trains.
The NGR modifications will include: 
installing larger toilet modules (10 per cent larger than the previous design) in the middle carriages across the entire fleet to allow passengers who use mobility devices to access the toilet from both accessible carriages
doubling the number of priority seating from 24 to 48 seats per six car train
revised seating layouts that make access easier for passengers using a mobility device, and further functionality improvements to internal fittings and carriage features
The cost is within the existing NGR budget.
All rectification work will be done at Downer EDI in Maryborough and is estimated to support 100 jobs.
Member for Maryborough Bruce Saunders said the government's insistence Downer be part of the solution is welcome.
"Maryborough has a long and proud tradition of building Queensland's trains," he said.
"As long as I'm here I am going to make sure it continues."
Transport Minister Mark Bailey said work was due to start on the first train modification next year before all the trains were progressively upgraded by early 2024.
"I asked my Department to have extensive engagement with the disability sector to finalise the modification design.
"I appreciated the opportunity to meet with members of the working group to discuss these issues and hear their input directly," he said.
"The first train to be upgraded to meet all operational and functional requirements is expected to go back into customer service in 2020.
"Subsequent trains will be upgraded quickly with up to eight trains undergoing modifications at a time.
"The revised cost is based on all the design, build and compliance work in doubling the toilets and priority seating and other changes to all 75 trains.
"I would like to thank the NGR Accessibility Project Working Group and our Accessibility Reference Groups (ARG) for their ongoing advocacy and tireless work in making sure we get these upgrades correct.
"The Project Working Group members have generously given their time and expertise to ensure we have developed a new train design that is compliant with improved functionality and will also provide an inclusive and equitable service to passengers with a disability."
Project Working Group member John Mayo, from Spinal Life Australia, said the disability advocates had worked tirelessly in making sure they get these functional outcomes correct.
"Our objective is to advocate for the best access possible for every customer. When a solution meets the needs of customers with disabilities, the solution maximizes the benefits for all other customers," Mr Mayo said.
"We will continue to work closely with the NGR team throughout the design and construction phases to provide an accessible, inclusive customer experience."
There are currently 37 of the 75 new six-carriage trains running across the network on the Gold Coast, Airport, Doomben, Northgate, Redcliffe Peninsula, Springfield, Ipswich and Caboolture lines.
The new trains have allowed QR to add 46,000 seats a week on 193 Queensland Rail services.
For more details on the NGR accessibility upgrades go to www.tmr.qld.gov.au/ngr