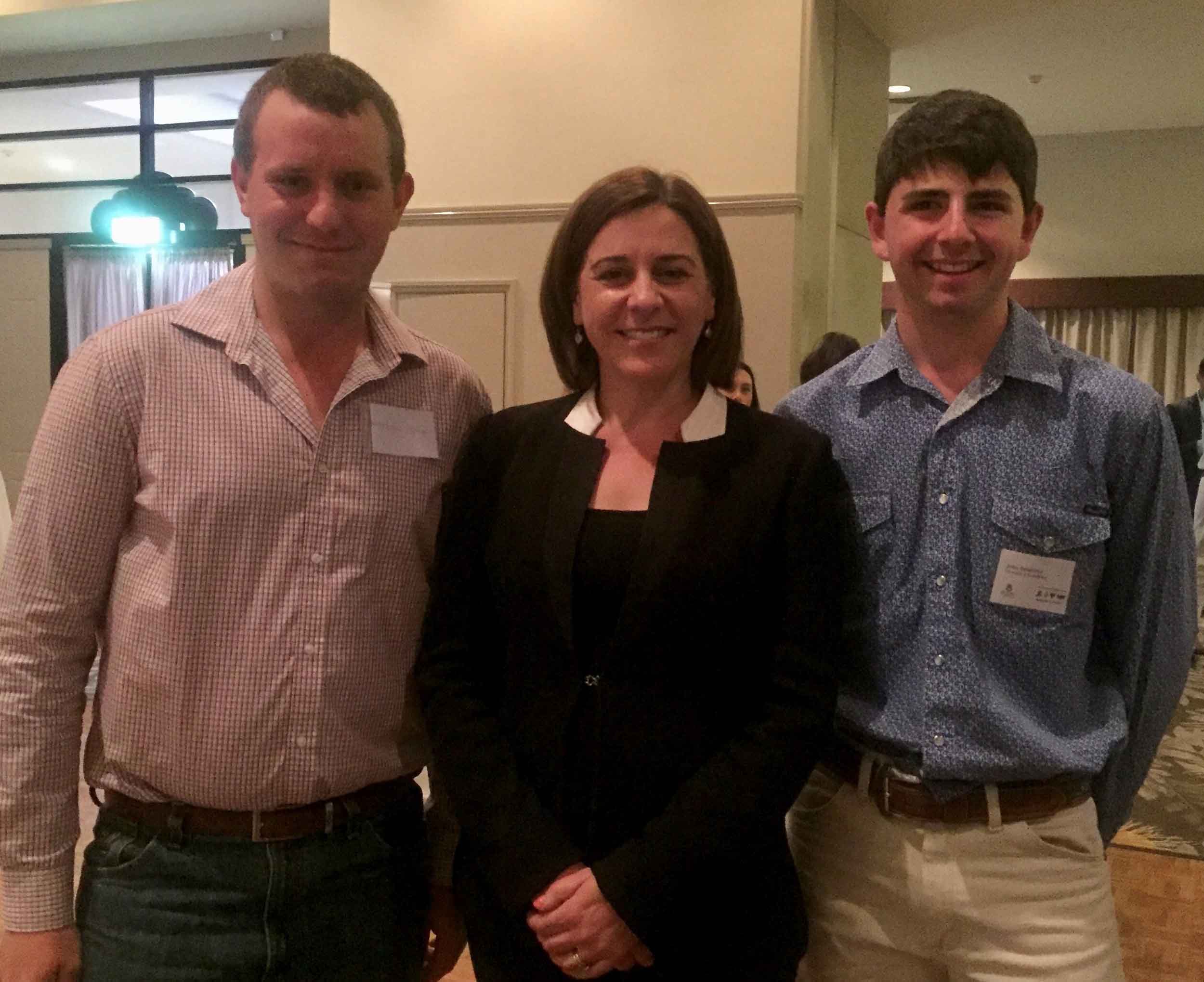 Toogoolawah Ag education sets careers in motion
Member for Nanango, Deb Frecklington, says catching up with two former Toogoolawah State High School Students at a recent Agriculture Industry Dinner has reinforced the importance of agricultural education in our schools.
Mrs Frecklington was a guest speaker at the annual University of Queensland Agribusiness Assoc Ag Industry Dinner and was pleased to have the chance to speak with Matthew Heck and John Delaforce, both former students of Toogoolawah State High School.
"I can remember both Matthew and John from my visits to Toogoolawah SHS and it was terrific to see them and catch-up on their journey's since leaving school," Mrs Frecklington said.
"These young men are excellent examples of students who studied Agriculture at school and chose to follow this as their career.
"They were both at Toogoolawah SHS when the former LNP Government secured funding to formally recognise the school's Agriculture Centre and secure a permanent Agricultural Assistant for the students.
"This helped provide an even wider experience through the Toogoolawah SHS Ag program and after talking with Matthew and John, it's obvious this has been a great benefit for students at the school.
"Unfortunately, we've just heard that the Palaszczuk Government has decided to cut funding for another long-running agriculture program, the 'School and Industry Partnership Program'.
"The program has been delivered by Agforce since 2004 and was the only one of its type in Australia, engaging about 10,000 students and teachers each year to help understand the diversity and potential of choosing a career in agriculture and the importance of agriculture in their lives.
"The decision to cut funding for this program shows just how out of touch the Palaszczuk Government is. When is she going to stop attacking agriculture and our farmers?" Deb said.
Photo: Member for Nanango, Deb Frecklington with Matthew Heck and John Delaforce at the UQ Agribusiness Association Ag Industry Dinner held in Toowoomba recently