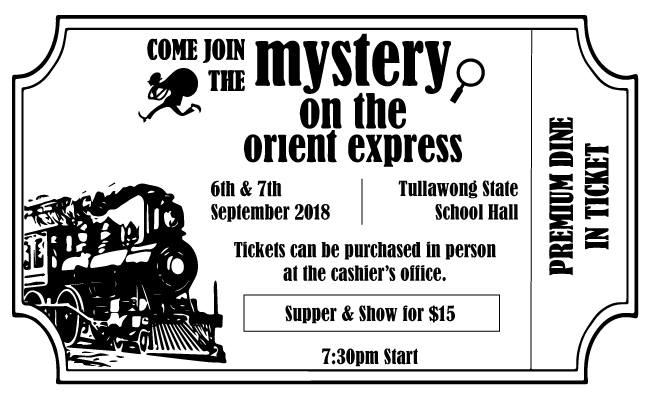 Mrs Kerryn Riddell Tullawong State High School Mystery Orient of the Express Play on 101.5 2018-08-29
This is a theatre restaurant performance from Maverick Musicals.
It is being performed by Tullawong State High School drama troupe, extension dance, music, visual art and home economic departments.
Tickets cost $15 (no concessions) and for this price audience members get a light supper and the show.
It is a comedy/mystery set on "The Orient express" during the 1930s. AS the train travels through each country the live band on the train plays music from that country and our extension dance students perform original choreographies in a style appropriate to the culture. 
There is lots of audience interaction as inspectors come out to interrogate potential suspects.
The students have been rehearsing for 5 months and are very excited about performing.
We are performing in the Tullawong State School hall on Smiths Road in Caboolture on the evenings of Thursday 6th and Friday the 7th .  Doors open at 7pm for a 7.30pm start. 
Tickets can be purchased from the school cash office on DelRosso Road in Caboolture.
Follow the Journey on their Facebook page
Plus how to get to the event or pre buy tickets go to our event page on this story