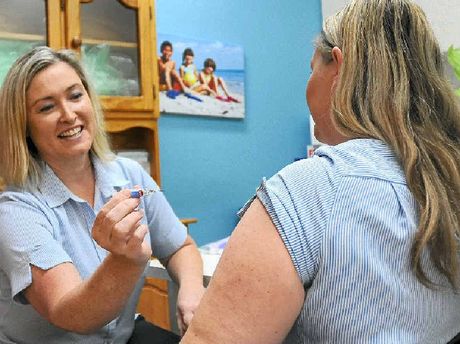 In-home visit for immunisation hot spots
The State Government will launch a new program in parts of the Gold and Sunshine coasts targeting children who are not up to date with their vaccinations.
Minister for Health and Ambulance Services Steven Miles said the program would include offering in-home visits to increase vaccination rates these areas
Parts of the Gold Coast have one of the lowest immunisation rates for one-year-olds in the country, with 86.2% of children up-to-date with their vaccinations. The rate is little better on the Sunshine Coast Hinterland –only 87.2%. In comparison, the annualised Queensland-wide rate for the same period through to the end of March 2018 was 94.0%.
"We need to do more to make sure kids are vaccinated,"Mr Miles said.
Mr Miles said Queensland Health clinicians would next month begin contacting families of around 3850 children on the Gold Coast and 3600 on the Sunshine Coast to check vaccination details.
Parents of children identified as overdue for vaccination will be offered assistance to bring their child up to date, including:
linking families to a local clinic or immunisation provider
an in-home visit and/or
the opportunity to discuss questions or concerns about vaccinations with a heath professional.
The program will aim to ensure that children 3 months to 5 years who are overdue for immunisations in the Gold Coast and Sunshine Coast areas are offered options to get up to date with immunisations, including a home visit option, up to the end of March 2019.
The program is expected to cost up to $1 million. It will be evaluated next year to determine its effectiveness.
"We have to try new things,"Mr Miles said.
"Kids in these areas are at risk of serious illnesses caused by vaccine preventable diseases.
"I'd rather be spending our money and our time on other health needs and I'd encourage Gold and Sunshine coast leaders to step up and help.
"If you're a leader in one of these communities, please help by encouraging parents to get their kids vaccinated."