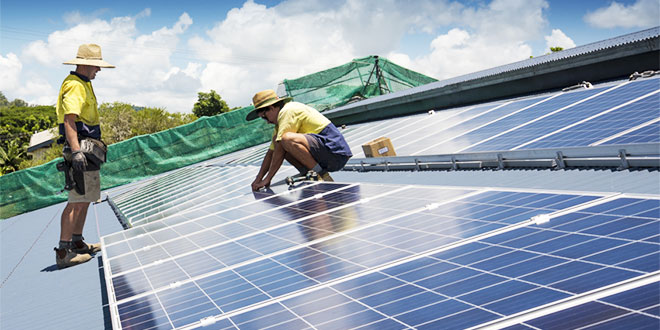 Tenders open for school energy program
Solar panels will start to be installed on Queensland state schools over the summer holidays, with tenders now open for the Government's $97 million Advancing Clean Energy Schools program.
Education Minister Grace Grace said the Palaszczuk Government's ACES program would help more than 800 Queensland state schools to reduce energy costs.
"We know that Queensland's state schools are one of our largest energy users, spending more than $67 million each year on their energy bills," Ms Grace said.
"That's why our Government is committing $97 million over the next three years to install solar panels and other energy saving devices in our schools.
"The program includes $40 million for new solar systems and $57 million to install energy efficiency measures such as LED lighting and timers on hot water systems."
Ms Grace said the ACES program would be rolled-out in three stages, with the first phase to start in the summer holidays in up to 210 state schools across Queensland.
"In the first stage, up to 30 schools in each Department of Education region will benefit from this program and these schools will named during Term 4," she said.
"Stages two and three will be rolling out in remaining schools during 2019 and 2020.
"Right now we're calling for tenders to establish a Pre-Qualified Panel of lead contractors to implement the ACES program and companies qualifying for this panel will announced during Term 4.
"The ACES program is to be delivered under a partnership model with the lead contractors who will design, supply, install, operate and maintain solar and energy solutions across participating state schools.
"We know this program will have flow on effects for local economies as the contractors we employ will maximise local employment opportunities.
"This project will support quality jobs and increase opportunities for apprentices and trainees as well as Indigenous employment and supplier participation."
Energy Minister Dr Anthony Lynham said the ACES program supported the Palaszczuk Government's target of 50 per cent renewable energy by 2030.
"ACES is expected to deliver an approximate 20 per cent reduction in total energy costs across Queensland's state schools."
Details of the Invitation to Offer (ITO) are available on the Qtenders website: https://www.hpw.qld.gov.au/qtenders/