Raphaella Kathryn Crosby Voterchoice.com.au Survey 1 on 101.5 2018-07-11
Half of Longman Voters consider by-election annoying or 'waste of time and money' (and other Queensland results of the Voter Choice Project)
Half of voters polled in Longman feel annoyed to vote in the by-election or consider it a waste of time and money, according to detailed analysis by the Voter Choice Project.   
34% per cent were ok with voting again, and only nine per cent were happy to vote, most saying it was an important civic duty. 
The resentment of the by-election has contributed to a low level of interest and engagement, with  many voters citing reasons to vote against particular candidates, rather than voting for a preferred candidates, and a significant number of voter saying they don't know who they will vote for.  
The Voter Choice Project, a national study of how Australians decide who to vote or, also investigated the issues people are considering in their vote decisions. Immigration was the most frequently mentioned issue in Longman, closely followed by health, cuts to social services and pensions. Statewide in Queensland, the two competing sides of the issue of refugees and immigration were mentioned exactly as the same number of times, illustrating the divisiveness of this issue. (Refugees was ranked 18th in Longman.)
Project director Raphaella Kathryn Crosby, who is conducting the study as part of her PhD through the University of Technology Sydney (UTS), says more people are wanted to participate in the study so they can delve deeper into the variety of Australia's voting decisions.   
 "There are big disparities geographically in what people care about.  
"No two electorates are the same; no two voters are the same, and while we already have a list of more than 2000 issues and factors that voters consider, I think we're just scratching the surface.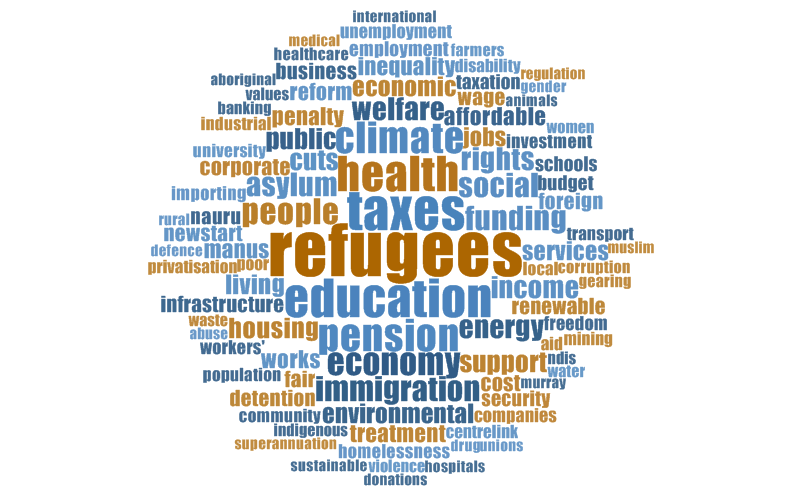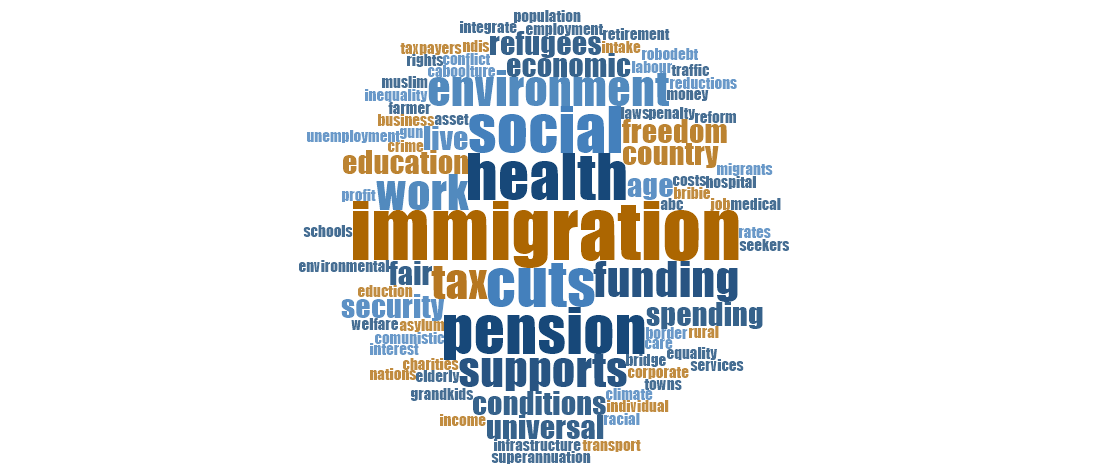 The top 100 issues mentioned by respondents to the Voter Choice Project: Longman on the left, and the top 200 issues mentioned by Queensland voters on the right on the black background.
1360 voters (175 from Queensland) participated in the first Voter Choice Project survey between June 1 and July 1, 2018. 
"We'd like to have a good sample from every electorate so we can really start to understand what is going on in each local community – why is one issue more important here than there – and to do that we need Australians to help us, by signing up and having their say on what's important and what they think," Ms Crosby said.   
The next round of the Voter Choice Project begins next Sunday on July 15, and will ask about what people want from candidates, as well as an optional set of questions about Pauline Hanson and One Nation.
New participants will get a catch up questionnaire that includes the most important questions they missed from June. All the questionnaires are online and can be done on a computer, phone or tablet.
Any registered Australian voter can sign up to take part in the Voter Choice Project at www.voterchoice.com.au.