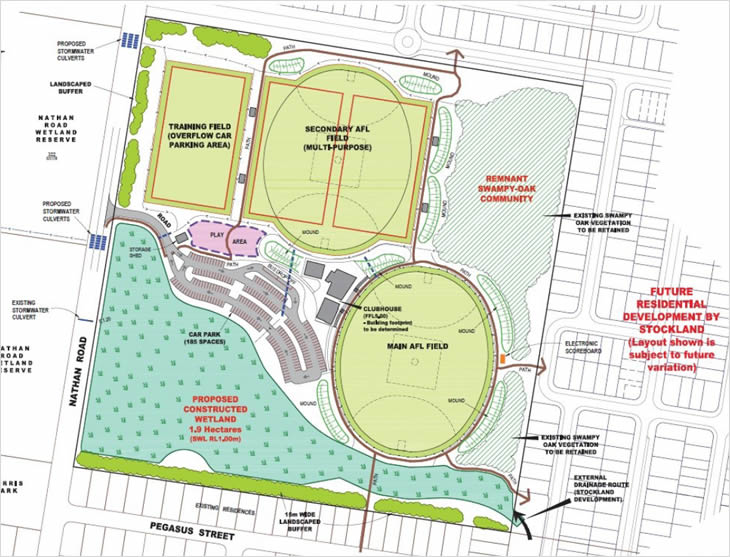 Game on for Rothwell AFL precinct
Progress on the region's newest sports destination and home of the Redcliffe Tigers is roaring ahead after Moreton Bay Regional Council today awarded a $6.5 million tender to commence the first stage of civil works on the game-changing project.
Mayor Allan Sutherland announced the Nathan Road Sports Precinct at Rothwell would move into its next phase in coming weeks following the completion of preliminary fill works and construction of the 3.2hectare environmental wetland.
"More than 100,000m3 of clean fill has been transported and placed to prepare the site for civil works, and from late August council will begin construction on the new senior-grade AFL field, internal roads and carparks, irrigation system, utilities and playground," Mayor Sutherland said.
"It's exciting news for our mighty Tigers and a huge step towards creating another economic generator for our region.
"Construction on this stage will generate jobs for locals, and the project as a whole will put the peninsula on the map as a top-flight destination for Aussie Rules football.
"Crews will get stuck into the works as soon as they can, in time for the Tigers to take to the pitch in 2020.
"We're already seeing major sporting precincts like Dolphin Stadium pay off for our region, attracting big-name fixtures, creating jobs for locals and injecting millions into local businesses, sporting clubs and hotels - and the Rothwell sporting precinct will be no different."
Division 5 Councillor James Houghton said it was a huge win for the Tigers and their legion of juniors and seniors who had done it tough over the years, being regularly inundated by floods.
"As a huge fan of the Tigers, it's brilliant to see this project move from strength to strength," Cr Houghton said.
"This is a larger, flood-resilient location right in the heart of the Tigers' existing territory that will allow the club to grow and cater for growth in the area. New developments like the Isles of Newport are already bringing with them plenty of Aussie Rules fans, many of whom are eager to find a local footy club.
"Due to the nature and size of their current home, the Tigers home haven't really been able to expand their operations and get more kids involved in the game - and the feedback I'm getting is that this new home is truly a game changer.
"I have no doubt it'll be a proud day for the players, the club, council and the entire community when this facility opens."