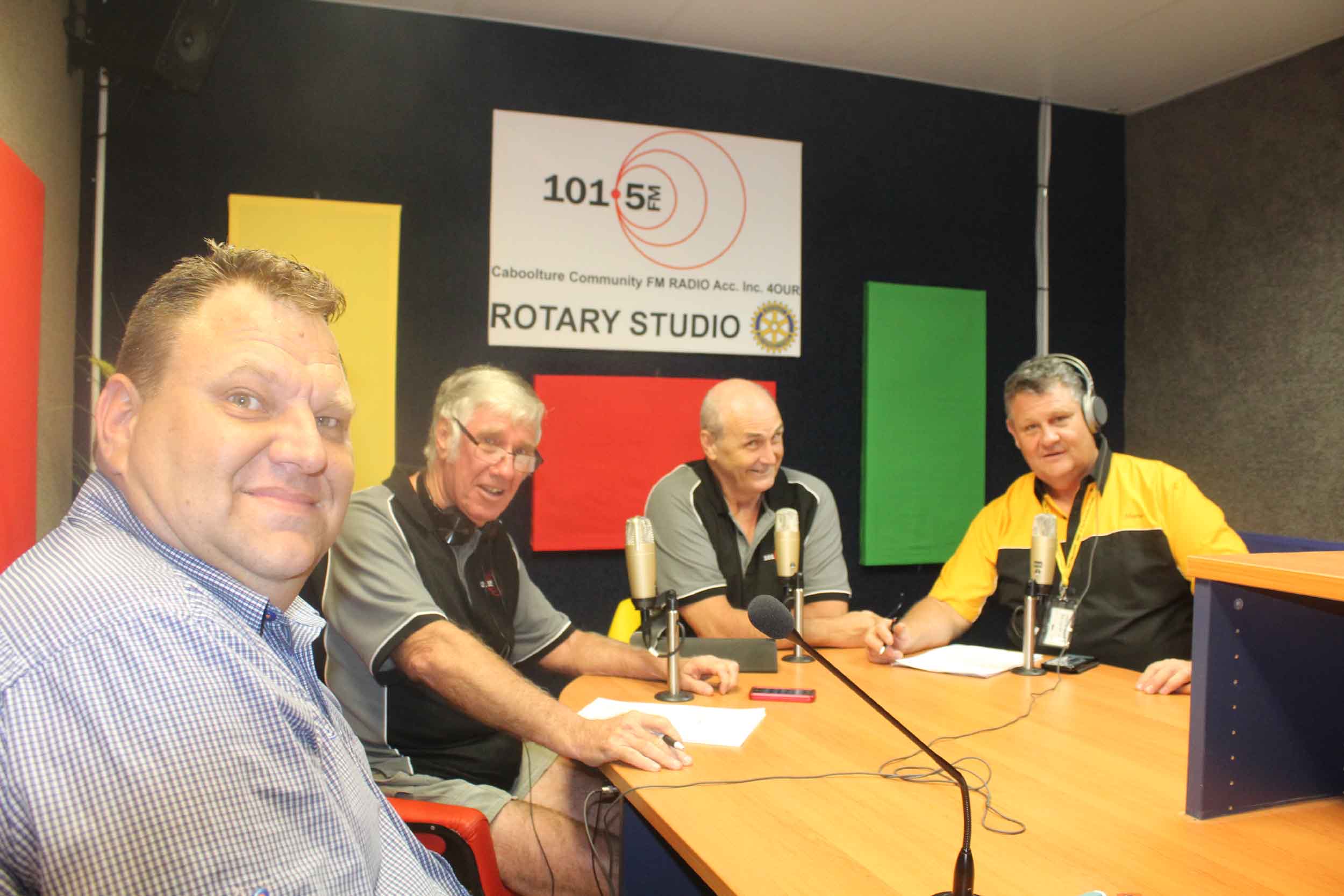 The Grapple Podcast on Sport 101.5 2018-06-28
The Grapple: 28 June 2018
Time

Segment

6.05-6.18pm

Segment 1:

·       Review SOO game 2

·       Review Rep round games: Residents, England/NZ, Tonga/Samoa, PNG/Fiji and Women's SOO at North Sydney

6.18-6.22

Music/ads

6.22-6.38

Segment 2:

·       Local league

·       NRL news/snippets etc.

6.38-6.42

Music/ads

6.42-6.58

Segment 3: Greg McCallum- our resident NRL expert former 1st grade referee and English Super League boss

·       SOO game 2 review and Dally M points before going behind closed doors

·       NRL-preview round 16

6.58

Sign off
Introduction: 
Big program as usual tonight as we analyse, dissect and bisect all the major rugby league news stories, grapple with the top issues during the program and chat with Macca at 6.40pm to hear his opinions on SSO game 2 and preview round 16 of the NRL
Bad weekend for QRL last weekend -lost women's, residents and the 2018 SOO series with loss in game 2 in Sydney   
SOO game 2: Memorable moments/3rd and final game on Wednesday, 11 July 2018, 8:00pm AEST – Suncorp Stadium, Brisbane
Queensland Residents lost to New South Wales 36-20.
England d NZ 36-18
Tonga have declared themselves ready and willing for a shot at Australia after ramming home their case for an historic Test with a thrilling 38-22 defeat of Samoa in Sydney.
Papua New Guinea d Fiji 26-14
The first ever female State of Origin match was a TV ratings success with over a million people tuning in across the country. The Nine network had more than 839,000 people watching the match at peak times nationwide. NSW d Qld 16-10
Local league
Vantage Homes Division 1 Cup: Round 14:
Nambour 2 lost to Caboolture 16- Michael Buckett double, Kody Griggs try; 10-2 at half time  
Beerwah 56 d Gympie 0-scored in the 1st minute
Caloundra 12 lost to Kawana 26 after being 6 all at half-time- 4 tries to 2, 4 goals to Thomas Dwan and Kawana scored very early in 2nd half to lead 12-6
Maroochydore 52 d Noosa 16 leading 20-4 at half time, Tyler Oxenham 6 goals, Michael Bauer and Joshua Buckland doubles, Terrance Carroll double for Noosa   
2018 Vantage Homes Div 1 Cup
| | | |
| --- | --- | --- |
| POS | TEAM | PTS |
| 1 | Beerwah | 50 |
| 2 | Maroochydore | 47 |
| 3 | Caboolture | 44 |
| 4 | Nambour | 41 |
| 5 | Kawana | 35 |
| 6 | Caloundra | 29 |
| 7 | Noosa | 17 |
| 8 | Gympie | 16 |
Round 15: Gympie/Noosa, Kawana/Caboolture, Caloundra/Beerwah and Maroochydore v Nambour 
Division 2A:
Stanley River d Noosa 26-6- Jordan Perrins-Phillips hat trick
Mary Valley d Nambour 28-22- after Nambour led 22-4 at half time
Beerwah 16 d top of ladder Coolum 12 after Coolum led 12-10 at half time
Kawana 40 d Caloundra 12
Maroochydore d Bribie 44-18; Caboolture -bye
Division 2B: triple header at Cooran: Beachmere 32 d Maroochydore 8 -8-all at half time
Kilcoy d Yandina 24-14 - Blake Gierke double for Yandina and Pomona/Cooran d Palmwoods 26-22 –Angus Sullivan 2 tries/2 goals for Pomona
U/18 Div 1: Wins to Nambour over Caboolture, Beerwah over Bribie, Kawana d Caloundra and Maroochydore 30 d Noosa 20
U/18 Div 2: Stanley River 24 d Caboolture 10 –Joe Schofield 2 tries and 2 goals, Faaiuga Omeri double for winners and Kawana d Palmwoods
SCGRFL Women: Caboolture d Nambour and Kawana d South Burnett
 

POS

TEAM

P

W

D

L

FF

FA

B

F

A

PD

PTS

1

Kawana

8

6

0

1

0

0

1

230

74

156

29

2

Caboolture

8

5

0

1

0

1

2

152

134

18

28

3

South Burnett

8

3

0

3

1

0

2

150

138

12

23

4

Nambour

8

2

0

5

0

0

1

104

182

-78

17

5

Noosa

8

0

0

6

0

0

2

62

170

-108

14
Brisbane Rugby League and ISC rep round byes
Round 12 in BRL next weekend: Diehards/Magpies, Panthers/Tigers and Dolphins 2nd v Seagulls 3rd
ISC-Indigenous round this weekend
| | | | | |
| --- | --- | --- | --- | --- |
| 30/06/2018 | 6:00:00 PM | North Ipswich Reserve | Ipswich Jets | Easts Tigers |
| 30/06/2018 | 6:00:00 PM | Barlow Park | Northern Pride 4th | Townsville Blackhawks 1st |
| 30/06/2018 | 6:00:00 PM | Browne Park | Central Queensland Capras | Mackay Cutters |
| 30/06/2018 | 12:00:00 AM | Suncorp Stadium | Norths Devils | Souths Logan Magpies |
| 1/07/2018 | 2:00:00 PM | Pizzey Park | Burleigh Bears | Tweed Heads Seagulls |
| 1/07/2018 | 2:00:00 PM | Dolphin Oval | Redcliffe Dolphins | Wynnum Manly Seagulls |
| 1/07/2018 | 3:00:00 PM | National Football Stadium | PNG Hunters | Sunshine |
Women:
SEQ Division 1:  Easts d Toowoomba, Brothers lost to Burleigh and Magpies d Panthers-Burleigh 1st on table 
Division 2: Souths on top
Division 3: Mt Gravatt by 1 point from Ormeau
NRL news/snippets: plenty of player movement before 30 June deadline
The Sharks have let flyer Edrick Lee go
Wests Tigers released forward JJ Felise to Newcastle immediately until the end of the season. The Tigers have picked up Penrith's Oliver Clark.
Panthers confirmed the departure of Tom Eisenhuth to Storm.
Beau Scott- immediate retirement-
Manly Warringah Sea Eagles released Jackson Hastings from the remainder of his contract, effective immediately. Hastings played 13 NRL games for Manly.  Possible move to the Super League, with a number of English clubs reportedly clamouring for his signature.
Rangy back-rower Shaun Lane has rejected a "competitive offer" from the Sea Eagles to stay for the next three years, in favour of taking up an opportunity elsewhere.
Tuesday morning Aaron Woods trained with Canterbury. On Tuesday afternoon he trained with Cronulla after signing a three-year deal with Cronulla Sharks effective immediately.
Melbourne Storm coach Craig Bellamy has slammed the timing of the Denver Test which has seen a number of NRL teams unsure if their Kiwi players will be available for this round. The Storm play the Sydney Roosters in Adelaide on Friday night with Bellamy saying he had no clue where prop Nelso Asofa-Solomona was or when he will arrive home.
The Nine Network has refused to buy into Peter Beattie's comments about the NRL looking "favourably" on an earlier start time for Sunday State of Origin matches. The ARLC chairman has put the onus on Nine to decide if it can move to a 4pm timeslot in a bid to better suit fans. It comes after ratings for Origin II last Sunday, where NSW wrapped up their second series win in 13 years, were down on game one. Figures released by MediaWeek on Monday showed game two captured 2.1 million metro viewers to become the second highest-rating show of the year - behind game one.
Jarryd Hayne won't make a call on his future until the NRL off-season, with the Parramatta centre admitting he thrives on uncertainty. Hayne is off contract at the end of the season and could become a free agent in the NRL, and there have also been rumours the Dally M Medallist could attempt to play in next year's Rugby World Cup for Fiji.
Corey Norman won't be at the Eels next season - and the big-spending Knights are making a move to sign the troubled playmaker. Despite his obvious talent, Norman has burned his bridges at the Eels and the club is prepared to cut him loose for 2019 - if not sooner.
Foran out
The Titans have lost patience with marquee signing Bryce Cartwright and are attempting to offload him just months into a four year deal. Several clubs have been offered the 23-year-old Cartwright, who has struggled since joining the Titans in February and has spent time in the Queensland Cup in recent weeks. Little interest though so may need to have a stint in England to revive his sagging career. He also recently bought a Range Rover for his partner from a rival dealership to Titans chairman Rebecca Frizelle and posted it on social media - and it went down like a lead balloon.
Souths have signed promising back-rower Bayley Sironen from Wests Tigers for next season.
Blake Austin?
Seven of the 17 players named to take on St George Illawarra on Thursday are without a home next year, including high-profile star Jarryd Hayne. However coach Brad Arthur went one step further on Wednesday, saying even those contracted are fighting to retain their spots in 2019.
Parramatta coach Brad Arthur has held talks with Blake Ferguson over signing the 28-year old, set to be off-contract at the end of the season despite offering the Roosters premiership-leading stats in runs and run metres. The Eels are also heavily interested in Josh and Brett Morris, weighing up a package deal for the duo, who would prefer to stick together as their careers near their conclusion. Canterbury could still attempt to keep the duo following the opening of some salary cap space, after Aaron Woods and Moses Mbye said goodbye to the club.
Other?
Macca-
Dally M-behind closed doors with James Maloney leading on 17 by 1 point from Andrew Fifita, Luke Brooks and Kalyn Ponga on 16.    
Round 16

Date

Home

Away

Venue

TV

Time

Thu. Jun 28

Dragons

Eels

WIN Stadium

Nine, Fox

7:50pm

Fri. Jun 29

Warriors

Sharks

Mt Smart Stadium

Nine, Fox

6:00pm

Fri. Jun 29

Roosters

Storm

Allianz Stadium

Nine, Fox

7:50pm

Sat. Jun 30

Panthers

Sea Eagles

Panthers Stadium

Fox

3:00pm

Sat. Jun 30

Knights

Bulldogs

McDonald Jones Stadium

Fox

5:30pm

Sat. Jun 30

Broncos

Raiders

Suncorp Stadium

Fox

7:30pm

Sun. Jul 1

Tigers

Titans

Leichhardt Oval

Fox

2:00pm

Sun. Jul 1

Rabbitohs

Cowboys

Barlow Park

Nine, Fox

4:10pm
Ladder:
| | | | | | | | |
| --- | --- | --- | --- | --- | --- | --- | --- |
| 1 |   | Dragons | 24 | 351 | 216 | 135 | $5.00 |
| 2 |   | Rabbitohs | 22 | 380 | 259 | 121 | $4.75 |
| 3 |   | Panthers | 22 | 306 | 222 | 84 | $6.50 |
| 4 |   | Warriors | 22 | 289 | 264 | 25 | $12.00 |
| 5 |   | Storm | 20 | 325 | 215 | 110 | $6.00 |
| 6 |   | Roosters | 20 | 314 | 218 | 96 | $6.00 |
| 7 |   | Sharks | 18 | 294 | 267 | 27 | $13.00 |
| 8 |   | Broncos | 18 | 268 | 312 | -44 | $17.00 |
| 9 |   | Raiders | 14 | 332 | 296 | 36 | $41.00 |
| 10 |   | Wests Tigers | 14 | 230 | 265 | -35 | $81.00 |
| 11 |   | Titans | 12 | 266 | 355 | -89 | $301.00 |
| 12 |   | Knights | 12 | 266 | 392 | -126 | $301.00 |
| 13 |   | Cowboys | 8 | 243 | 304 | -61 | $251.00 |
| 14 |   | Sea Eagles | 8 | 300 | 364 | -64 | $301.00 |
| 15 |   | Bulldogs | 8 | 209 | 288 | -79 | $501.00 |
| 16 |   | Eels | 6 | 218 | 354 | -136 | $501.00 |