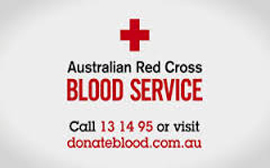 Belinda Smetioukh Red Cross Blood Service on 101.5 2018-06-12
Iconic brand logos go 'missing' for a good cause
Red Cross Mobile Donor locations in the Moreton Bay Region and why donate
More than 70 iconic brands are dropping the blood type letters O, A and B from their logos today to help raise awareness of the current need for more blood donors.
The Blood Service's Missing Type campaign aims to recruit 100,000 new donors over the next 12 months, with 4,000 of those donors needed over the coming fortnight to help address a winter slump in donor numbers.
Companies supporting Missing Type by removing the blood type letters from their logos include NAB, IBM, Nandos, 13 Cabs, Sydney Opera House, and Tourism Australia.
Blood Service Chief Executive Shelly Park said demand for donated blood was ongoing – and therefore the need for new donors, too.
"We simply couldn't supply the life-giving blood that we do if it wasn't for the efforts of our amazing donors," Ms Park said.
"Through this campaign, it would be wonderful to see more Australians become blood donors, particularly throughout this challenging winter season.
"At some stage, nearly every Australian will be touched by their, or a family's member's, need for donated blood. So please, don't wait: become a donor today."
To become a donor, please visit www.donateblood.com.au