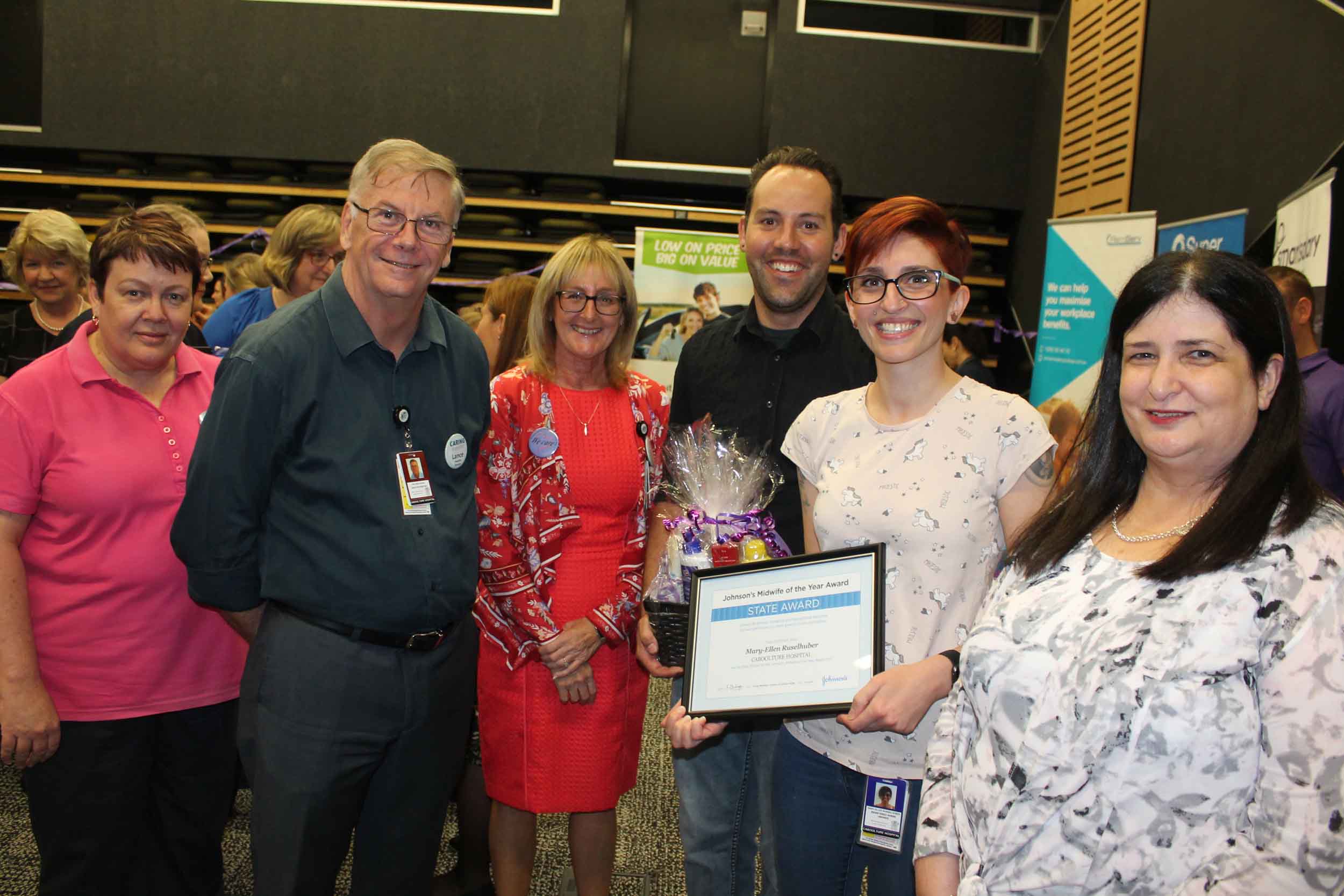 Queensland Midwife of the Year title comes to Caboolture
Caboolture Hospital midwife Mary-Ellen Russelhuber has been named Queensland Midwife of the Year.
The award, sponsored by Johnson and Johnson, recognised Mary-Ellen as the winner from hundreds of entries sent by families across Queensland who wanted to acknowledge the exceptional care and support they received from their midwife.
Johnson and Johnson Healthcare Specialist Consultant – Baby Care, Myra Negline, presented Mary-Ellen with her prize during an International Nurses and Midwives Day celebration at Caboolture Hospital.
"International Day of the Midwife highlights the exceptional and often under-acknowledged role of midwives in advocating for the health and well-being of the families in their care," Myra said.
"Women in your care are very grateful of your passion for what you do and the exemplary care you provide, often under difficult circumstances."
Mary-Ellen was nominated for the award by local mum Renee Macauley who credits Mary-Ellen for the safe delivery of her baby.
"Mary-Ellen was always smiling, attentive and nothing was too big of an ask, she gave great advice and tips for myself and the baby throughout, she was caring and we felt she went well over and above her call of duty, she had a calm and friendly nature, always approachable," Renee said.
Mary-Allen said she became a midwife after a difficult birthing experience with her first child.
"I needed answers and didn't want anyone going through what I did - I also had nursing and midwifery in the back of my mind for years," Mary-Ellen said.
"I love being able to support women and their families through this vulnerable time and I still get emotional watching a little person enter the world.
"It's a time that only lasts a shift or two for us but a lifetime for these women and families, so I want them to be able to look on this time with fond and supported memories. 
"It really is the best job in the world, although I don't feel like I have to 'work' when I'm here I love it that much!"
Caboolture Hospital Executive Director Dr Lance Le Ray and Director of Nursing and Midwifery Julie Lahey congratulated Mary-Ellen on receiving the award.
"Mary-Ellen is a great example of Caboolture Hospital staff caring together for our community," Dr Le Ray said.
"About 1900 babies are born each year at Caboolture Hospital with our wonderful midwifery team, including Mary-Ellen, who provide mothers with exceptional support, care and compassion during this very special time."
Johnson and Johnson Pacific Sales Manager Kacey Meddings said it was important to recognise and celebrate midwives and their work.
"From being the voice of experience to a first-time mum, to offering calm reassurance in a time of stress, we are proud to celebrate the important work that midwives do through the annual Midwife of the Year Awards," Kacey said.
Mary-Ellen was delighted with the unexpected award and the surprise attendance of her family.
In the photo, from left to right is: Caboolture Hospital Maternity and Special Care Nursery Nurse Unit Manager Melinda O'Sullivan, Hospital Executive Director Dr Lance Le Ray, Hospital Director of Nursing and Midwifery Julie Lahey, Mary-Ellen's husband Matthew Russelhuber, winner Mary-Ellen Russelhuber and Mary-Ellen's mum Carmen Cefai.