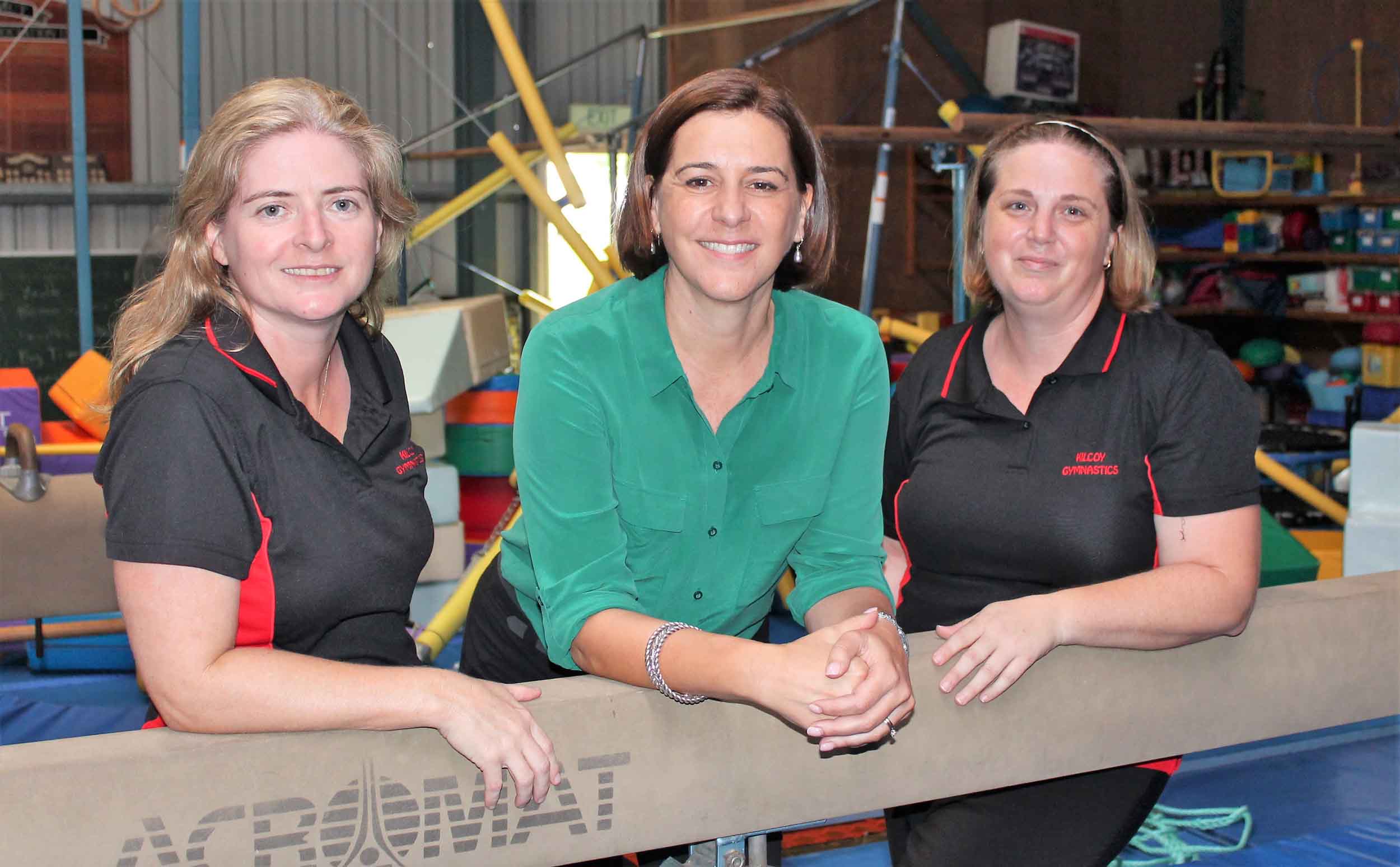 Kilcoy Gymnastics celebrates grant
Member for Nanango, Deb Frecklington has congratulated Kilcoy Gymnastics on securing a Gambling Community Benefit Fund grant for the club.
Mrs Frecklington caught up with Mary Jane Parker and Alana Searle at the Kilcoy Gymnastics facility to discuss their plans for the funding.
"This is really exciting news for Kilcoy Gymnastics. The Club has had several ups and downs trying to purchase a new floor," Mrs Frecklington said.
"Now, they can finally install a competition grade floor which is the standard required to help our young gymnasts train and compete at their best.
"The Club is going from strength to strength with 100 children from the Somerset and surrounding districts taking part in gymnastics. It's fantastic that our youngsters can access these amazing facilities and I congratulate the Club on their plans to grow and encourage participation in this fun sport," Deb said.
The Kilcoy Gymnastics grant was announced as part of Round 95 of the Gambling Community Benefit Fund program.
"Sixteen community groups around the Nanango Electorate were successful and in total our region has received $288,444.
"I encourage all local groups, however big or small, to consider applying for a Gambling Community Benefit Fund Grant to help achieve their project goals."
For more information give my office or call on 4190 7100, or head to http://www.justice.qld.gov.au/corporate/sponsorships-and-grants/grants/community-benefit-funding-programs
Photo 1 above : Member for Nanango, Deb Frecklington, with Kilcoy Gymnastics Club coordinators, Mary Jane Parker (right) and Alana Searle (left)
Photo 2 below : Kindagym students at Kilcoy Gymnastics Club will benefit from funding the Club has received to purchase a new floor.