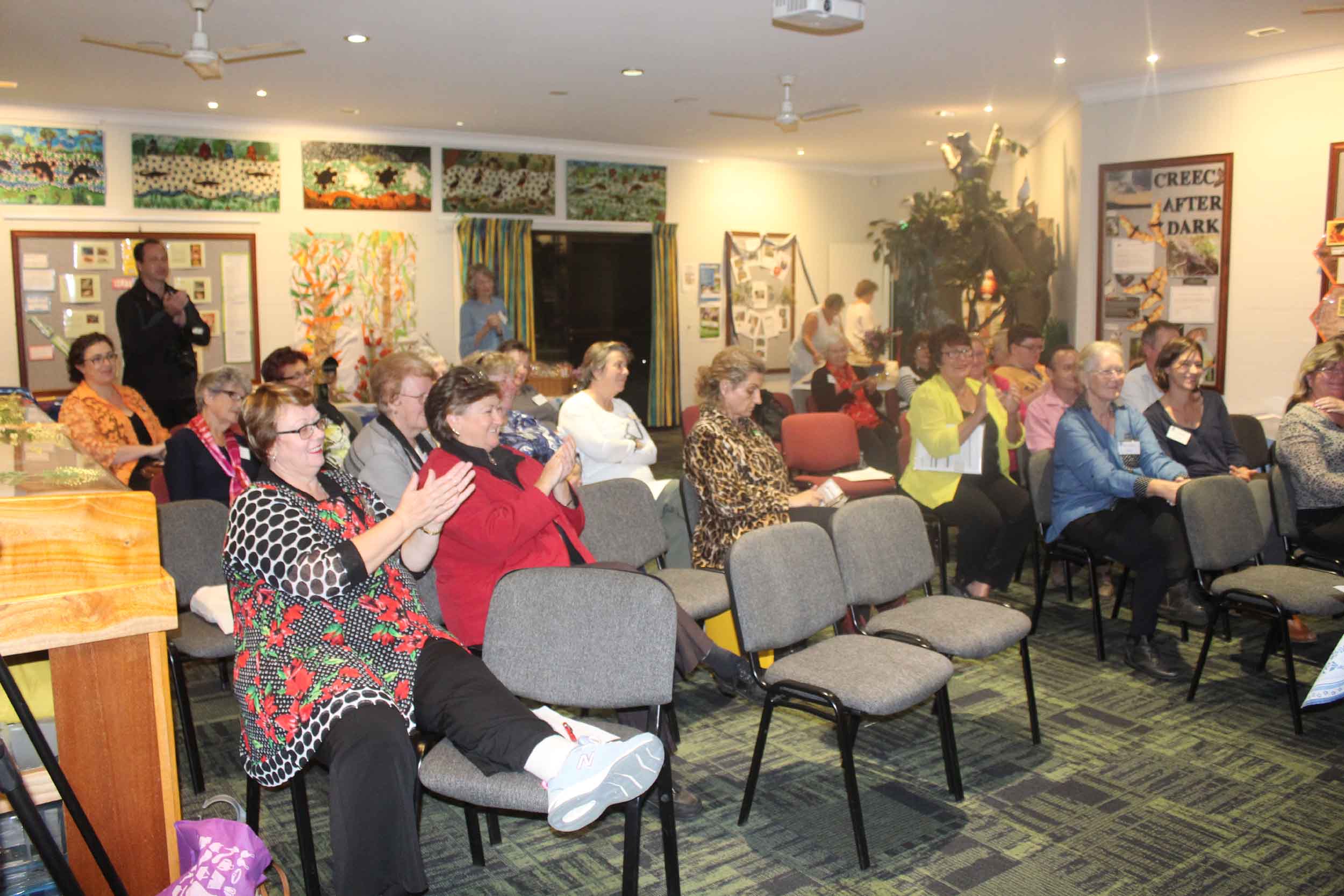 Burpengary QCWA group after 4 years is now officially a sub Branch
The hard work of up to 15 women toiling over 4 years has finally paid off originally a dream for the aspirant (group) from Burpengary starting at Burpengary Community Hall, first the small rooms then large rooms.
As membership increased to to now finally graduating to Sub Branch status on Tuesday evening at the CREEC Hall at 6:54 pm before a packed room with visitors and dignitaries from afar as Sandgate and Brisbane to witness the historic event of the Burpengary Sub Branch QCWA.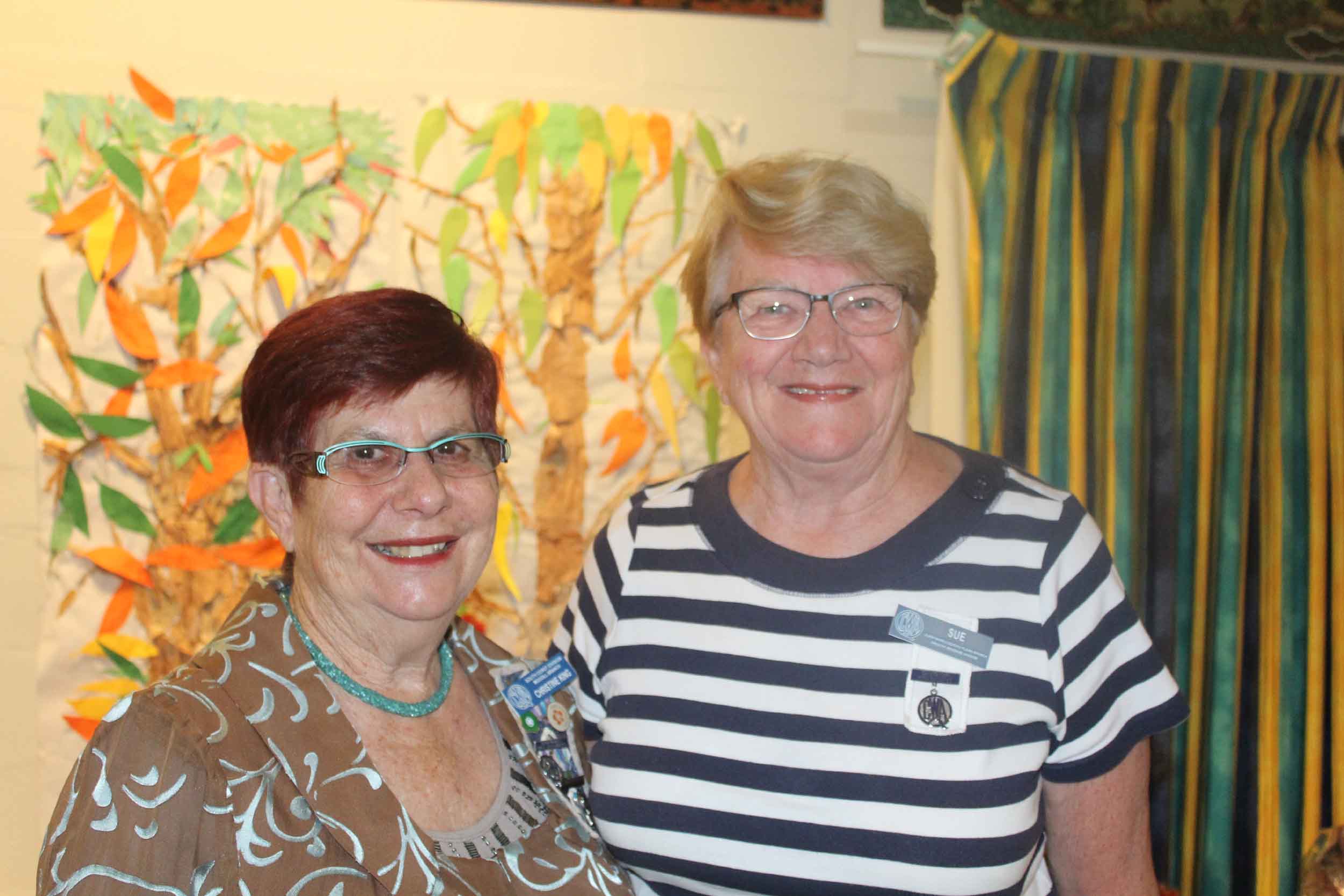 On hand to guide this critical step up in status was Mentor & QCWA State Team Leader for New Branches Christine King and QCWA Greater Brisbane Representative & Division President Sue Bailie.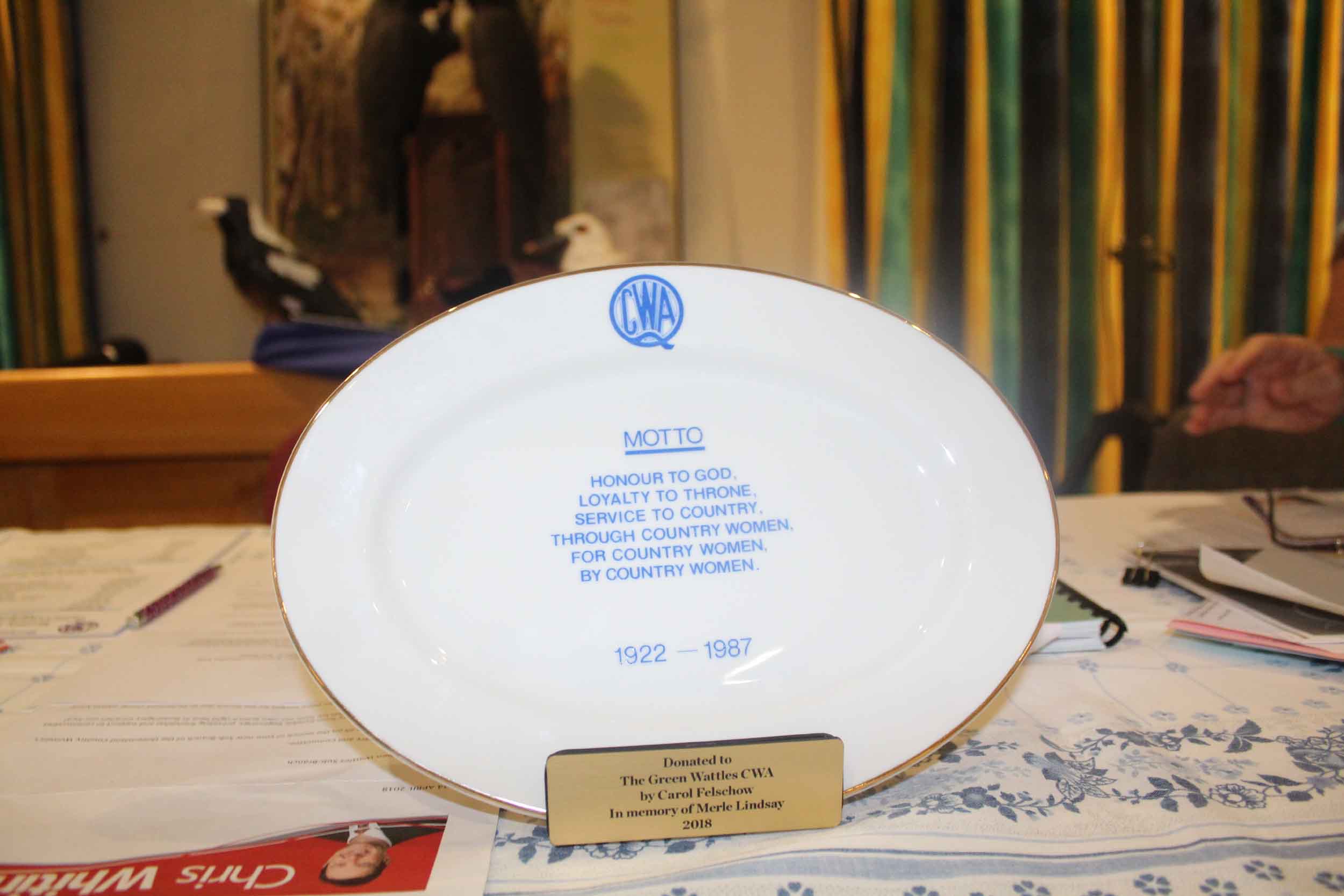 A proud moment as 3 motions were passed establishing the Sub Branch at Burpengary, naming the Sub Branch "The QCWA Burpengary Green Wattles" and that meetings are locked in for the third Tuesday of every month at the CREEC Facility 150 Rowley Road Burpengary just minutes before 7 pm.
Above photo is a special plate donated by Carol Felschow in memory Merle Lindsay.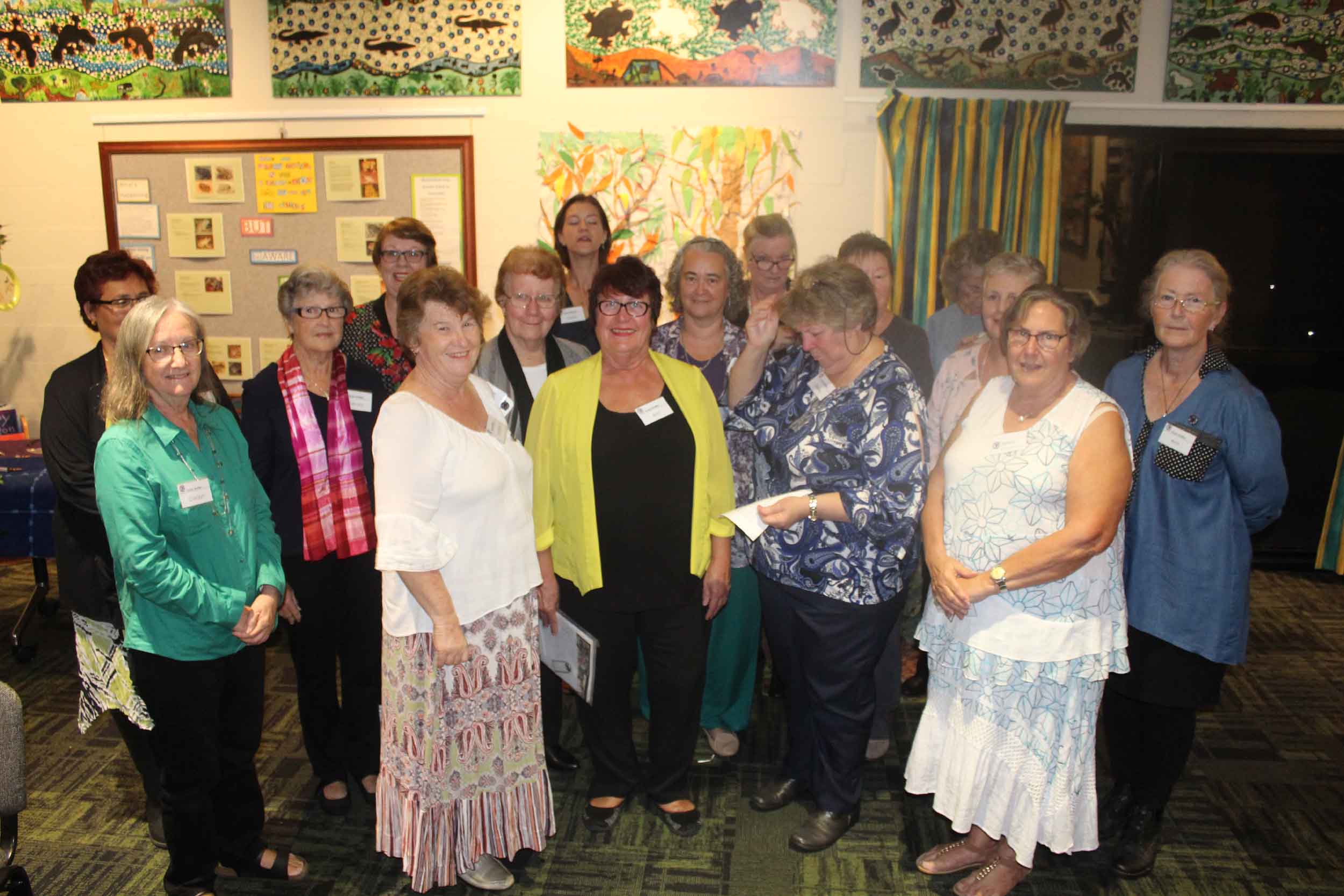 All members of the new Sub Branch were awarded badges to honor the historic event with a group photo, which included Elaine Anders, Lenny Vernall, Julia Smith, Sarah Heath, Carolyn Garrity, Wendy Nichols, Anne Copeland, Leianne O'Brien, Shirley Dochery, Lyn Buckley, Ann Pickering, Kathy Flynn, Cheryl Proud, Susan Tytherleigh, Sandra Tytherleigh, Joanne Beetson, and Denise Atkin (not able to attend include Samantha Masters and Sharon Gibbon.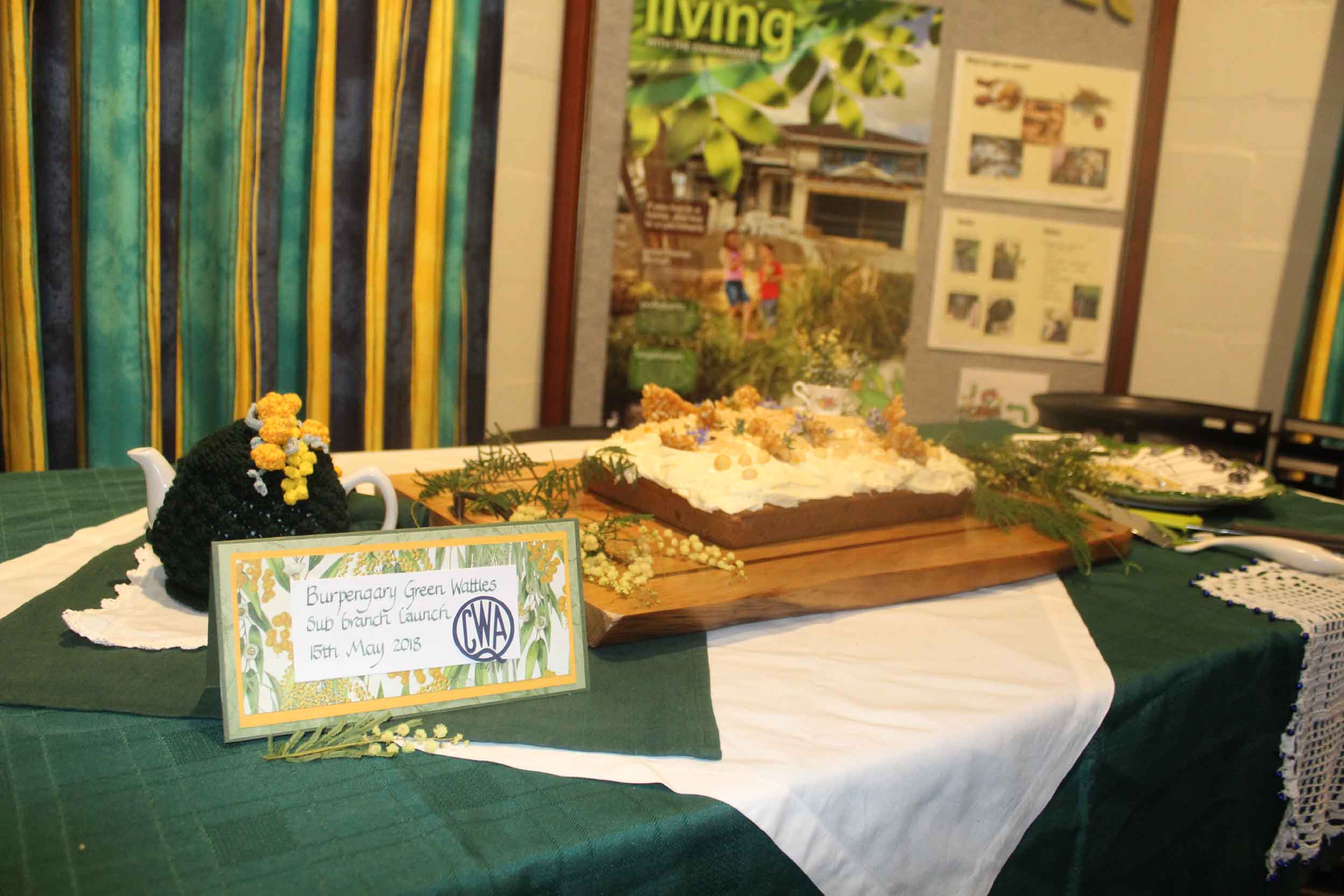 The QCWA are renown for their attention to detail and setting the standard in cooking the delights for all to enjoy including Macadamia and Lemon Mertyl Cake that was officially cut by Christine King and Lenny Vernall, it should be noted that Lenny Vernall crafted the cake especially for tonight
The QCWA has had a long and illustrious history in Queensland since 1922, which was pointed out during the evening, as women back then bundled them selves together for a common vision of not just tea and scones but to make a real difference to not only the community but internationally as well and often sacrificing much, to help the support our soldiers in war time.
Some of the projects in this history include growing and drying herbs for military patches, knitting socks, scarves and beanies plus pullovers, making curtains and clothing for repatriation hospitals from recycled goods, recycling aluminium pots, pieces of brass , copper, lead, zinc rubber tyres.
Raising funds also became a big part of the QCWA, however during the good times and the bad the QCWA has been there a pillar of the community and strong Queensland values that is so important to strong communities.
The Burpengary QCWA Sub Branch is already mustering the time honoured tradition of getting down to business and is calling on schools, offices or any one with no longer needed or spare stationary, scissors, pens, pencils, colouring pencils, exercise books, foolscap and reams of paper, felt pens, chalk, erasers pencil sharpeners and pencil cases, rulers and any like minded items. 
These items will be boxed and sent to our nearest neighbour Papua-New Guinea, where money is often non existent and even less are these items that can be used in schools to teach youngsters.  It is a gift everyone can play a role by dropping items at the CREEC Centre at 150 Rowley Road Burpengary or during The Burpengary Green Wattle QCWA meetings on the third Tuesday of each month.
Interested in making a difference, joining together with other like minded people with the shared vision of making a difference.  The QCWA new Sub Branch Burpengary "Green Wattles" is the place to be.  They can be contacted via email at qcwaburpengary@gmail.com or check out the QCWA website at www.qcwa.org.au