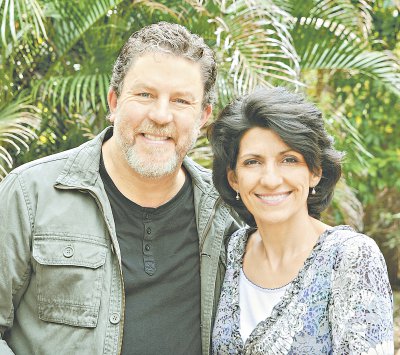 Hadley part of chaplaincy growth surge
Hadley Toweel is part of a boom in chaplaincy services in Queensland communities. He is one of first graduates a Queensland-first pastoral care course offered by Brisbane-based not-for-profit organisation Carinity.
A chaplain at Woodford Correctional Centre, Hadley is one of eight new Carinity chaplains who will serve in correctional centres and hospitals around the state. "I was a Christian worker in a ghetto area in South Africa for 10 years.
Because many of the people we ministered to ended up in prison, I would visit them there. After migrating to Australia, I continued to minister to people wherever I could. Many of them were ex-prisoners," Hadley says. "I believe chaplaincy is something that God has called me to.
I also think it's the knowledge that I have done so many things in my past that could have landed me in prison, and also being fully convinced that God can and does change lives. "I hope to reach as many people as possible with the gospel of our Lord Jesus Christ and give them hope that their lives can be transformed."
Chaplaincy is experiencing a growth surge, with Carinity seeing a 10% increase in the take-up of chaplaincy positions over the past year, and strong engagement in chaplaincy training.
Manager of Carinity Chaplaincy and Mission Services, Reverend Don McPherson, says the increasing demand for chaplains is being driven by growing realisation of the benefits of caring for people holistically and by increased social isolation and rising incarceration rates.
"When people think of chaplains they often think of school chaplains. But there is also increasing need for chaplains to support and guide people in the long-standing chaplaincy areas of prisons, hospitals and aged care communities," Don says.
"Men and women who are incarcerated are among the most marginalised people in our society.
A common attitude to people in prison is 'out of sight out of mind'. People in prison are at the lowest point in their lives. "Reports are multiplying that social media and smart phones increase isolation.
While people have more devices to connect with each other, human touch and face-to-face interaction is diminishing as people have fewer personal conversations." Don says the need for more prison chaplains is increasing, with the number of adult prisoners in Queensland corrective services custody increasing by 6.6% between February 2017 and February 2018.
Carinity has more than 50 chaplains working multi-denominationally across Queensland in hospitals, aged care and retirement communities, and correctional centres.
"Our chaplains provide encouragement, support and spiritual care to people in times of personal need. They provide a listening ear and assist people to access spiritual resources for living and for facing challenging times," Don says.
One of the few chaplaincy trainers in Queensland, Carinity's Certificate IV in Chaplaincy and Pastoral Care, offered through The Training Collaborative, is the first course of its type in the state.
Now in its 70th year, Carinity is an outreach of Queensland Baptists which also operates aged-care and retirement communities, youth homeless shelters, disability services, and alternative education schools across Queensland.