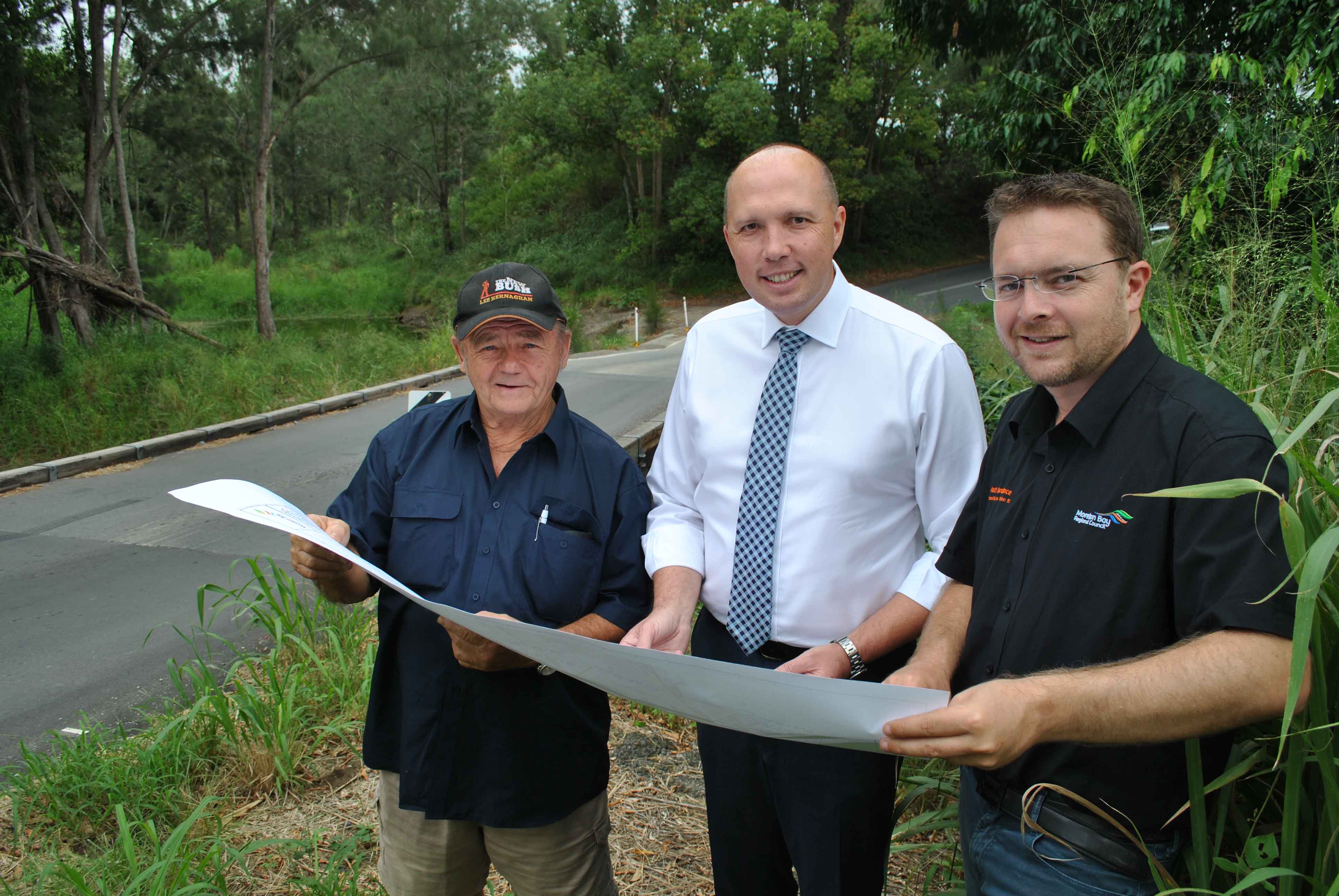 Flood-resilient bridge for Draper
Moreton Bay Regional Council has completed construction on the $5 million Bunya Road bridge project at Draper providing better access for local motorists and improved response times for emergency services in times of severe weather.
Division 10 Councillor Matt Constance officially opened the 80m-long bridge on Friday, February 23 together with Federal Member for Dickson, Peter Dutton MP and members of the local SES.
The new 10m-wide, two-lane structure replaces the previous one-way, low-level bridge and has been built at a higher level to minimise the impact of floodwaters cutting access to the causeway during times of heavy rainfall and storms.
"The new Bunya Road bridge provides a more accessible and flood-resilient emergency route for motorists who know all too well the 6km detour they previously had to take each time the old bridge was flooded," Cr Constance said.
"When severe weather hits it's our roads and bridges that keep us connected, and I have no doubt this project will make all the difference for local motorists, residents and our hardworking SES staff and emergency services."
As part of the project almost half-a-kilometre of new roads have been built and the old crossing will be transformed into a pathway and upgraded to include new box culverts for native fish to navigate waters.
Fauna crossing infrastructure has also been installed underneath the bridge to provide safe passage for animals moving between the local environment.
Cr Constance acknowledged the Federal Government's $2.5 million contribution towards the project through its Bridges Renewal Programme.
The Federal Member for Dickson Peter Dutton said the Federal Government had provided half the funding for the new bridge.
"I thank local residents for their patience during the construction phase and I hope they enjoy the convenience of the bridge when the road won't be cut in future rain events."
Cr Constance said a naming application had been received for the bridge and was currently being assessed by council.