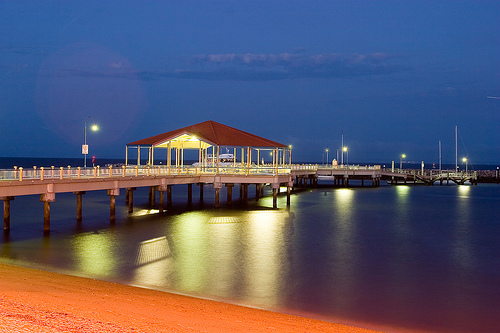 Upgrade to begin on Redcliffe Jetty pontoons
Moreton Bay Regional Council will begin works in coming weeks on the $2.4 million Redcliffe Jetty pontoon upgrade, improving accessibility for the thousands of patrons who visit the Queensland icon and gateway to Moreton Bay each year.  
Division 6 Councillor Koliana Winchester said from early January, crews would begin the process of replacing the jetty's existing pontoon system.
"The jetty is one of the Peninsula's most recognisable attractions, and serves as one of the northside's only access points to places like Moreton Island," Cr Winchester said.
"With the popularity of whale watching on Moreton Bay and the new express ferry to Moreton Island, we're upgrading the jetty's pontoon infrastructure so more people can access and enjoy what we love about Redcliffe, Moreton Bay and its surrounding islands. 
The upgrade follows the completion of jetty's new handrails.
"Council has worked with businesses who operate from the jetty so they can find alternative arrangements and continue to operate while works are underway and so that works don't disrupt seasonal attractions like whale watching.
During the upgrade, the Redcliffe2Moreton Express Ferry Service will operate from the Newport Marina at 158 Griffith Road, Newport. For more information on the ferry service during this time, visit: https://www.visitmoretonbayregion.com.au/business-directory/redcliffe-2-moreton-express
Cr Winchester said the majority of the jetty would remain accessible to the public during the upgrade, including the rotunda, however the jetty head would be temporarily closed.
Additionally, from time-to-time the jetty will be closed for short periods to allow construction vehicles access to the worksite.
"I want to thank the public for their patience as works get underway, and for importantly heeding the safety advice of crews as they work to improve this popular attraction and gateway to Moreton Bay."
Works are expected to be complete mid-2018, weather permitting.