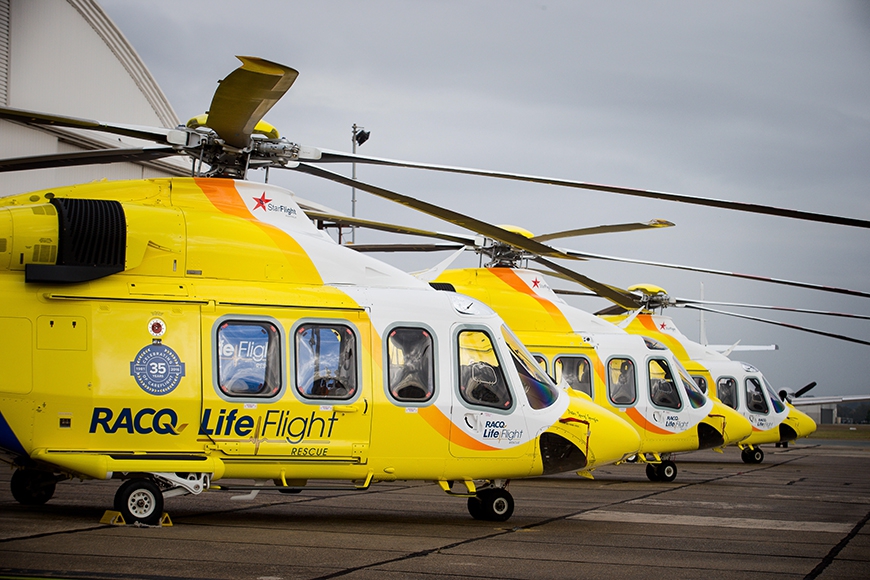 Unique summer safety campaign revealed
Police Minister Mark Ryan today joined emergency aeromedical provider LifeFlight and corporate partner fuel service company iOR Petroleum in Toowoomba to launch their new road safety campaign.
A 25m iOR B-Double tanker will act as a moving billboard travelling the state, with two rescue missions routinely attended by RACQ LifeFlight Rescue in the south-west region - a motor-vehicle accident and a farming accident – depicted on the tanker's sides.
Mr Ryan said the tanker would remind drivers of the realities of motor-vehicle accidents ahead of the Christmas weekend.
"Tragically, 242 people have lost their lives on our roads so far this year and we do not want this loss of life to increase over the holiday period," he said.
"One in four road fatalities involve a driver under the influence of drugs and alcohol, so Queenslanders need to make the right choices this festive season and not drink and drive.
"During this period of increased holiday traffic let's make sure we arrive at our destinations safely so we can enjoy Christmas and the New Year with our loved ones.
"The Queensland Police Service will be out and about on our road ensuring the safety of road users, but the responsibility lies with everyone to drive with care and be patient during the busy holiday period."
Health Minister Steven Miles encouraged Queenslanders planning a long journey to make sure they take regular breaks to avoid fatigue.
"Our frontline officers are second to none, but we don't want to see more tragedy over the Christmas-New Year break," he said.
"Sadly, the Queensland Ambulance Service, Queensland Police Service and Queensland Fire and Emergency Services witness the devastating effects of the 'Fatal Five' on a daily basis. The importance of road safety was illustrated by the attendance of representatives from all three of these frontline services.
"This campaign will remind locals of the real dangers they face when they get behind the wheel and I hope the campaign will inspire motorists to stay safe on the roads these holidays."
LifeFlight and iOR have a strong interest in road safety, with iOR fuel tankers driving across the country each and every day and emergency services like RACQ LifeFlight Rescue attending a high proportion of motor vehicle accidents.
RACQ LifeFlight Rescue flew almost 200 missions in the south-west region last summer. 
LifeFlight Critical Care Doctor Andrew Cronin welcomed the new initiative.
"In partnership with iOR and emergency services, LifeFlight has been able to share a compelling safety message to remind south-west residents to stay safe these holidays," Dr Cronin said.
"RACQ LifeFlight Rescue crews will continue to be on standby 24/7, 365 days a year to provide rapid-response aeromedical care should you or a loved one need our service, but we hope this safety message serves as a timely reminder."
Dr Cronin said iOR have been supporters of LifeFlight for 20 years, helping to cover operational costs through regular fuel donations. iOR Managing Director Stewart Morland welcomed the exciting initiative, which will help keep road safety front-of-mind these holidays. 
"Our trucks and drivers travel ten million kilometres on Australian roads every year, so road safety is critical to us," Mr Morland said.
"We want everyone to stay safe this Christmas, and we're pleased to be partnering with LifeFlight to highlight road safety and bring attention to the great work they do." 
LifeFlight is encouraging locals to take a picture of the tanker when it is stationary and upload it to social media with the hashtag #LFsafe to help ensure every Queenslander makes it home this Christmas.
Last summer, RACQ LifeFlight Rescue flew 193 missions in the south-west, including 23 motor vehicle accidents and 11 farming accidents.  About LifeFlight LifeFlight is a community-based charity funded and supported by the LifeFlight Foundation
To support the LifeFlight Foundation visit: www.lifeflightfoundation.org.au.