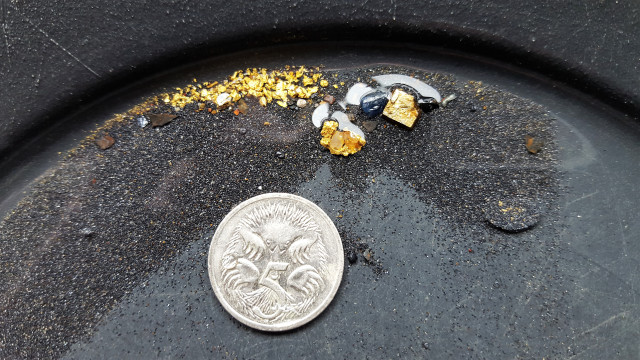 Treasure these holidays with a Qld fossicking licence
Fossicking for Queensland's gemstone treasures is shaping to be a gem of an idea these holidays.
Mines Minister Dr Anthony Lynham said the fossicking trail has been bursting with treasures this year, with 4561 fossicking licences issued.
"The first step to fossicking in Queensland is jumping online to purchase a licence. With a month-long licence costing a family $11.55 or only $8 for an individual, it's certainly an affordable activity," Dr Lynham said.  
"There are numerous fossicking areas around Queensland that provide an opportunity to strike it lucky.
"Whether it's the Central Queensland gemfields or Gympie goldfields in, local mining officers regularly go out on site to ensure fossicking activities are happening safely and that people are following the rules.
"A safe day fossicking is a good day, so we always recommend that fossickers remember to bring lots of water and wear long pants in case they encounter a snake while treasure hunting.
"Fossickers also need to remember to fill in the hole that they have dug so that it's safe for others. If this doesn't happen, it can be a real hazard for others. 
"Hand tools such as picks, shovels, hammers, sieves, shakers, electronic detectors can be used to collect gemstones, ornamental stones, mineral specimens and gold.
"Some treasures deserve to be available for all Queenslanders to marvel and enjoy, which is exactly why we have licences in place – to ensure that fossicking is happening sustainably and safely.  
"Meteorites and fossils of vertebrate animals for example, are not allowed to be fossicked," he said.
Dr Lynham said local mining registrars often met fossickers who had struck it lucky, including people who have found gold in the Clermont area and sapphires in the Gemfields.
"We love seeing fossickers strike it lucky and while they may want to keep their treasure it is legal for fossickers to occasionally sell a gemstone or trade to hobbyists through fairs and exhibitions.
"However if this becomes a regular practice a production tenure, such as a mining claim, is required.
"If anyone is in interested in a production tenure, such as a mining claim, the application process is also available online from the Queensland Government," Dr Lynham said.  
Licences are not required at tourist mines and similar sites that charge a fee for entry.
Details of how to obtain a fossicking licence online as well as maps and rules for these fossicking areas can be found at www.qld.gov.au/recreation/activities/fossicking/licences-permits.