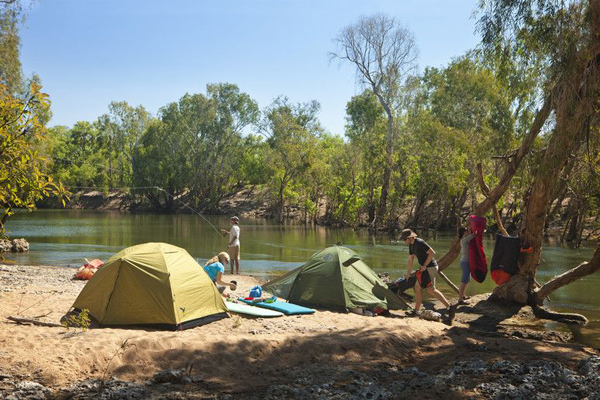 Queensland Christmas campers urged to secure their sites
During the holiday season, many of Queensland's most popular national park camping areas are filling up quickly
Environment Minister Leeanne Enoch said that if they haven't done so already, holidaymakers should jump online and book now to avoid disappointment this summer break.
"Queensland boasts some of the most spectacular national parks in the country, so it's no wonder camping in these areas is a popular way for families and friends to enjoy the festive season," Ms Enoch said.
"Already more than 20,000 people have booked summer campsites in many of Queensland's 470 national park and state forest camping areas.
"Many site-specific camping areas at Bribie, Moreton and Fraser islands and Cooloola are already close to being fully booked, however, there are still plenty of camping opportunities available at Inskip Point, Danbulla, Byfield and Main Range.
"You can book your campsite today at qld.gov.au/camping. This website also has everything you need to know about camping in your chosen destination, like any necessary permits, what to bring, how to stay safe, amenities, and the types of nature activities on offer."
Ms Enoch said it was important for everyone to use their common sense and good manners to ensure a safe and enjoyable national park experience for all.
"Only camp within the designated areas and make sure your camping tag or booking number is clearly visible. Some areas such as Cooloola, Moreton Island, Bribie Island and Fraser Island also require a vehicle permit," she said.
"If driving on the beach, remember normal road rules apply: keep to the speed limit, wear seatbelts, and don't drink and drive.
"If you have never driven on sand before, get expert advice beforehand, drive to the conditions, and take your time to get used to the feel of the vehicle. Driving on the beach is not like driving on the highway and conditions can change quickly from hard sand to washouts.
"It's vital as well to check your tyre pressure, avoid making the vehicle top-heavy, and plan beach driving trips around the tides.
With regards to campfires, they should be small and well-contained, and kept at least three metres away from tents and other camping gear.
Some national parks and state forests only allow certain types of fires, while others prohibit campfires at all times. This information can be confirmed by visiting npsr.qld.gov.au.
"When you have finished using the fire, fully extinguish it with water – not sand or dirt – to reduce the risk of someone walking on the hot embers or new blazes being ignited," Ms Enoch said.
She also stressed the importance of observing any fire bans in the area.
"It is a good idea to stay up-to-date with any park closures and safety information, including fire bans, in the lead up to your trip by regularly checking park alerts on npsr.qld.gov.au/park-alerts.
"Whether you want to camp under a rainforest canopy or wake up to spectacular ocean views, there is a Queensland national park or forest to suit everyone."