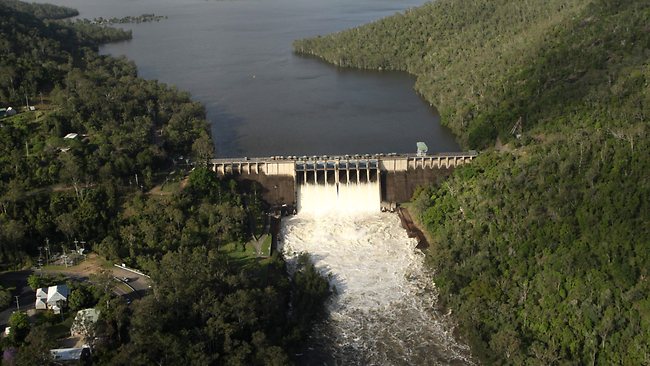 New summer safety campaign for SEQ dams
When visiting South East Queensland's lakes this summer, keep one message front of mind: Still water is still dangerous.
This simple message is the tagline for Seqwater's Play it safe campaign this summer.
Minister for Natural Resources, Mines and Energy Dr Anthony Lynham and Acting Seqwater Chief Executive Officer Dan Spiller today launched the new campaign at Enoggera Dam.
Dr Lynham said the campaign aimed to raise awareness about the safety risks associated with lakes and other inland waterways.
The Royal Life Saving National Drowning Report 2017 highlighted inland waterways, including dams and lakes, were again responsible for the highest number of drowning fatalities in Australia.
Of the total 291 drowning fatalities across Australia, 97 deaths occurred in inland waterways. Of these numbers, New South Wales recorded the highest (36) followed by Queensland (20). Two drowning deaths occurred on Seqwater dams over the past 18 months.
"The summer period is the busiest time for our lakes across the region. Between Christmas and New Year alone up to 200,000 people are expected to visit our lakes and recreation facilities,'' Dr Lynham said.
"Even though the stillness of lakes can create a tranquil and safe feeling, accidents can still happen if visitors get complacent.
"Queenslanders grow up learning about safety in the surf and in the pool but it's just as important to follow the same safety rules in still water."
Mr Spiller said there had been a number of safety incidents at South East Queensland lakes at the weekend.
Queensland Police Services were called to Lake Wivenhoe on Sunday to rescue two people who were found clinging to their capsized vessel about one kilometre from the shoreline. On the same day, two people were taken to the hospital after their jet skis collided at Lake Moogerah.
"It's a timely reminder of the need to take extra care during these busy periods,'' he said.
"While our rangers and compliance officers will work with the Queensland Police Service and Maritime Safety Queensland over summer to help manage safety around our lakes, they can't be everywhere.
"We rely on people to stay vigilant about their own safety and the safety of others.
"Ultimately we want everyone to have a great time at our lakes and importantly return home safe. So please remember to play it safe."
This year's Play it safe campaign will focus on young families, the importance of swimming in designated swimming areas and encourage the wearing of life jackets for on-water activities.
To further improve safety for lake visitors Seqwater has worked with Surf Lifesaving Queensland to re-design its designated swimming areas. New designated swimming enclosures have been installed at a number of Seqwater lakes, including Enoggera Dam, to provide a clear separation between swimmers and boat users.
New aquatic safety signage has also been installed across SEQ lakes, with emergency location numbers to clearly identify and communicate potential hazards.
Mr Spiller said visitor safety at Seqwater dams, lakes and parks would always remain a high priority.
"Seqwater will continue to look at ways to improve the safety of our recreation areas, as well as creating awareness and educating the community about the need to play it safe at our dams, lakes and parks."
For more information about Seqwater dams and recreation please visit www.seqwater.com.au or download the Seqwater public safety App.
         About Seqwater. Seqwater delivers a safe, secure and cost-effective bulk drinking water supply for 3.1 million people across South East Queensland, and supplies water for irrigation to about 1,200 rural customers. Seqwater also provides essential flood mitigation services and manages popular lake recreational areas visited by almost 2.6 million people last year. The organisation is one of Australia's largest water businesses, with operations extending from the New South Wales border to the base of the Toowoomba ranges and north to Gympie.