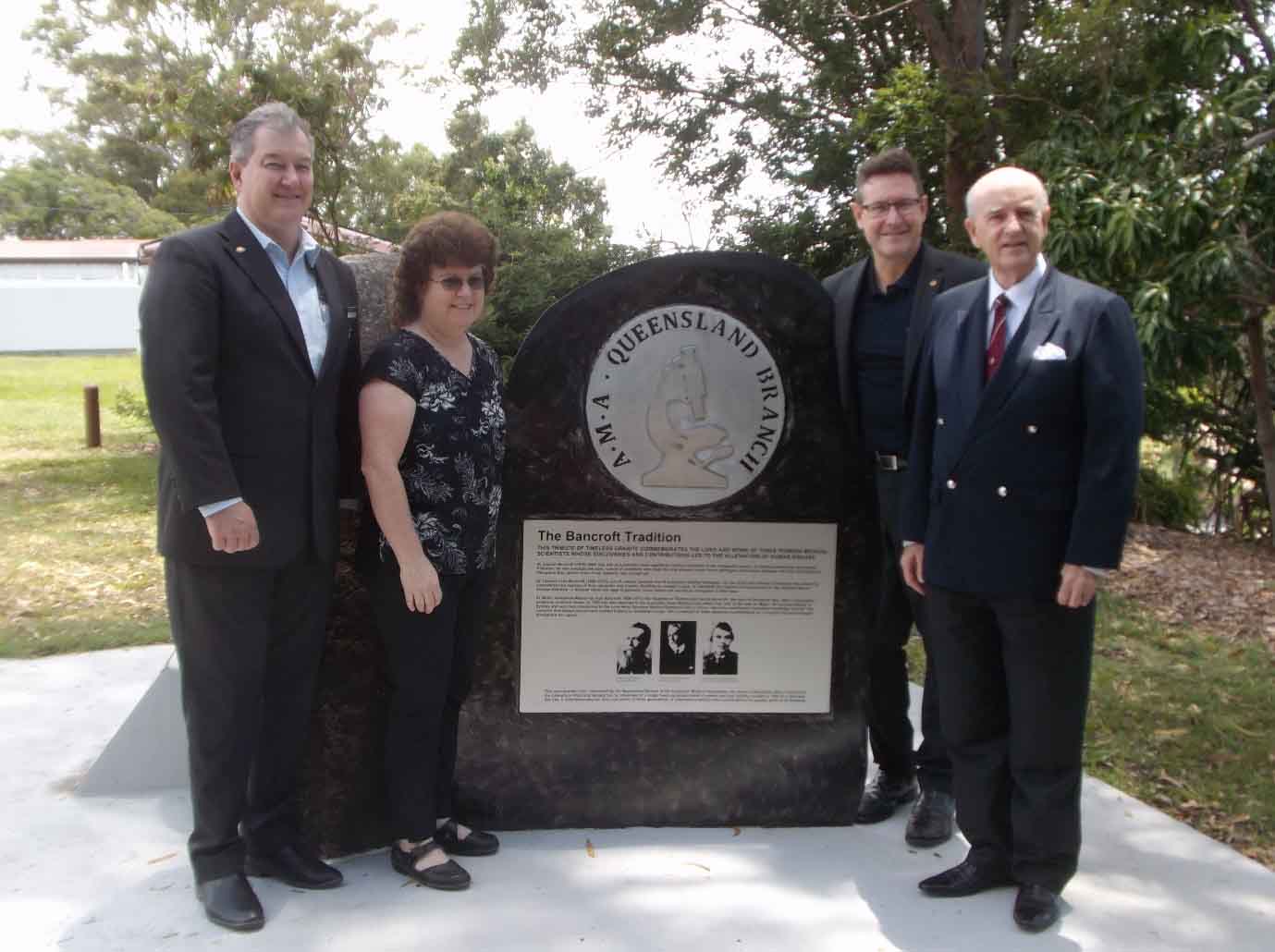 New memorial unveiled for pioneer Bancroft scientists
A new memorial has been installed at Deception Bay honouring three members of the Bancroft family considered to be some of Australia's pioneer medical researchers.
The granite monument titled 'The Bancroft Tradition' was officially unveiled on Sunday, December 2 to pay tribute to the discoveries and contributions of Dr Joseph Bancroft, his son Dr Thomas Bancroft and his granddaughter Dr Mabel Josephine Mackerras.
The memorial was unveiled by Division 2 Councillor Peter Flannery together with Dr Mabel Mackerras' daughter Dr Jane Mackerras, State Member for Bancroft Chris Whiting and historian and trustee of the memorial Dr John Pearn.
"This new landmark will share with the locals community the story of three doctors, all related, who changed the way we treat human diseases and the plethora of work they conducted right here in Deception Bay," Cr Flannery said.
"I personally hope it inspires young people in our community with an interest in health to pursue their goals and hopefully become the next generation of doctors, nurses and health professionals."
Cr Flannery said it replaces the previous memorial honouring the Bancrofts, which was installed in 1963 and had begun to peel due to wear and tear.
Dr Joseph Bancroft (1836 - 1894) was one of Australia's most significant medical scientists of the nineteenth century. A medical practitioner and historian, he was among the early school of scientists who made the link between insect-borne pathogens and human diseases. He lived and worked in Deception Bay, where much of his research was carried out.
Dr Thomas Lane Bancroft (1860 - 1933), son of Joseph, became one of Australia's leading biologists. He also lived and worked at Deception Bay where he discovered new species of flora, parasites and insects. Building on Joseph's work, he identified the method of transmission for the mosquito-borne disease filariasis - a disease where the eggs of parasitic round worms are carried by mosquitoes to their host.
Dr Mabel Josephine Mackerras nee Bancroft (1896 - 1971), the daughter of Thomas and Cecilia Bancroft, was born in Deception Bay. After a successful research career, in 1942 she was attached to the Australian Army Medical Corp where she rose to the rank of Major. She initially worked in Sydney and was then transferred to the Land Head Quarters Medical Research Unit in Cairns. Here she contributed valuable knowledge and led vital research that helped prevent and combat malaria in Australian troops.
Dr Jane Mackerras said:
"It was wonderful that the local community has shown such interest in the Bancroft history, and together with council has put such an effort in to repairing the memorial.
"The memorial, plaque and seat is a fantastic tribute to the three generations of the Bancroft family."
The monument is located at Bancroft Memorial Park, 66-74 Captain Cook Parade, Deception Bay.