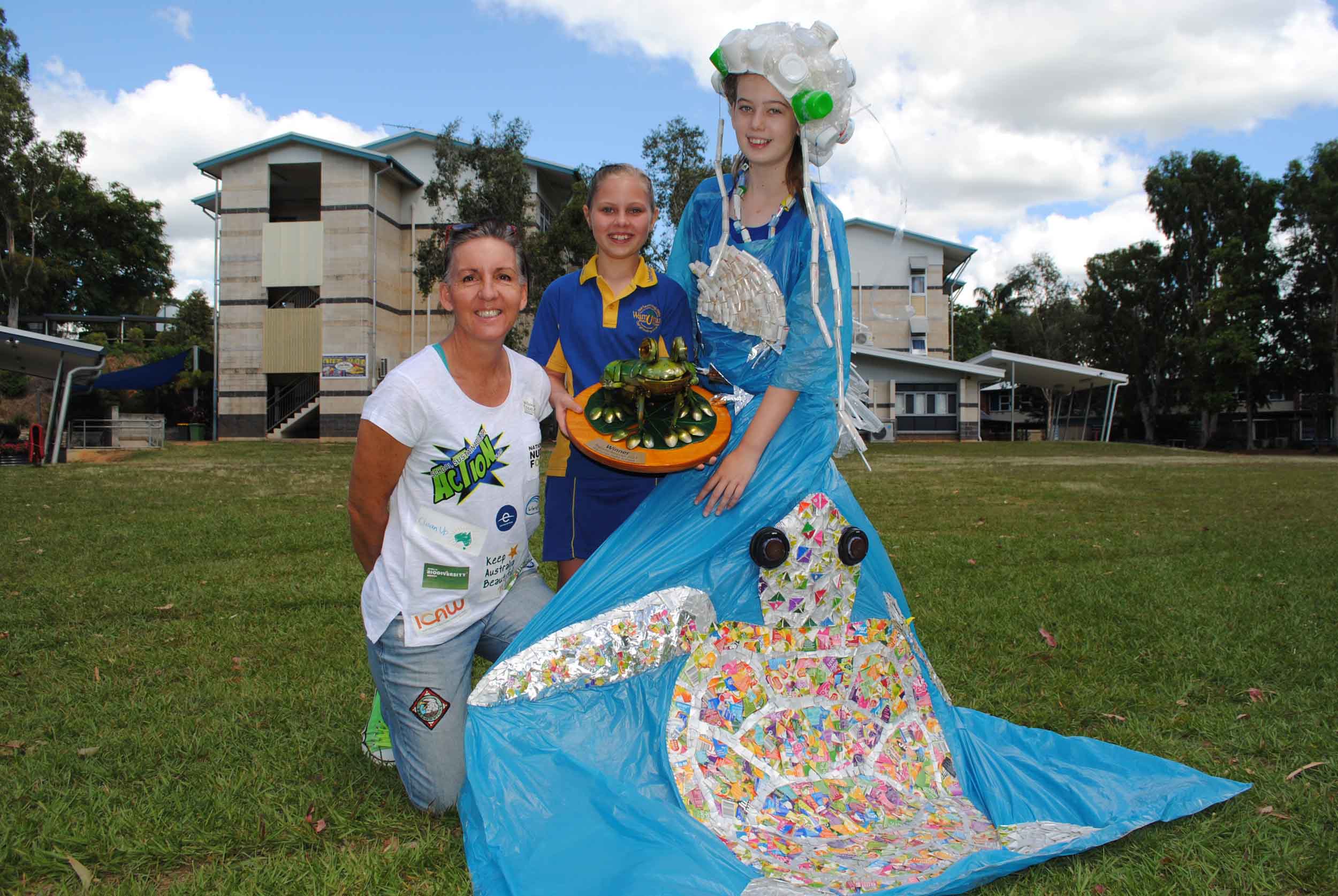 Plastic ocean dress makes a splash in Moreton Bay recycling challenge
An ocean-themed dress made out of 170 pieces of used plastic has won Wamuran State School the top prize in Moreton Bay Regional Council's 2017 Regional Recycler challenge.
The school's students were announced as the winner of the $2,500 award during National Recycling Week 2017 for creating a dress that features a turtle cape made from 44 poppers, a plastic jellyfish headpiece and jewellery created from used yogurt lids and chip bags.
Moreton Bay Regional Council Mayor Allan Sutherland said this year's Regional Recycler challenge asked local schools and early learning centres to use fashion to demonstrate the importance of recycling.
"Of the 12 impressive entries, Wamuran State School's dress caught the eye of judges not only for its creativity and eye-catching design, but also for its message about the importance of keeping plastic away from our waterways and oceans," Mayor Sutherland said.
"There was no limit to what recycled items the students could use to design and create their pieces, and safe to say the students didn't hold back.
"It was incredible to see the level of creativity and enthusiasm across the board, and I'd like to congratulate all the entrants for their efforts.
"Not only did the kids manage to create some great items, they importantly started conversations in the community about how we can all play our part in creating a better environment."
Wamuran State School Principal Susan Clement said even though the school is about 25km from the nearest beach, students were keen to highlight the impact of plastics on the world's oceans.
"When our students discovered eight million tonnes of plastic ends up in the ocean each year, they immediately wanted to create something that put a spotlight on the issue," Ms Clement said.
"I'm so proud of our kids for being able to channel their creativity to highlight the importance of recycling."
Wamuran State School student Tamsyn Driessen said the materials used to make the dress were collected from a day's worth of waste at the school.
"We collected all the empty chip packets, yogurt lids and poppers, washed and dried them, and turned them into an ocean-themed dress," Tamsyn Driessen said.
Wamuran State School student Chelsea Moir said she hoped the dress would send a message about why we need to stop waste ending up in our oceans.
As part of the competition, Create Kids OSHC, Kurwongbah State School and Bribie Island State School received commendations for their recycled fashion items.
Mayor Sutherland said the annual Regional Recycler Competition is part of council's ongoing Community Waste Minimisation Program, which has engaged more than 90 early learning centres, primary and secondary schools in the region.
The program was recognised state-wide in 2016, taking out the 'Community Award' at the Premier's Sustainability Awards.
"Through school-based initiatives like these, we're planting the green seed early and ensuring that our youngest residents are helping overall recycling efforts, which just last year saw more than 33,700 tonnes of kerbside waste recycled," Mayor Sutherland said.