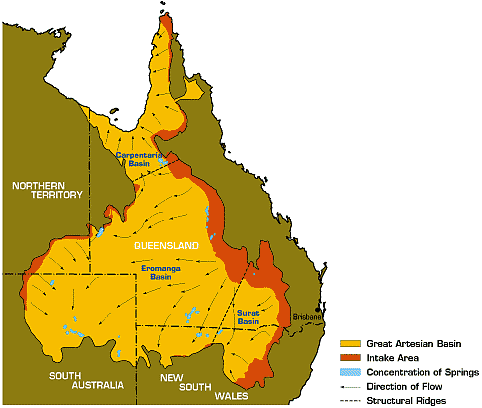 Water savings to flow from new Great Artesian Basin plan
Enough water to fill 32,000 Olympic swimming pools could be saved every year under a new plan for the Great Artesian Basin.
Natural Resources and Mines Minister Dr Anthony Lynham said the new plan gave farmers incentives to meet a 10-year deadline to deal with the remaining free flowing bores and drains in the basin area.
"About 80,000 megalitres of water are wasted annually in the Queensland  Great Artesian Basin area though uncontrolled bores and drains," Dr Lynham said.
"The new Great Artesian Basin and Other Regional Aquifers water plan offers landholders 30 per cent of the water they save when they cap bores and pipe drains.
"This will preserve water for future generations as well as providing critical water to allow landholders to grow their businesses and create jobs."
The Great Artesian Basin stretches across more than 1.7 million km2 across Queensland, New South Wales, South Australia and the Northern Territory. It stores about 64.9 million gigalitres of water ---- about 130,000 times the volume of Sydney Harbour.
The Basin provides water for more than 80 regional Queensland towns and grazing, cropping, feedlots, mining, tourism and geothermal power industries from Thargomindah in the south-west to Weipa in the far north.
Under a joint Commonwealth-State Great Artesian Basin Sustainability Initiative, 700 uncontrolled flowing bores have been rehabilitated and more than 14 000 kilometres of bore drains have been replaced with piping. This is saving 207,205 megalitres per annum from the Great Artesian Basin.
Dr Lynham said the new plan would introduce water available specifically for economic opportunities for Aboriginal peoples and Torres Strait Islanders across the plan area.
"Under the changes, an Aboriginal or Torres Strait Islander community can use up to 2 megalitres per year to support the development of local businesses and employment opportunities," he said.
"As well, where unallocated water is available, a proportion has been reserved for Aboriginal or Torres Strait Islander communities for future economic development."
The plan also makes water trading more flexible by, for the first time, allowing water licence holders in highly developed areas such the eastern Darling Downs to trade water to encourage economic development in less developed areas such as the Eromanga, Surat and Carpentaria Basins.
The plan makes available a total of 39,505 megalitres of unallocated water reserves across the plan area.
The new plan replaces the first Great Artesian Basin water plan adopted in 2006, and has been informed by science-based technical assessments and extensive community consultation; including with the Great Artesian Basin Advisory Council.
Dr Lynham also thanked the Council, and particularly outgoing chair Roderick Gilmour OAM for his service over more than a decade.
"Mr Gilmour's contributions to the development of both this plan and the long term health of the Great Artesian Basin is a testament to his passion for regional communities," he said.
"His experience and stewardship will be sorely missed and I wish him all the best in his future endeavours," he said.
View the plan at www.dnrm.qld.gov.au/water/catchments-planning/catchments/great-artesian-basin