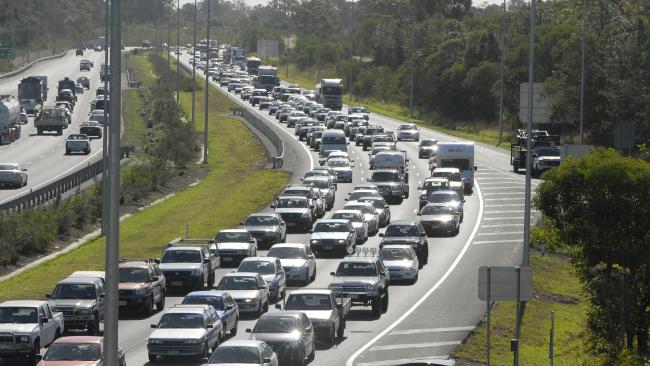 Possible Rain and Traffic Chaos following holidays for Moreton Bay Region
Families returning from the school holidays are urged to prepare now for two things that travelers want to avoid, often when its too late - Rain and Traffic gridlock.
Revised scenarios are for possible rain of up to 50 mm predicted for the Moreton Bay Region while the sunshine coast could expect upwards of 100 mm combined with everyone wanting to get home to unwind from the holidays.
The Bureau Of Meteorology have forecast on Monday Strong Wind Warning's for the following areas: Fraser Island Coast, Sunshine Coast Waters and Gold Coast Waters some of those winds may impact on traffic traveling along the Bruce Highway from the Sunshine Coast and Gold Coast and in to Brisbane.
A higher then likelyhood for rain at times heavy is also predicted by the Bureau of Meteorology outlining that falls of between 130mm-180mm are predicted in several districts, including the Central Highlands and Coalfields, Capricornia, Wide Bay and Burnett, Maranoa and Warrego and Darling Downs and Granite Belt Forecast Districts.
Six-hourly rainfall totals of between 90mm-120mm are predicted between Emerald and Roma, with isolated heavier falls of up to 160mm possible.
130mm-180mm is predicted between Bundaberg and Double Island Point in six-hour periods.
A  low-pressure system moves in over the region which is responsible for this wet weather event coinciding with motorists taking to the roads as school holidays end.
There's increasing model consensus about the development of the system, and with much higher degree of confidence of falls in excess of 100mm now around the Sunshine Coast!
Brisbane is likely to see falls of 50-75mm (and possibly more in the northern areas), lowering to 40-50mm around the western and southern areas of the Southeast Coast region and there's a good chance of some isolated heavier falls again - particularly close to the coast.
It's rare to get this type of system develop in October where an upper low generates a surface low and increases the onshore flow for us bringing rain and possibly some embedded storm activity.
High Tides for Beachmere are as follows:
Monday 7:05 am (1.77m) & 7:28 pm (2.19m); Tuesday 7:49 am (1.91m) & 8:09 pm (2.27m); Wednesday 8:30 am (2.04m) & 8:49 pm (2.32m); Thursday 9:12 am (2.15m) & 9:29 pm (2.33m); Friday 9:55 am (2.25m) & 10:07 pm (2.30m).
Bruce Highway is predicted to be absolutely chaotic on Monday, while its hoped this doesn't happen law of averages suggests there is every possibility that there will be an accident on this main highway to slow things up if not stop traffic flows for hours.
Moreton Bays Home of Emergency Information 101.5 FM will be making regular announcements throughout the day and coverage continues on our facebook page.
The RACQ advises that with rain added to the mix, what was always going to be a slow trip would likely become more so, as an affect of the expected heavy falls.
The smart move would be to plan to leave earlier like Sunday evening to avoid the rush of going home that thousands of others are anticipating.
The wet weather will also impact on the months of dry conditions we have had over winter, the roads as a result will experience more slippery conditions meaning stopping distances will be greater then normal between vehicles.
The congestion will be at its worst where the Bruce Highway meets the Sunshine Coast Highway, and between Burpengary and Bald Hills and in to Brisbane. 
The only alternative is not so much alternative routes, since they will likely be congested, so best idea is to head home Sunday night.
Power Outages
Moreton Bay Regional         5         
Moreton Bay Regional    NARANGBA    5    Emergency Repairs
ETA Resolution 1:30pm