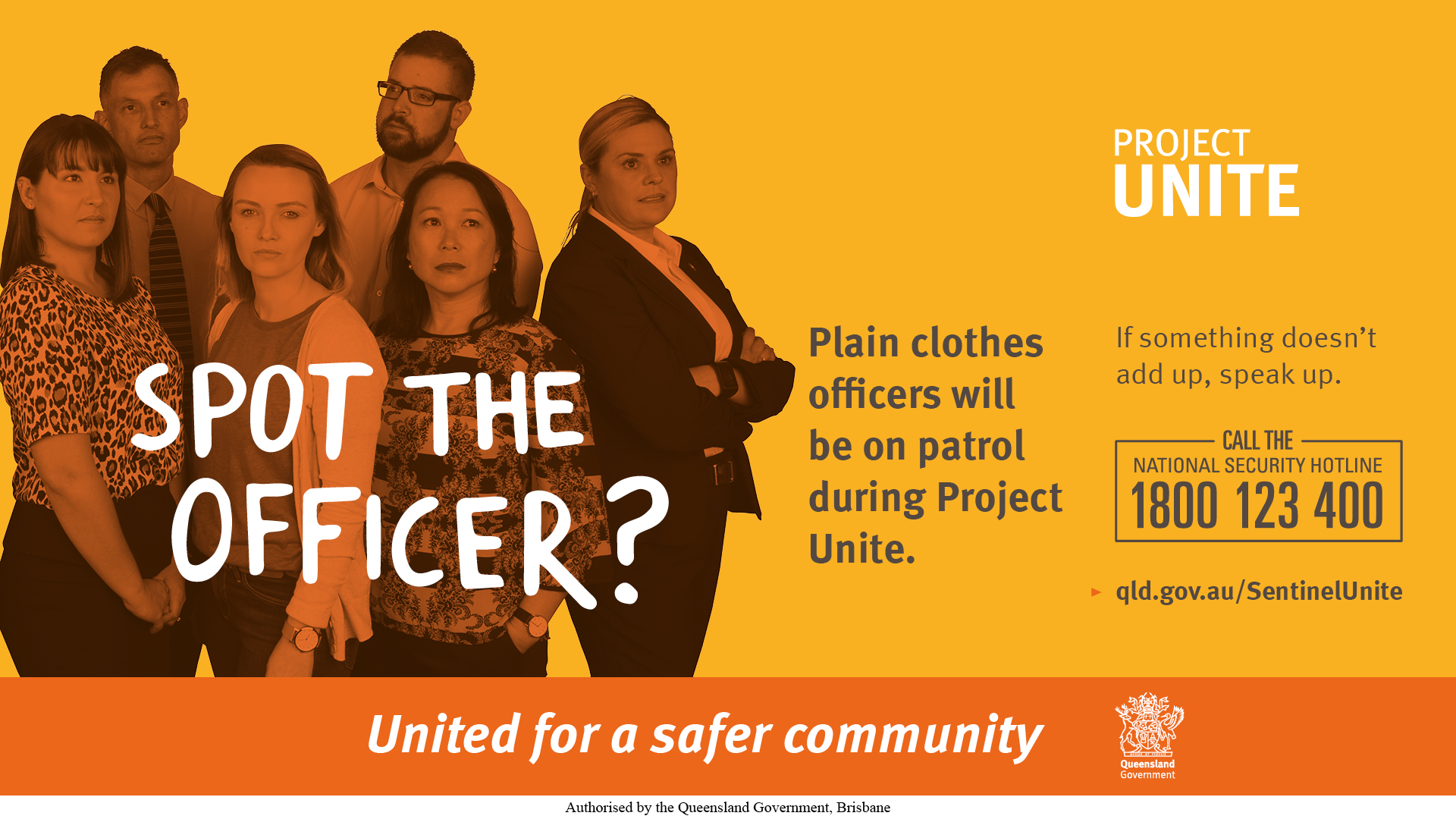 Operation Sentinel Unite – united for a safer community
Minister for Police, Fire and Emergency Services Mark Ryan and Queensland Police Deputy Commissioner Steve Gollschewski today launched Operation Sentinel Unite – one of the Queensland Police Service's crime prevention responses to detecting, deterring and disrupting criminal and terrorist activity.
Operation Sentinel Unite was developed alongside national security guidelines and as part of the QPS commitment to deliver a safe and secure Gold Coast 2018 Commonwealth Games.
"As the host state for the Games, it's our role to keep the athletes, tourists, residents and staff safe and secure to ensure everyone has the best time possible," Mr Ryan said.
"The Palaszczuk Government is committed to working with police to ensure that our community is well-equipped with the knowledge of what to do and how to respond should a critical incident occur.
"Awareness programs such as Sentinel Unite are key to getting the message out there that together we can help keep our community safe.
"By accessing the information provided by Sentinel Unite, we all will be in a better position to protect ourselves and our community."
The three-part security awareness project includes the Behaviour Observation and Suspicious Activity Recognition (BOSAR) training for police which was launched earlier this year.
"The BOSAR training is designed to enhance the capacity of police to detect, deter, prevent and apprehend people intent on causing harm to the public or infrastructure during major events such as the 2018 Commonwealth Games," Mr Ryan said.
The Department of Transport and Main Roads, official Games organisers GOLDOC and the City of Gold Coast are amongst those that have partnered with the QPS to deliver the Sentinel Unite message that we are all 'United for a safer community'.
Deputy Commissioner Gollschewski said Project Unite and Unified Response would equip the community with information that could make a difference in the unlikely event of a critical incident, particularly in crowded places.
"Sentinel Unite gives the community and business operators practical and easy to understand protective security information," Deputy Commissioner Gollschewski said.
"I wish to reassure the public that currently, there is no known specific threat to Queensland, or the Commonwealth Games however, we as a community should be aware of how to keep safe if a critical incident should occur."
Mr Ryan said police preparations were well underway as the Commonwealth Games draws closer. 
"Just last week, the Palaszczuk Government and QPS launched new Mobile Forensic Facility (MFF) and Forensic Response Motorcycles at Southport. The MFF will provide an innovative multi-purpose facility for the forensic management of counter-terrorism and major crime investigation," Mr Ryan said.
"There will be 3500 QPS officers, together with 4200 contract security personnel, over 2000 Australian Defence Force members and 100 officers from the Australian Federal Police to make up a security force of over 10,000 that will work together to ensure the safe celebration of the Games for athletes, officials and spectators."