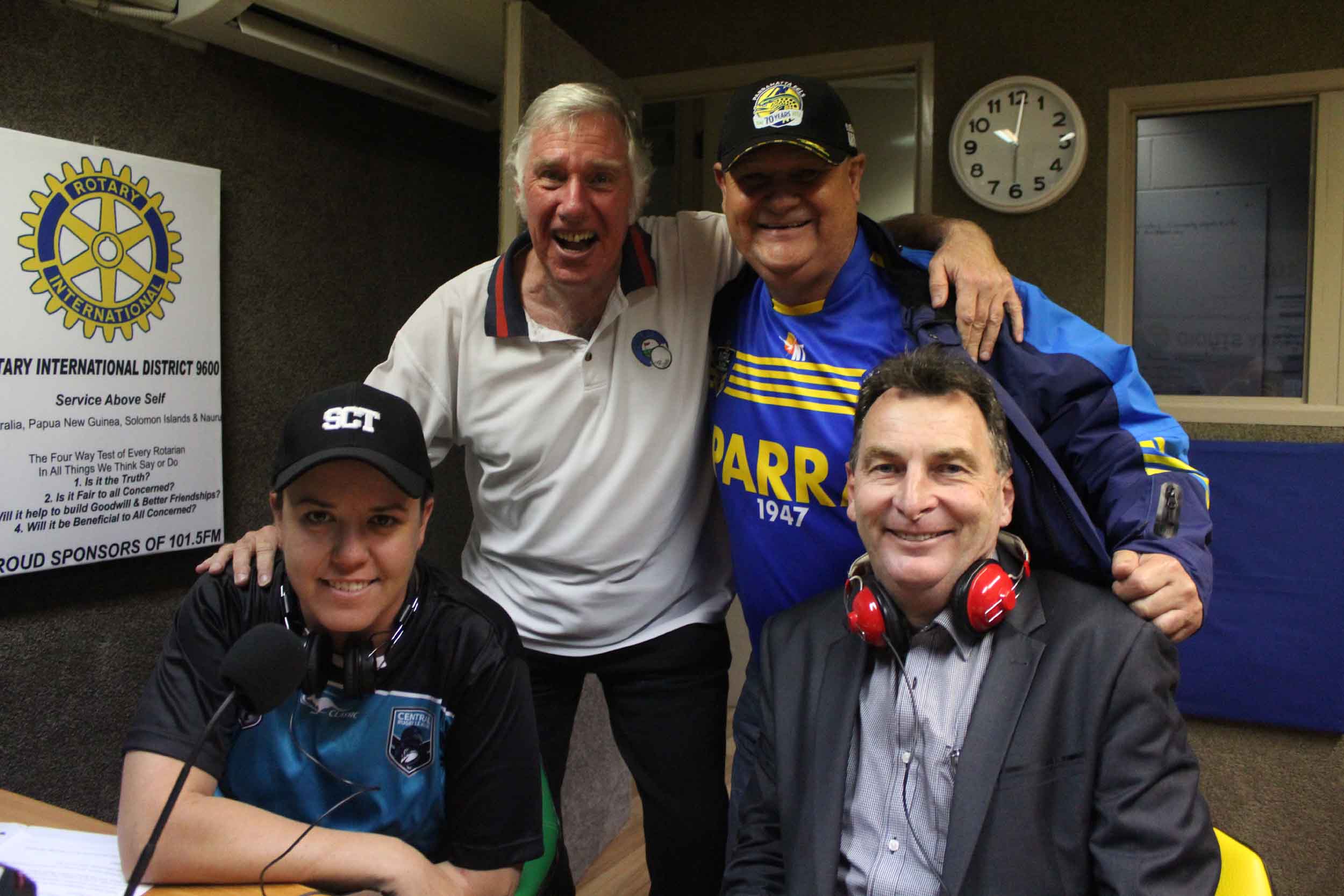 The Grapple for Thursday on Sport 101.5 2017-09-21
Segment 1
(a) : Interview with Craig Ingebrigtsen -
(b): -Panel
Week 2 of the semis last weekend
·       Can 2 QLD teams make the NRL GF? Every QLD SOO player on display this weekend except Dane Gagai
·       Coach sacking meter
·      SEQ Women's GF:
o   Div 3: Inala 30 d Jimboomba 12; Div 2: Western Fillies 0 lost to Carina 12 and in Div 1: Ipswich 6 lost to Burleigh 10
·       Brisbane Rugby League – wasn't a good weekend for Redcliffe as lost A-Grade 16-12 to Valleys on Saturday and then the Intrust Super Cup Preliminary final on Sunday at Dolphin Park 40-14 to Sunshine Coast Falcons.
·       Brisbane JRL Grand Finals also held last Sunday at Bishop and Emerson Parks:
UNDER 13 DIVISION 1               WATERFORD 12 d ASPLEY 10
UNDER 13 PREMIER                  REDCLIFFE 24 d LOGAN BROTHERS 18 
UNDER 14 DIVISION 1               WYNNUM MANLY 28 d NORTHS 24
UNDER 14 PREMIER                  SOUTHS 30 d ASPLEY 18
UNDER 15 DIVISION 1               CARINA 26 d LOGAN BROTHERS 20
UNDER 15 PREMIER                  REDCLIFFE 32 d LOGAN BROTHERS 12
UNDER 16 DIVISION 1               ST JOSEPHS 34 d REDCLIFFE 18
UNDER 16 PREMIER                  LOGAN BROTHERS VS WYNNUM MANLY
UNDER 17 DIVISION 1               BROTHERS 42 d ARANA HILLS 10
UNDER 17 NEV BLAIR              NORTHS 34 d EASTS 18                
Big weekend ahead for PNG RL with a "triple-header" on Saturday as Prime Ministers 13 v the Kumuls, Jillaroos v PNG Orchids and a PNG Select side will play a NSW u/16 Young Achievers while on Sunday, it's the PNG Hunters v Sunshine Coast Falcons in the Q-Cup GF at Suncorp
Segment 2
(a) Interview with Dave Maiden-QRL's Competitions Manager
(b) Interview follow up with panel and discuss Q-Cup etc.
Intrust Super Cup
PNG Hunters v Sunshine Coast Falcons at Suncorp Stadium on Sunday, September 24 - 3.25pm* (Live on Channel 9 and QRL Livestream)
PNG Hunters
Stargroth Amean 2. Wawa Paul 3. Bland Abavu 4. Adex Wera 5. Butler Morris 6. Ase Boas (c) 7. Watson Boas 8. Wellington Albert 9. Wartovo Puara 10. Stanton Albert 11. David Loko 12. Nixon Putt 13. Moses Meninga 14. Rahdly Brawa 15. Willie Minoga 16. Enock Maki 17. Brandy Peter 18. Esau Siune
Coach: Michael Marum
Guy Hamilton 2. Matthew Soper-Lawler 3. Justin Olam 4. Christopher Lewis 5. Jeremy Hawkins 6. Scott Drinkwater 7. Ryley Jacks 18. Tui Kamikamica 9. Brandon Smith 10. Lachlan Timm 11. Dane Hogan (c) 12. Joe Stimson 13. Harrison Muller 14. Alex Bishop 15. Jye Ballinger 16. Jon Grieve 17. Louis Geraghty 19. Martin Cordwell 20. Liam McDonald
Coach: Craig Ingebrigtsen
Redcliffe Dolphins v Norths Devils at Suncorp Stadium on Sunday, September 24 - 1.15pm* (live on QRL Livestream)
Redcliffe Dolphins
Trai Fuller 2. William Partridge 3. Regan Baker 4. Corban Daniels 5. Michael Walit 6. Radean Robinson 7. Reece Braun 8. Tearahi Wihongi 9. Bailey Pengelly 10. Brayden Dee 11. Jacob O'Shea 12. Unngoorra Harbour 13. Mitchell McPaul (c) 15. James Flack 16. Patrick Randall 17. Zachary Kerr 19. Bailey Butler
Coach: Scott Murray
Norths Devils
Kegan Tuhega 2. Lachlan Gallegos 3. Regan Glynn 4. Samuel Collins 5. Kalemb Hart 6. Bailey Hartwig 7. Jack Just 8. Patrick Akauola 9. Jack Miers 10. Riley Leota 11. Joseph McGuire 12. Michael Molo 13. Liam Horne (c) 14. Kobe Hetherington 15. Haydin Elsebach 16. Jack Peoples 17. Luke Kisaloff 20. Justin Timu 18. Joel Hughes 19. Jack Paterson
Coach: Craig Kennedy
NRL Development Cup (Under 12)
Harris Fields SS v Northview SS Combined at Suncorp Stadium on Sunday, September 24 - 12noon* (live on QRL Livestream)
Harris Fields State School (Woodridge)
Malaela Su'a (c) 2. Estinah Paraone 3. Robin Moala 4. Isaac Ratuere 6. Brandon Burgess 7. Solomone Fangupo 8. Nevaeh Ese 9. Codey Trend 10. Kelvyn Togia 11. Azel Penese 12. PJ Su'a (c) 13. Genesis Iuli 16. Nellina Togia 18. Joshua Afamasaga 19. Immanuel Setiu
Coach: Leon Panapa and Tamai Elers
Northview SS Combined (Mackay)
Bailey Cochrane 2. Lachlan Kerr 3. Jordan Thompson 4. Riley Chamberlain 5. Lincoln Nebauer 6. Timmy McEvoy 7. Cayden Holley (c) 8. Jay King-Mann 9. Sam Wotherspoon 10. Brad Byers 11. Kailu Phineasa 12. Jett Wienert 13. Will Shears 14. Jamaine Edwards-Taia
Coach: Paul Manttan
Segment 3:  Greg McCallum - NRL Preliminary finals-week 3 - Could it be an all Qld NRL GF but before we discuss week 3 of the NRL semis, big weekend in Port Moresby your experiences in PNG
Storm v Broncos in Melbourne on Friday night
Roosters v Cowboys at SFS on Saturday night 
Dally M's –next Wednesday