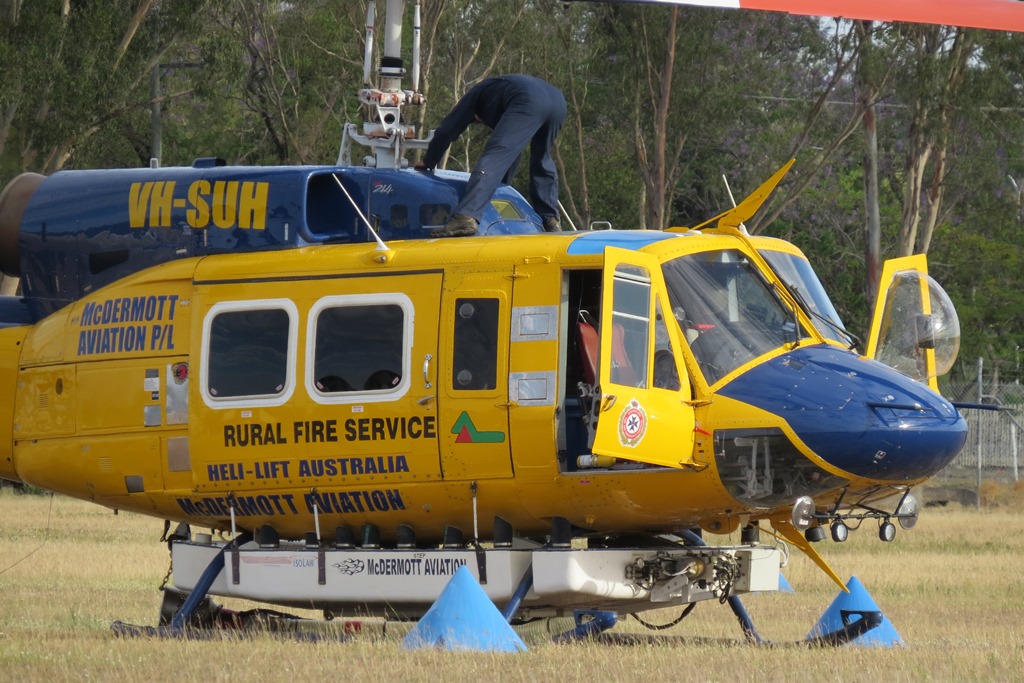 More water bombing helicopters arrive for dangerous bushfire season
Rising temperatures and very dry conditions have authorities warning of an "above normal" bushfire season with the fire danger across much of the state already rated as "moderate to high risk."
In just the last six weeks, the Rural Fire Service (RFS) and Fire Rescue Service (FRS) has had to deal with call-outs to more than 1700 bushfires state wide.
The bushfire season has started early and the RFS "expects some significant fires in the weeks to come."
The number of specialist bushfire fighting aircraft to cover the south east of the state has been boosted in readiness.
Two large Helitak (Bell 214B) water bombing helicopters and a Twin Squirrel observation and attack supervision helicopter are now ready at Archerfield Airport for rapid responses to bushfires within a 100 kilometre radius.
The three aircraft have been contracted by the Queensland Fire and Emergency Services until December the 17th.
The Bell 214B, the largest single engine helicopter in the world can draught 2650 litres of water into a belly tank from any accessible water source.
Minister for Fire and Emergency Services Mark Ryan said major bushfires have occurred from Cape York to Stanthorpe and it's important Queenslanders take precautions now to ensure their own safety.
"Bushfires can start at any time and with little warning. You don't even have to live close to bush or grassland to be affected," Minister Ryan said.
"I urge everyone and people visiting our state to check out the Rural Fire Service website, to learn how to prepare for these fires and complete a Bushfire Survival Plan.
"In just the last six weeks, our volunteers and staff from the Rural Fire Service (RFS) and Fire Rescue Service (FRS) have fought more than 1700 bushfires across the state.
"Many of them threatened homes and lives, and our firefighters have done a fantastic job containing these blazes and keeping Queenslanders safe."
Acting Commissioner for Queensland Fire and Emergency Services (QFES) Mike Wassing said our resources are primed and ready on the ground and now in the air to respond quickly to any bushfire emergency in the coming months.
"Over the next few months, areas that were impacted by Tropical Cyclone Debbie and associated flooding can expect high levels of fire activity," Acting Commissioner Wassing said.
"Land management agencies have been working hard to reduce dangerous fuel loads but a heightened risk still remains in these areas.
"Make sure your Bushfire Survival Plan is up-to-date and everyone in your house knows what they will do if a bushfire threatens.
"If you decide to relocate, identify where you will go, what you will take with you and how you will get there safely."