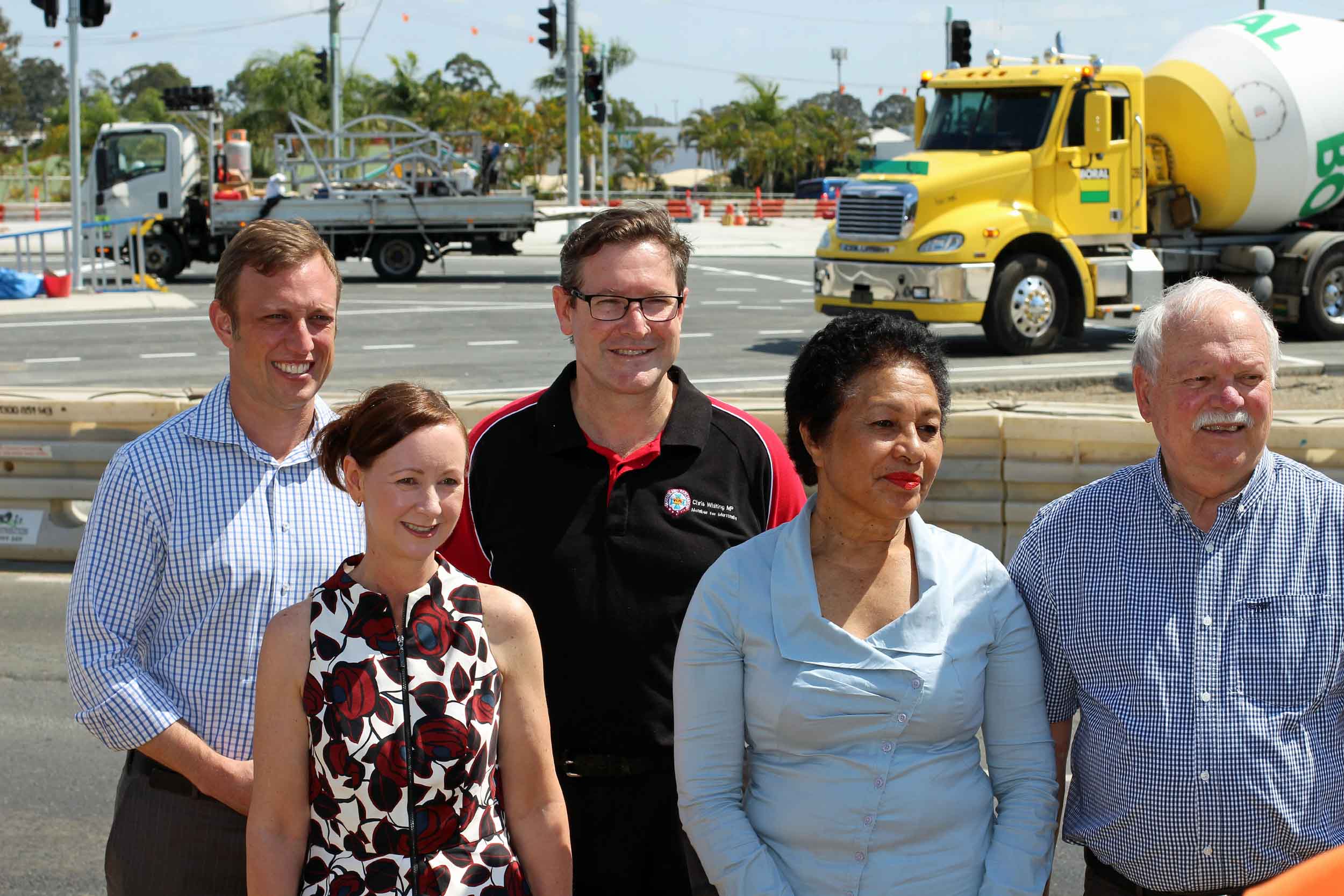 Big milestones reached for Rothwell Intersection
The last traffic switch will happen this weekend as the $37.5 million upgrade to Rothwell intersection nears completion.
 Acting State Main Roads and Road Safety Minister Steven Miles said the last major traffic switch is scheduled to occur on Sunday 24 September and the traffic signals would be switched on next week.
"This will be the first time motorists will be driving on the final alignment in each direction and with operational traffic signals, which is exciting news for motorists who use the intersection each day," Mr Miles said.
"The Australian Government, Queensland Government, Moreton Bay Regional Council have jointly invested $37.5 million in this project to convert the existing roundabout at Deception Bay Road and Anzac Avenue to a signalised intersection."
Federal Minister for Urban Infrastructure Paul Fletcher said steady progress has been made on the project despite the challenges of working at a complex intersection.
"Maintaining traffic volumes through the intersection while delivering the project has been managed well, considering the complexities of the work and the 50,000 vehicle movements daily," Mr Fletcher said.
"The project team has made great progress to keep work on this major project on schedule and to now reach this final stage of the upgrade."
Acting Moreton Bay Regional Council Mayor, Mike Charlton said the new signalised intersection would provide improved safety and better connectivity for motorists, cyclists and pedestrians.
"The Rothwell Intersection Upgrade delivers new signalised pedestrian crossings and dedicated cycle lanes making it more convenient and safer for local residents to get around, to school, the local shops, and back home again," Cr Charlton said.
Member for Murrumba Chris Whiting said he was especially pleased to see vehicle access retained between McGahey Street and the intersection.
"Retaining the McGahey Street access following community feedback is a real win for local residents and businesses in the area," Mr Whiting said.
"The project has also supported an average of 110 direct jobs in total during construction."
Member for Petrie Luke Howarth said construction on the intersection was now entering its final stage, with work on-track to be completed later this year.
"This major achievement will deliver great safety and efficiency benefits to motorists using this intersection," Mr Howarth said.
"The traffic switch this weekend will be an exciting step in the project for motorists and neighbouring residents because they will be able to see works are nearing completion."
The $37.5 million Rothwell Intersection Upgrade is funded with the Australian Government contributing $11.7 million, Queensland Government $22.6 million, and Moreton Bay Regional Council $3.2 million.
The traffic switch will allow for the existing roundabout to be removed and traffic realigned to the final intersection configuration.
The switch will be in place for two weeks while a detour will be in place at night from 6.30pm to 6.30am to limit vehicles in the intersection.
Rothwell station access roads, Warbrick Way and Stubbins Street will be used to redirect traffic around the works.
Traffic conditions during the day will not be affected, with full access reinstated at the roundabout to maintain traffic flow.
Further information about the project can be found at www.tmr.qld.gov.au and search for 'Rothwell Intersection Upgrade'.