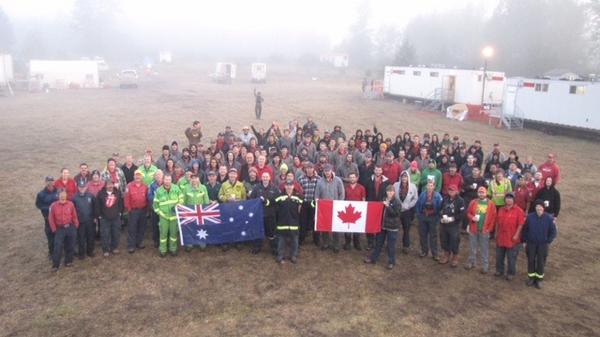 Queensland Fire and Rescue to help with Canadian wildfire response
Queensland Fire and Emergency Services (QFES) personnel will deploy to Canada today to help with bushfire response efforts after a state of emergency was declared in British Columbia.
More than 180 wildfires are being fought across the province and four QFES personnel will head to Sydney today before flying out tomorrow morning to British Columbia to assist with local firefighting operations.
Fire and Emergency Services Minister Mark Ryan said Queensland's Fire and Rescue and Rural Fire Service personnel would add to a larger Australian team made up of firefighters from agencies around Australia.
"You never want to see a country being ravaged by a natural disaster and we are always ready to support the international community should the need arise," Minister Ryan said.
"Queensland firefighters are being deployed to assist in a number of areas including fire behaviour analysis, operational support and aerial operations.
"There are over 50 firefighters and support staff travelling from Australia as part of the operational response and we are extremely proud to be involved in the undertaking.
"To be called on during these major international incidents demonstrates the high level of skill and expertise of our firefighters have."
Minister Ryan said his thoughts were with everyone involved in the unfolding bushfires in Canada but was happy QFES would be able to relieve some of the pressure facing operation personnel.
"With the aid of the international community, we hope to help bring these fires under control quickly and assist the Canadian people back on their feet," Minister Ryan said.
"Queenslanders are all too aware of how dangerous natural disasters can be and we are proud to be part of the Australian response team.
QFES Commissioner Katarina Carroll said firefighters undergo a high level of training in order to be ready to respond to any major incident around the world and it was important to support partner agencies when required.
"We pride ourselves on the high level of training we provide firefighters and emergency services volunteers across the state," Ms Carroll said.
""QFES personnel proudly participate in international deployments regularly. Our staff and volunteers have travelled all over the world to help countries in need of emergency response.
"We have developed strong and mutually supportive relationships with partner agencies in Canada and around the world and it's comforting knowing that we can help and look for help should we ever need it.
"Deployment like this show the level of respect QFES holds internationally and we are always looking to learn, and by assisting operations in Canada, we have the opportunity to see different operations that could influence how we manage future major incidents here in Queensland."