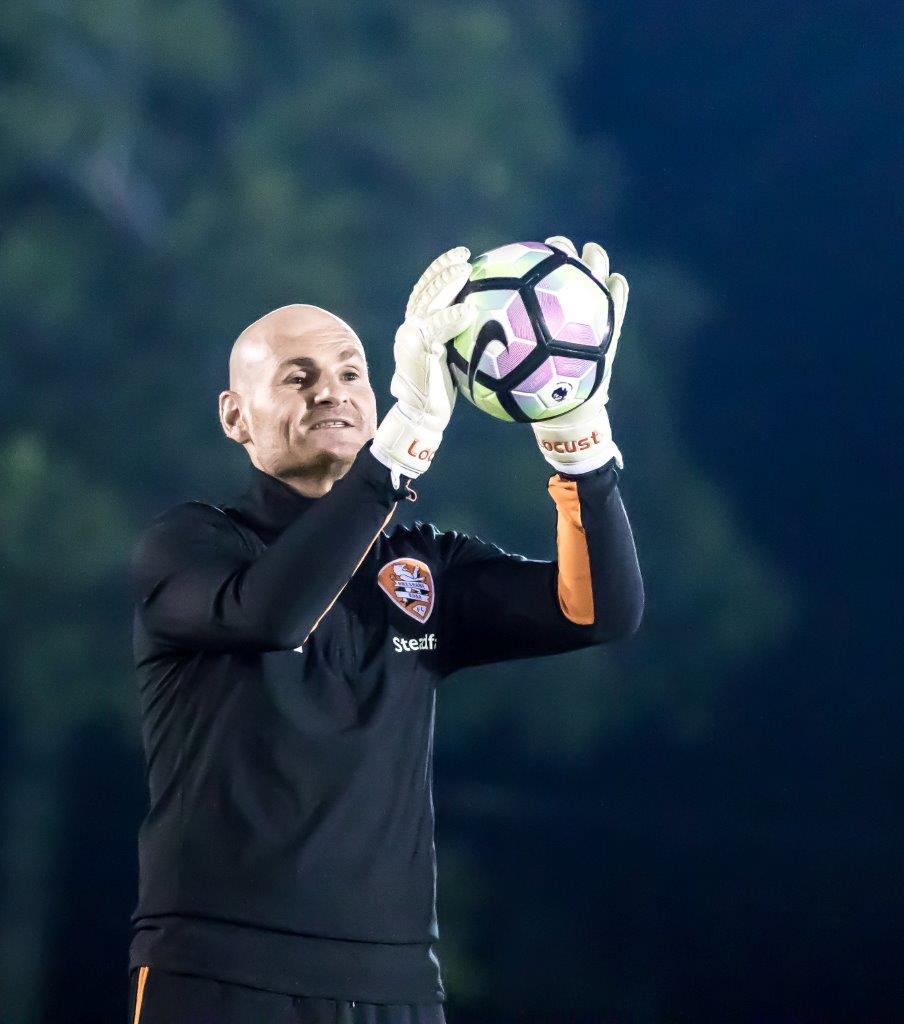 Caboolture FC welcomes Jason Kearton - Brisbane Roar Goalkeepers' coach
Type in Jason Kearton's name on YouTube, and the first video that shows up is a highlights package from the English First Division match between Crewe Alexandra and Blackburn Rovers, played at Ewood Park in March 2000.
The video is over five minutes long and consists almost entirely of saves made by Kearton, diving down low and parrying wide, tipping thunderbolts over the bar, and one purely instinctual around-the-body flick to deny Blackburn on the goal-line and set up his side's unlikely 80th minute winner.
Some have commented on the video calling it the greatest goalkeeping performance of all time, and arguing that point would be about as hard as scoring against him.
Now Caboolture FC's young 'keepers have a chance to learn from one of the best in the business, with Kearton, currently the Brisbane Roar goalkeeping coach, hosting a series of free junior clinics at Grant Road over the next two weeks.
"Jason came out last year and the clinics were very popular, so we're hoping to make it an annual thing," Caboolture goalkeeping coach Dave Moore said.
"He's just phenomenal with the kids. What he covers is mainly basic skills, but he does it in such a way that it's so fun for them.
"It's all about giving our juniors the best opportunities we can, so that if they choose to play at higher levels the basics are already second nature for them and they can focus on more advanced stuff.
"We've had kids before invited to elite training camps but even though they had the talent they struggled to keep up, because the coaches would say the name of a specific drill or exercise which they didn't know about because they hadn't had 'keeper training before.
"Even for those not looking at playing higher levels, this is a great opportunity for the kids to rub shoulders with not only one of best 'keeper coaches in Australia, but someone who played top flight professional football himself."
Starting his career with the Brisbane Lions in 1987, Kearton moved to England in '88 when he was signed by Everton, the club he stayed with for eight years before joining Crewe Alexandra and going on to make 191 appearances for the League One side, and returned to Australia in 2001 to play for Brisbane Strikers.
Former Lions teammate Rado Vidošić offered Kearton the coaching job with the Roar in 2012, and he has since been part of two premierships with the club.
"We're pretty blessed at the moment to have two of the best 'keepers in the country in Jamie (Young) and (Michael) Theo," he said.
"With players of such a high calibre it's more about making small refinements here and there, so I really enjoy the junior clinics because I get to do a lot more actual coaching.
"It's very rewarding seeing young 'keepers go from strength to strength as a result of a few sessions."
The clinics will run from 6.30-8.30pm, with under 10's to 13's this Wednesday and 14's to 16's on Thursday, while next week under 10 and 11 'keepers will train on Tuesday, under 12 and 13 on Wednesday and under 14-16 on Thursday.
"Even if Jason wasn't as good a coach as he is, just the fact he is the Roar 'keeper coach is enough for the kids to really want to learn from him," Moore said.
"It's a chance for them to get a glimpse into professional football and what it's like working with an elite coach."
Below Jason Kearton with young soccor players