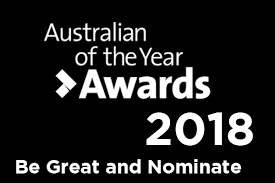 Be great and nominate for the 2018 Australian of the Year Awards
Premier Annastacia Palaszczuk is encouraging Queenslanders to celebrate those who make our state great by nominating someone in the 2018 Australian of the Year Awards.
"The people of Queensland have played the biggest part in building the success of our state," Premier Palaszczuk said.
"For more than 150 years, we have seen remarkable Queenslanders working to improve the lives of those around them and excelling the core values we see as being Australian.
"There are countless untold stories of people whose achievements should be celebrated.
"The Australian of the Year Awards provide the opportunity for all Queenslanders to shine a light on our community champions and young game-changers, distinguished authorities and social innovators by making a nomination.
"This year, we were proud to see Emeritus Professor Alan Mackay-Sim, a leader in stem cell research and cell transplantation therapy, represent Queensland as the national winner of the Australian of the Year Award, in recognition of his pioneering, life-changing work.
"My government is proud to support award programs that celebrate the achievements of our people.
"I encourage everyone to think about those in the community that make us proud to be a Queenslander and nominate them in this prestigious national program."
Nominations can be made across four categories including Australian of the Year, Senior Australian of the Year, Young Australian of the Year and Australia's Local Hero.
The Queensland award recipients will proceed as finalists to the national Australian of the Year Awards, to be announced in Canberra on the eve of Australia Day 2018.
To submit a nomination, visit australianoftheyear.org.au or phone 07 3003 9200. Nominations close Sunday 6 August 2017.
The Australian of the Year Awards is a National Australia Day Council initiative, managed in Queensland by the Queensland Government.