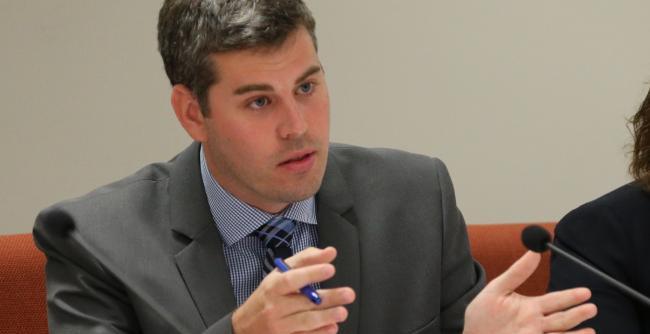 Queenslanders to name 7 police puppies
Queenslanders will have the opportunity to name seven soon to be crime-fighting canines belonging to the Queensland Polive Service (QPS), Police Minister Mark Ryan said today.
On a recent visit to the Dog Squad, Minister Ryan announced a Queensland-wide name search for the seven puppies born six weeks ago as part of the QPS breeding program.
"Each litter is given a letter to distinguish them from the others and these five boys and two girls are the G litter, so their names must start with the letter G," Minister Ryan said.
"We're asking Queenslanders to get creative and put forward your best name suggestions.
"Once old enough, the puppies will undergo training over the next few months in the hopes of becoming general purpose or drug detection dogs."
Minister Ryan said the Dog Squad was one of the most active and essential frontline services of the Queensland Police Service.
"Giving Queenslanders the opportunity to name seven police pups highlights the important role police dogs and their handlers play in keeping Queenslanders safe," Minister Ryan said.
"Each year our general pupose dogs are responsible for the tracking and apprehension of offenders state-wide.
"Of equal importance, the detection dogs are responsible for keeping significant quantities of illicit drugs off Queensland streets."
The opportunity to submit names will go live on the QPS myPolice site as of today, Thursday, June 22, for five days and will be promoted on the QPS' social media channels. The chosen names will be revealed on Friday, June 30.
To vote visit here:  http://mypolice.qld.gov.au/blog/2017/06/22/queenslanders-to-name-seven-police-puppies/
Commissioner Ian Stewart said the last puppy naming competition was in 2015 for the W litter which received an overwhelming response from the community with more than 36,000 entries submitted.
"Our last puppy naming competition showed how much Queenslanders loved being involved in naming our pups and we look forward to receiving all the creative and wonderful names for the G litter," Commissioner Stewart said.
"The G litter turned six-weeks-old today and will be bestowed their names from this competition before getting collected by carers from around the state who will look after them until they are old enough to begin the next series of training."