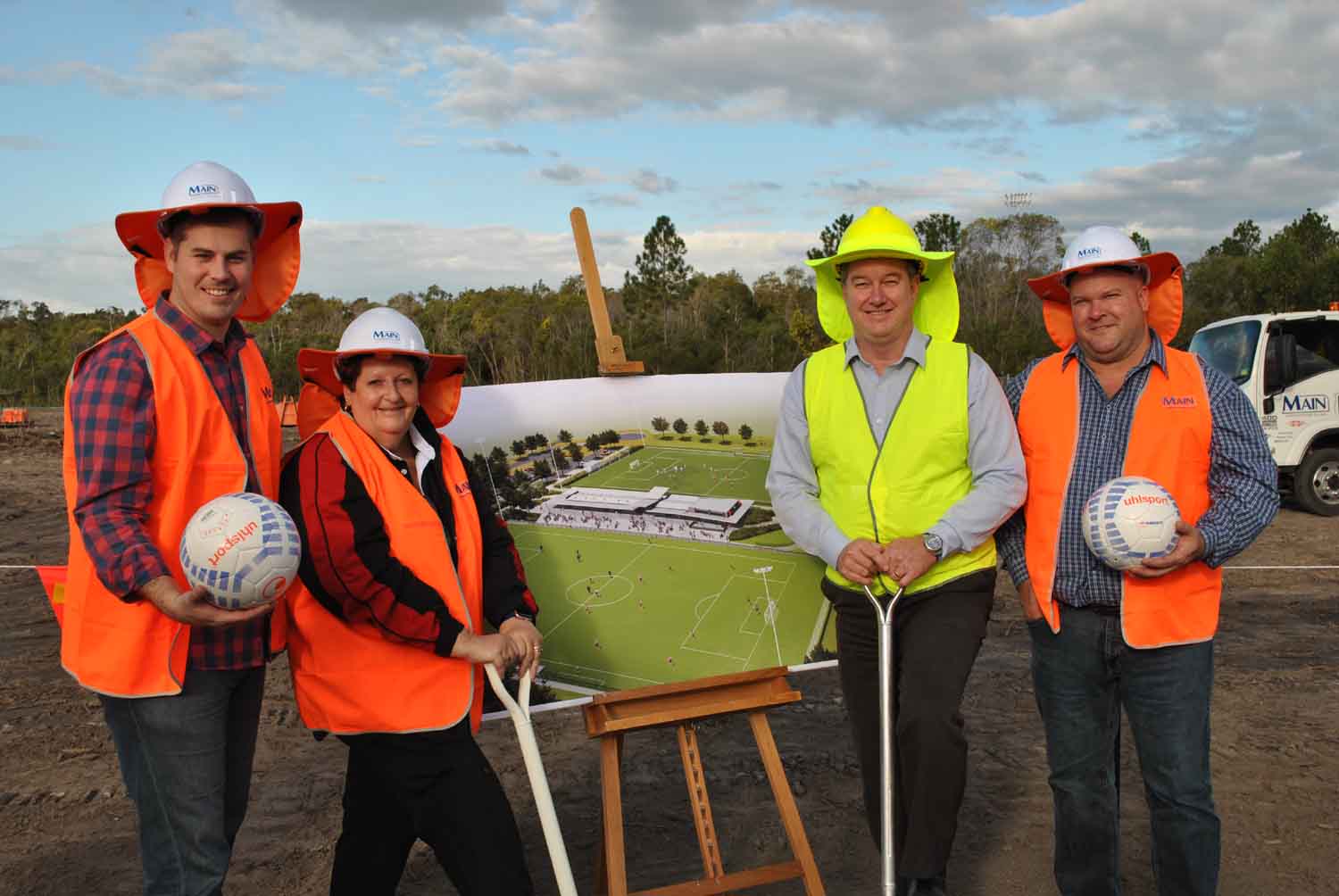 Game on for Moreton Bay soccer precinct
Construction on stage one of Moreton Bay's new regional soccer precinct is officially underway at Burpengary.
Moreton Bay Regional Council Division 2 Councillor Peter Flannery was joined by State Member for Morayfield Mark Ryan and State Member for Kallangur Shane King together with representatives from the Caboolture Sports Club Group and Caboolture Sports Football Club (CSFC) on Friday, June 9 to help turn the first sod and mark the occasion.
"Crews are now starting to prepare the area for the construction of Moreton Bay's first FIFA-rated synthetic field together with two new senior-grade grass pitches," Cr Flannery said.
It follows council's announcement earlier in the year of an $11.45 million tender for the precinct's stage one construction and statement last week announcing the precinct would become CSFC's new home ground.
"It's incredible to think that we'll soon have a major regional soccer precinct right in the heart of Moreton Bay.
"We've seen the success our region has had with its Aussie Rules precincts here and at South Pine, and this project aims to bring that same level of success to Moreton Bay with the round-ball game.
"Football Queensland has indicated the precinct will be able to attract national exhibition games, carnivals and state-level fixtures, once complete.
"Who knows, maybe in a couple of years' we might have the next Tim Cahill or Harry Kewell making their mark here at Burpengary.
"It's a proud day for our community and it brings us one step closer to delivering a high quality soccer facility to give aspiring athletes more opportunities to play the world game."
Cr Flannery said during the construction process, 130 jobs would be created and in the long term, it would also provide a boost in sports tourism for local businesses and employers.
State Member for Morayfield Mark Ryan welcomed the commencement of construction on the project, which also benefited from a State Government contribution of $1.5 million from the Get Playing Plus program.
"Commencement of this project is terrific for our community in terms of what it means for local jobs, but also for the long-term prospects of local football which will benefit from the ongoing use of a first-class sporting facility," Mr Ryan said.
"It's important that we invest in local projects like this one, which promotes increased participation in local sport as well as fostering greater community spirit and pride in our people."
Football club representative on Caboolture Sports Club's board of directors Michele Rigger was overjoyed at finally seeing the her club's dream come true.
"The Grant Road sports complex has been the winter home of Caboolture Football Club for over 30 years. Our dream for a new facility started 15 years ago, and thanks to Moreton Bay Regional Council, Queensland Government and Caboolture Sports Club, our dream is now becoming a reality," Ms Rigger said.
"We currently share the facility with the Caboolture Cricket club. With their summer season added to council's one month of annual turf maintenance, our  football club is given just five months of access to the Grant Road fields each year.
"The relocation of our 600-plus playing members in 2019 to the new state-of-the-art facility will allow us for the first time ever to conduct all of our pre-season and off-season training at the one venue.
"For the first time ever we will also be able to introduce non-competitive programs such as summer twilight social games which will attract new members to our club."
Photo above: From L to R - Mark Ryan MP, CSFC's Michele Rigger, Cr Peter Flannery and Shane King MP
Photo below: Mark Ryan MP and Cr Peter Flannery turn the sod