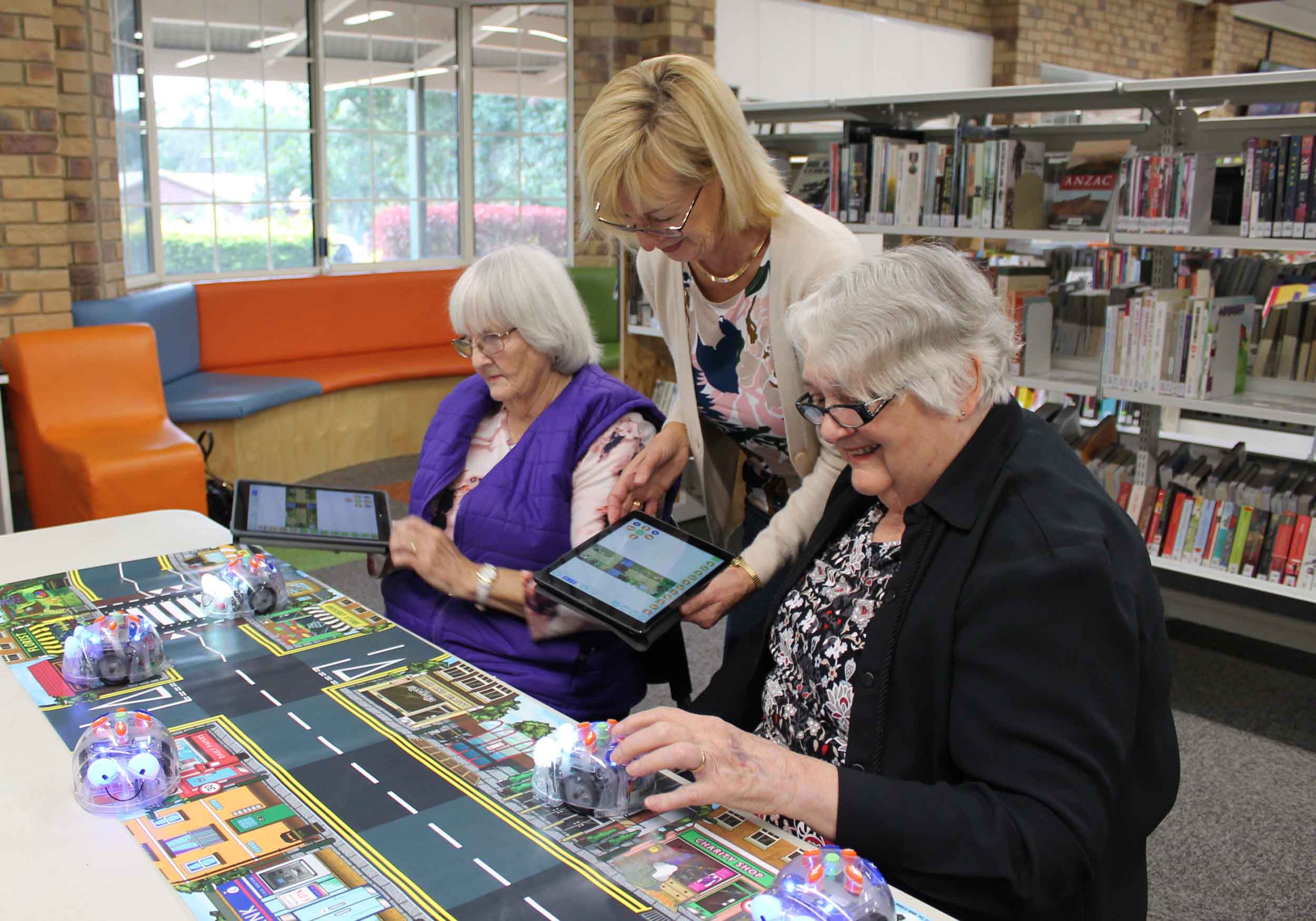 Discover the fun of coding and robotics with free council workshops
Coding and robotics is no longer limited to younger generations, with Moreton Bay Regional Council hosting free beginner workshops for adults and seniors at libraries throughout the region from now until the end of August.
Council's Spokesperson for Lifestyle and Amenity, Cr Matt Constance, said through 'Robots for Beginners', residents 18 years and older could discover the practical side of robots and coding in a fun, hands-on 90 minute workshop.
"Participants don't require any previous knowledge of coding or robotics - just a willingness to learn something new," Cr Constance said.
"These sessions are about breaking down some of the barriers that adults and seniors may experience with new technology, and providing them with the confidence to expand their digital literacy skills.
"Throughout the session, participants will discover the basics of coding and robotics using Blue-Bots Bluetooth Floor Robots, which can be controlled manually or using an iPad.
"With the Blu-Bot, you can learn to code, debug and write algorithms which enable the robot to follow your instructions and perform right in front of you.
"Participants will not only develop a basic understanding of coding and robotics, but it's also a great way to discover new technology and improve your digital literacy skills using both robotic equipment and iPads.
"Robots for Beginners is a relaxed, friendly and easy-going program - it's all about having a go and enjoying yourself with likeminded participants.
"Who knows - we might even have the next Mark Zuckerberg or Steve Jobs right here in our region just waiting to be discovered!"
Run by council's library staff, 'Robots for Beginners' workshops will run until the end of August at Redcliffe, Burpengary, Caboolture, Deception Bay, North Lakes, Strathpine, Bribie Island, Woodford, Albany Creek and Arana Hills Libraries.
The workshops are free to Moreton Bay Regional Council Library Members, however registrations are essential.
For a full list of session times and dates and to register, visit council's website.
To become a library member and benefit from events like Robots for Beginners, simply head along to your local library with identification including name and current residential address within the Moreton Bay Regional Council area.
Registrations are now open for the following sessions:
Arana Hills Library - 2.00pm-3.30pm, Wednesday, 21 June
Redcliffe Library - 2.00pm - 3.30pm, Wednesday 5 July
North Lakes Library - 1.00pm - 2.30pm, Tuesday 11 July
Strathpine Library - 10.00am - 11.30am, Tuesday 18 July
Woodford Library - 2.00pm - 3.30pm, Thursday 27 July
Burpengary Library - 1.00pm - 2.30pm Thursday, 3 August
Caboolture Library - 2.00pm - 3.30pm, Wednesday 16 August
Bribie Island Library - 2.00pm-3.30pm, Wednesday 23 August
Deception Bay Library - 10.00am - 11.30am, Thursday 31 August.