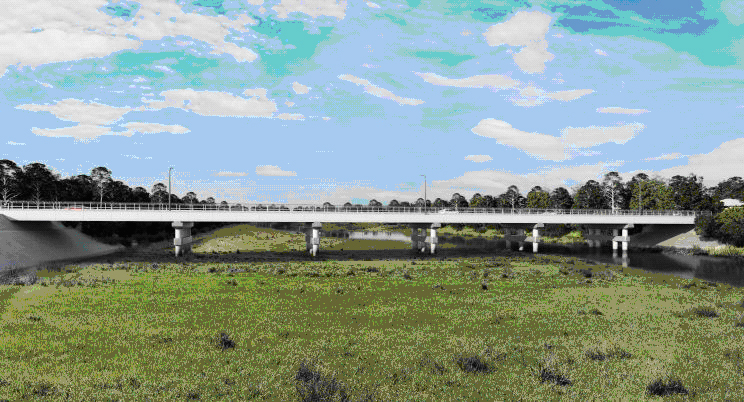 Caboolture is getting a new multi-million dollar traffic bridge over Cundoot Creek.
*Photo above is a CGI of the proposed bridge
Multimillion dollar traffic bridge planned over Cundoot Creek, a tributary of the Caboolture River this new connection to Bruce Highway will relieve congestion in Caboolture CBD.
Construction due to start in August 2017 with completion in mid-2018.
A two-lane traffic bridge is being planned over Cundoot Creek, a tributary of the Caboolture River, creating a new connection between Caboolture CBD and Bruce Highway.
The $16 million project will be jointly funded by Riverbank developer Peet Limited and Moreton Bay Regional Council.
The new route will extend from the Buchanan Road exit, on Bruce Highway, through Peet Limited's Riverbank estate, to Morayfield Road. From there, it will be one turn to Caboolture Town Centre with no traffic lights between Bruce Highway and Morayfield Road.
The proposed bridge is expected to carry 7000 vehicle trips a day. It will cross Cundoot Creek allowing traffic to bypass Buchanan Road west, William Berry Drive, Dickson Road and Market Drive.
Peet Limited CEO and Managing Director Brendan Gore said the bridge would create an important new arterial link around central Caboolture.
"As Caboolture grows, movement in and out of the town centre is very constrained by the area's geography. The new bridge will help alleviate much of that pressure and will be a big improvement to traffic flow in the whole district," Mr Gore said.
"The community at Riverbank is growing quickly too and currently the only way in and out is from the western side onto Morayfield Road.
"The bridge will create a new eastern entrance from Riverbank, along Weier Road and straight onto the M1. From there, it's a direct 45-minute drive to central Brisbane."
Moreton Bay Regional Council Division Three Councillor Adam Hain said the multimillion dollar project would bring great benefits to the Caboolture community.
"Council has been successful in securing a multimillion dollar deal, in partnership with Peet, with this development that is set to bring significant benefits to the Caboolture community," Cr Hain said.
"When construction is completed, the new overpass will provide better connectivity for residents to the new Riverbank estate.
"The Cundoot Creek crossing will provide a road connection between Weir Road and Market Drive in the short term that will ultimately be part of an important future road link between Lower King Street and Buchanan Road.
"This project will no doubt improve the road connectivity in the Morayfield area giving commuters more options to travel in and out of the area.
"This development is a significant investment for our future and one that will cater for our growing Caboolture community."
Final plans for the new roadworks are currently before Council for construction approval.
Subject to final approvals, construction of the bridge and associated roadworks will begin in August 2017. The bridge is expected to open around August 2018.
Map below is the proposed route