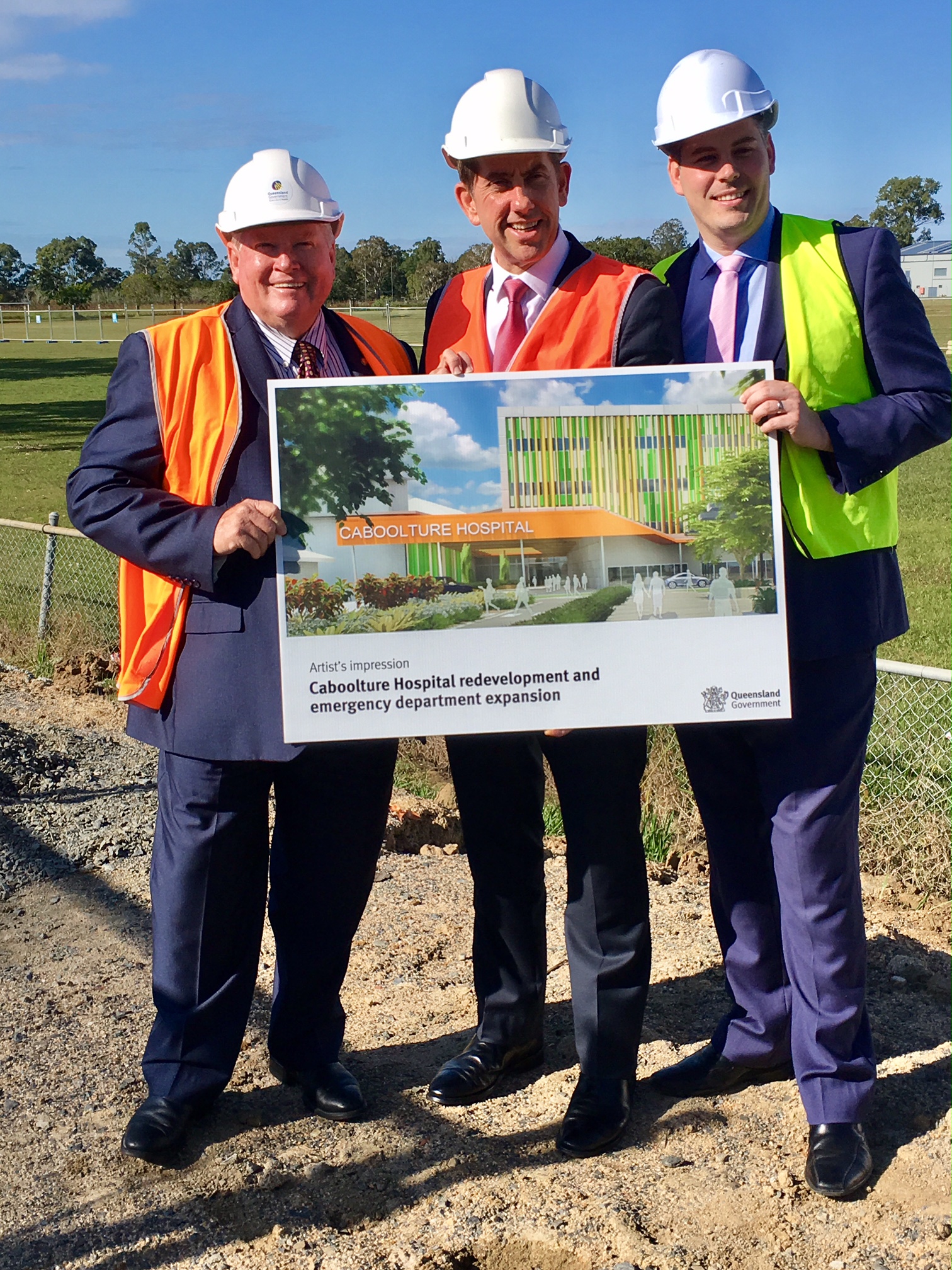 Caboolture Hospital set for redevelopment and ED expansion
Caboolture Hospital is set for a major upgrade and expansion thanks to funding announced in last week's State Budget.
Health and Ambulance Services Minister Cameron Dick said Caboolture would share in $112.2 million over four years for planning and preparatory works for the redevelopment and expansion, with a further $19.6 million allocated to expand the emergency department over the next two years.
The Minister made the announcement today while officially opening a new 32-bed adult inpatient ward, specialising in the care of the elderly.
Mr Dick said the new 32-bed adult ward will increase the Hospital's bed capacity from 233 to 265, allowing an additional 2500 adult patients to be treated each year.
"As part of the new ward, a secure Gentlemen and Ladies Ageing with Dignity (GLAD) unit will open to provide more personal and individual care to elderly patients," Mr Dick said.
"The GLAD unit will be staffed by highly specialised nurses, doctors and allied health staff who are experts in providing care to elderly patients who suffer dementia, delirium, or other cognitive impairments.
"The new ward will also cover a range of adult specialties, including coronary and cardiac care, and general medicine, which has seen 30 new doctors, nurses, allied health and support staff join the health care ranks locally."
The Minister said while the Caboolture Hospital has served locals well for many years, the Palaszczuk Government was committing to a redevelopment to cater for the region's rapid population growth and future demand.
"To service the population growth, we anticipate the need for roughly 130 new treatment spaces at Caboolture Hospital (from 260) but that will all be considered as part of a detailed planning process over the coming year," Mr Dick said.
"To cater for the increased demand, over the next two years, we have also allocated $19.6 million to expand the emergency department.
"This funding will meet the urgent need to increase the emergency department capacity, facilitating better service delivery and reducing waiting times and overcrowding.
"The expansion will provide fourteen new treatment spaces, four consultation rooms and one treatment room; almost doubling the current ED capacity.
"Works have already commenced on this important project, with an expected completion date in December 2018."
Mr Dick said the Member for Morayfield Mark Ryan and the Member for Pumicestone Rick Williams had strongly advocated for improved health services for their communities.
Mr Ryan and Mr Williams praised the Government for delivering on much-needed infrastructure.
"These redevelopments will need to be a staged approach to address the immediate shortfall, but also cater for long term needs," Mr Ryan said.
"Planning for future redevelopment in these hospitals is planning for the growth in these communities that we know is going to happen.
"The Palaszczuk Government is committed to making Queenslanders among the healthiest people in the world by 2026 and this means improving access to quality and safe healthcare in all its different forms and settings."
Mr Williams said the Palaszczuk Government was delivering better infrastructure and services, as well as employing more health staff.
"Since coming to government, we have delivered an additional 242 doctors and 812 nurses and midwifes to the Metro North Hospital and Health Service," he said.
"This demonstrates our commitment to rebuilding the frontline, which is in stark contrast to the Nicholls-Newman LNP which took an axe to the health system, cutting 629 nursing and midwifery jobs in the Metro North Hospital and Health Service, which covers Caboolture Hospital.
"Our Government works for all of Queensland and is building local healthcare facilities in parts of Queensland ignored by the LNP for decades."
For more information about the 2017/18 Budget, visit budget.qld.gov.au.