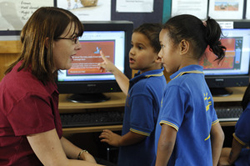 Budget 2017: More teacher aides for local Prep classes
State Member for Morayfield Mark Ryan welcomed the Premier's announcement this week that every local state school Prep class would have a teacher aide from next year.
Mr Ryan said the boost to Prep was part of the Palaszczuk Government's 2017-18 State Budget.
"We want our youngest students to get the best possible start to their education," Mr Ryan said.
"That's why the Palaszczuk Labor Government is boosting teacher aide hours to ensure that every Prep class has access to a teacher aide.
"Prep teacher aides play a vital role in helping children develop the basic skills they need for learning at school, which is why it's so important that they are in every class.
"We're investing $24.8 million over four years to provide an extra 4,000 teacher aide hours per week in Queensland state schools.
"We know that participation in Prep improves a child's educational outcomes, which is why the Palaszczuk Labor Government legislated to ensure that all Queensland students benefit from a full-time Prep year before starting Year 1.
"More Prep teacher aides will support our students to get the most out of their first year of full-time schooling.
"Teacher aides play a valuable role assisting teachers by developing resources, supporting students' learning, and helping with practical duties in the classroom."