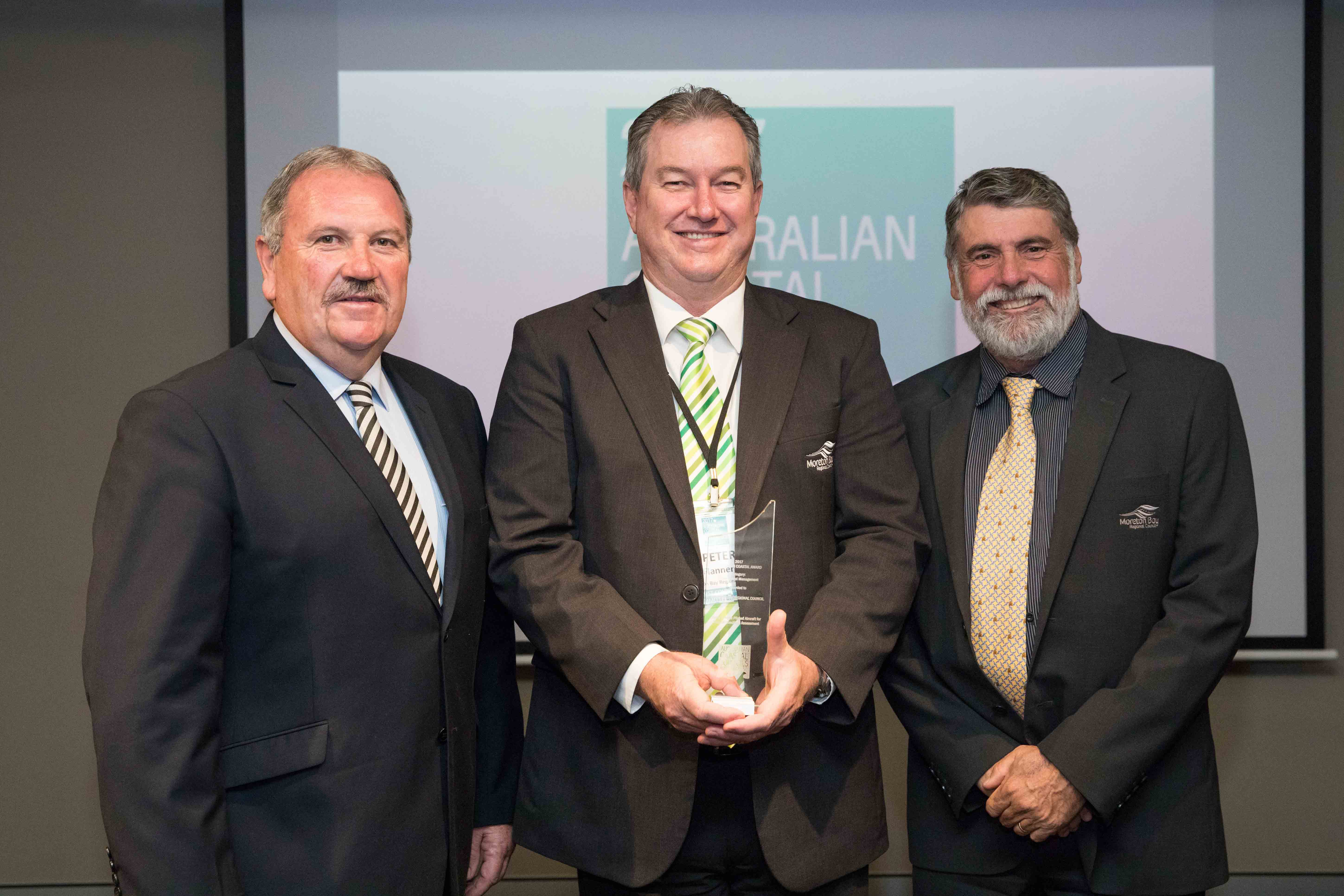 Wave of support for Moreton Bay seawall study
Photo Above : (From L to R) Barry Sammels, Cr Peter Flannery and Mayor Allan Sutherland
Moreton Bay Regional Council has claimed a hometown victory at the 2017 Australian Coastal Councils Conference in Redcliffe after it took out top honours last night for its innovative use of remotely-piloted aircrafts to study seawalls along Moreton Bay.
Council received the Planning and Management award on the final night of the conference, which saw more than 100 delegates from across Australia tour some of the region's coastal areas such as Redcliffe, Beachmere and Bribie Island during the three day event.
Mayor Allan Sutherland accepted the award on behalf of council together with Asset, Maintenance and Construction Spokesperson Councillor Peter Flannery.
"In 2016, council staff embarked on an innovative project utilising remotely-piloted aircraft technology to gather comprehensive data on our region's seawall infrastructure to help protect and maintain our coastal areas," Mayor Sutherland said.
"Through the use of this technology, council was able to capture data covering more than 31km of seawalls in the region in just three days, including a number of locations that would've otherwise been inaccessible on foot.
"For the first time ever, council was also able to capture additional data like vegetation lines and beach movements to help understand how sand erosion and replenishment impacts our coast.
"To be recognised by the Australian Coastal Councils Association while hosting the 2017 national conference is a fantastic result, a credit to our staff and reaffirms our ongoing commitment to strengthening Moreton Bay's coastal resilience."
Councillor Flannery said data collected from the study was now being used to help council proactively manage and maintain its coastal infrastructure.
"With the data captured, council is better equipped to monitor its seawalls now and into the future," Cr Flannery said.
"It's valuable, tangible information that is now also being used to help inform important documents for our community like the planning scheme and our Coastal Hazard Adaptation Strategy."
Mayor Sutherland expressed his appreciation to the Australian Coastal Councils Association for their support and said council was proud to host the 2017 conference at Mon Komo hotel in Redcliffe, noting that not only was it an opportunity for all coastal councils to share ideas on improving coastal resilience, but a boost for the local economy.
Barry Sammels, Chair of the Australian Coastal Councils Association, said the Australian Coastal Awards were established to acknowledge the achievement of individuals and organisations that have made a significant contribution to the Australian coastal environment, settlements and sustainability.
"The awards are intended to raise community awareness of the importance of the coastal zone and to encourage coastal planning and management practitioners to strive for excellence," he said.