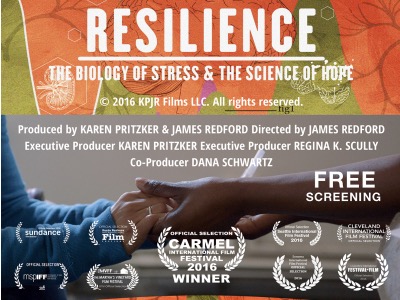 Rise: The biology of stress and the science of hope a documentary films to be shown at State Parliament May 25
RiSE QLD Advocacy and Support Network Inc. in partnership with State Member for Morayfield Mark Ryan, supported by TowieAz and the CFMEU is hosting a screening of 'Resilience', a documentary from USA.  
'Resilience', directed by James Redford and Executive Produced by Karen Pritzker, will be screened on 25th May 2017 at Queensland State Parliament. Tickets for this event was via invitation only reserved by Mental Health Professionals, Members of Parliament and Policy writers. 
Researchers have recently discovered a dangerous biological syndrome caused by abuse and neglect during childhood. As the new documentary 'Resilience' reveals, TOXIC STRESS can trigger hormones that wreak havoc on the brains and bodies of children, putting them at a greater risk for disease, homelessness, prison time and early death. While the broader impacts of poverty worsen the risk, no segment of society is immune. Resilience, however, also chronicles the dawn of a movement that is determined to fight back. Trailblazers in paediatrics, education and social welfare are using cutting-edge science and field-tested therapies to protect children from the insidious effects of toxic stress—and the dark legacy of a childhood that no child would choose.
7 STRATEGIES:
Build Resilience
Change begins by building resiliency. When we respond with compassion to those who have experienced trauma and give families the tools they need to raise healthy children from the start, we develop systems that enable people to thrive, adapt and cope despite trauma.
"We need to do more than give parents information and advice: we need to build their capabilities" - Dr. Jack Shonkoff, Harvard University
Change the discussion from "what's wrong with you?" to "what happened to you?"
Neuroscience teaches us that the brain is constructed through an ongoing process that begins prenatally and continues into our twenties. While ACEs undermine this development and negatively affect the foundation of the brain, resilience can help repair these structural problems and allow a person to "bounce back" from the trauma or adversity they had experienced.
"An ACE score of 4 or more makes children 32 times as likely to have problems in school." -Dr. Nadine Burke Harris
Recognize toxic stress as the largest public health issue of our generation.
We know that Adverse Childhood Experiences (ACE's) can have long-term effects on the utilisation of our healthcare system. By making an effort today to equip our children and families with the tools they need to overcome ACEs, we can cut down on the costs that future generations will have to bear. Eliminating toxic stress among children would have a profound impact on the health and wellbeing of individuals and entire populations.
"If all day long you feel like a truck is coming at you, day after day after day, that's going to take a toll on the body." - Dr. Victor Carrion, Stanford University
Build critical collaborations
We know that the consequences of ACE's cut across professional disciplines, personal relationships and all socioeconomic demographics.
"We tend to divide the world of mental health separate from the world of physical health, but the body doesn't do that." - Dr. Nadine Burke Harris, Center for Youth Wellness
Promote safe, stable, nurturing relationships & environments
If parents are struggling, other adults – like teachers or coaches – can be present to provide the safe, stable, nurturing relationships that a child needs. We can also invest in supports and promote policies that strengthen families and set them up for future success.
"Scientific research points to the presence of a stable, caring adult in a child's life as the key to building the skills of resilience."  - Dr. Jack Shonkoff, Harvard University
Prevent intergenerational transmission of toxic stress
To create good outcomes for children we need to support adults. Resilience makes very clear the intergenerational effects associated with ACEs and trauma. What a parent teaches their children will get passed on to their children's children.
"We need a two-generation approach recognizing that the child is experiencing ACEs now and the parent likely experienced ACEs during their own early years." Angelo P. Giardino, M.D., Ph.D. Texas Children's Hospital
Promote hope
One great takeaway from 'Resilience' is that there is always hope! Science shows the effects of ACEs are not permanent.
"Understanding trauma gives hope, being understood aids in healing." Bronwyn Rees
David Bradford, Director of Training, DaV'ange Training, Bronwyn Rees, CEO Founder and Will Swan of RiSE QLD will take questions post screening on the collaborative approach needed through education acknowledging the lived experience of trauma and adversity.
We are very excited to screen 'Resilience' and to bring together teachers, police officers, social service workers and Government officials to learn about the brain science of adversity.  
Local State Member, Mark Ryan and Minister for Police, Fire and Emergency Services, Minister for Corrective services said " I support the great work RiSE Queensland are doing in our community, and I look forward to viewing Resilience"  
If available to show your support on the day we would like to encourage you to meet us at Speakers Corner located in the George Street forecourt just outside of Parliament House at 2:30 pm for a Q&A after the viewing to engage in an open discussion on where to now.
What are we waiting for? The time for change is now! #toxicstress #traumainformed #childhoodtrauma #ACE's