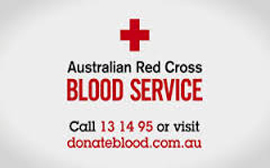 Red Cross Blood Bank Spoke Representative Liam Richardson on Morning Magazine 17-05-2017
Red Cross Blood Bank Spokesmen Liam Richardson talks about a shortage of type O blood types. The blood service is running short in this blood type.
The Australia Statistics show that only 10% of Australians have O negative blood and statistics show that people with O positive blood are in a much higher group percentage of 47%.
Liam also mentions that people with O negative blood can give blood to anyone. Those people who have O negative are called universal blood donors.
For a story related to the Blood Bank Donor mobile locations you can visit http://1015fm.com.au/2017/01/red-cross-mobile-donor-locations-in-the-moreton-bay-region-and-why-donate/