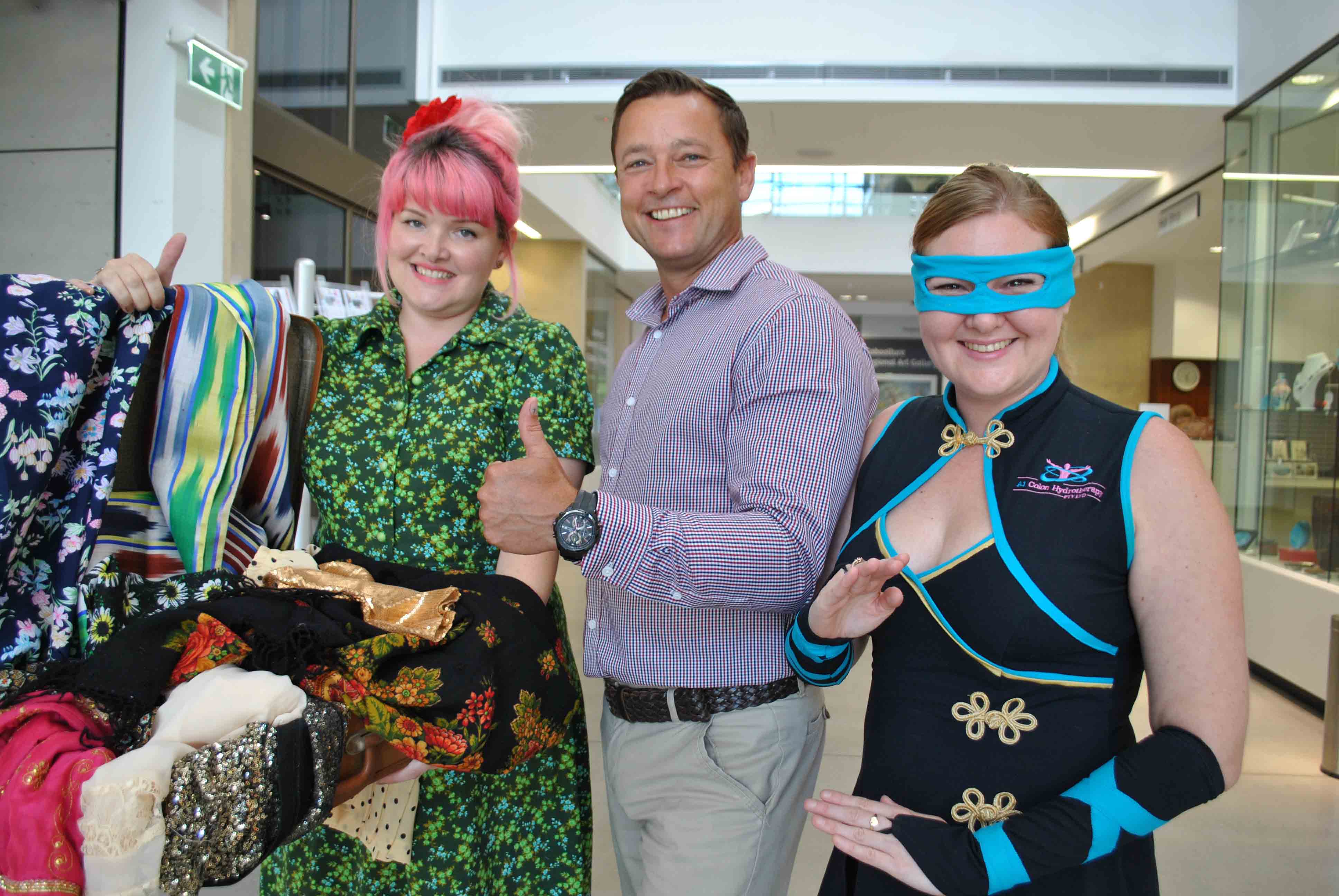 Ninjas and vintage clothes bring in 2017 at Caboolture Hub
Photo above : From L to R - Gin Rummy Vintage owner Melanie Brady, Cr Adam Hain and Happiness Ninja founder Jamie Brown
A happiness ninja and lover of vintage clothes have helped to kick-start 2017 for the Moreton Bay Region's home of creativity, the Caboolture Hub.
Two new local businesses, The Happiness Ninja and Gin Rummy Vintage Clothes, have helped the creative Mecca celebrate the start of the new year by being selected as its two newest creative studio tenants.
Moreton Bay Regional Council Division 3 Councillor Adam Hain said the two local start-ups would take up residence in dedicated creative studios at the Caboolture Hub, which include the services, convenience and facilities of a professional space without the overheads.
"Being a former business manager, I know just how important opportunities like this are for local businesses and start-ups in terms of taking that vital first step," Cr Hain said.
"These creative studios are the perfect location to showcase artwork or a new business, and gain maximum exposure to thousands of visitors each week.
"With low overhead costs, access to free Wi-Fi and existing office infrastructure situated right next to one of the region's most impressive art galleries, it means that both our new tenants can focus on doing what they do best.
"These studio spaces are on display to the public, so we can watch on as the new tenants use their studios to pursue their own creativity and hopefully take the leap from start-up to a thriving small business."
Happiness Ninja founder Jamie Brown said even though 2017 was only weeks old, she was already putting the her new creative studios to good use.
"The Happiness Ninja focusses on creating happy communities through creative pursuits, and my new home at the Hub fits in perfectly with that goal," Ms Brown said.
"I'll be using the studio to hold mindfulness meditation classes (every Tuesday and Thursday, 6pm) and interactive group happiness workshops, as well as seeing one-on-one clients. 
"Everything I do is related to educating others on how to attain and maintain high levels of emotional and mental health wellbeing, through proven and creative methods.
"Not only that, it's exciting to be able to pursue my goals alongside other creative people with a diverse set of skills.
"I can't wait for 2017 has to offer."
The Happiness Ninja has also been nominated for two categories at this year's Moreton Bay Innovation Awards: Sesame Lane - Emerging Innovation and UnityWater - Moreton Bay Showcase.
Gin Rummy Vintage owner Melanie Brady said her new creative studio was the perfect place to share her vintage wares and custom-made upcycled clothing.
"For many lovers of vintage things, half the fun is being able to rummage through racks of clothes and shelves to find that perfect dress, accessory or pair of shoes," Ms Brady said.
"With the new studio, I now have a brick and mortar space where I can share vintage clothes from all over the world that I've given a special twist with local and visiting shoppers.
"If you're in the region, I encourage you to drop by my studio and find something special!"
Cr Hain said the tenancies were part of council's ongoing commitment to supporting local start-ups and to utilising the $25 million Caboolture Hub as a hive of creativity.
"They'll join an exciting array of existing tenants that already includes videographers and artists," Cr Hain said.
"Beyond the studios, our new tenants will also be able to use the meeting rooms and access free resources at the Hub's popular public library.
"The creative industries generates more than $30 billion each year towards Australia's economy, and with more than 285,000 people walking through hubs doors in 2015/16, the Caboolture Hub has established itself as a platform for local artists, innovators and entrepreneurs.
"Together with the region's new creative festival Generate right here at Caboolture Town Square, there's no doubt that creativity has a home right here in Caboolture and Moreton Bay Region."
A new studio vacancy will open up in April 2017, and prospective tenants can contact the Caboolture Hub for more information.
For more information on the Caboolture Hub and its facilities visit www.moretonbay.qld.gov.au/caboolture-hub or phone 3205 0555.