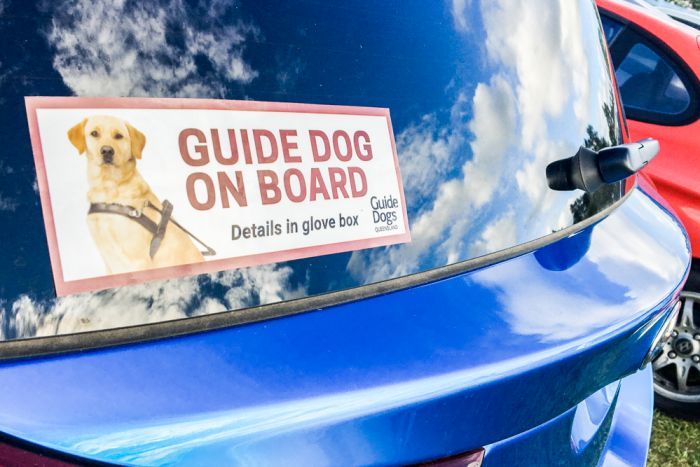 'Guide dog on board' Sticker guides help during an emergency
A new bumper sticker has been launched to alert emergency responders that a Guide Dog and its vision-impaired handler might be inside a vehicle involved in a traffic accident.
Police, Fire and Emergency Services Minister Mark Ryan today marked International Guide Dog Day by unveiling the new sticker designed to alert emergency responders and guide them to an information card in the vehicle's glove box.
The idea of a worried handler, the Guide Dog on Board sticker comes with a personalised information card which has details and emergency contact numbers for both the handler and dog.
"This is a fantastic idea that has been welcomed by our emergency services teams who now know to look for the bumper sticker at the scene of an accident," Mr Ryan said.
"Not only will this sticker and the glove box information card provide vital information during a difficult and traumatic event, it will also offer some comfort to worried handlers that their dogs will be looked after following an accident.
"International Guide Dog Day is a wonderful opportunity to remind people of the incredible role Guide Dogs play in the community and how much these hard-working and specially-trained dogs improve the lives of their handlers."
Guide Dogs Queensland's Team Leader of Guide Dog Services Jason Stankoski said the new initiative was created to ensure those first on the scene of an accident know how to help quickly.
"As much as we rely on the help of the community to ensure our Guide Dogs are able to carry out their vital work, we also rely on everyone to help us keep them safe should they need it," Mr Stankoski said.
"Over the years we have been very fortunate that none of our dogs have been in this situation and we hope none ever are, but the bumper stickers are designed to assist emergency crews and civilians on the scene if the worst does happen.
"Our Guide Dogs are truly invaluable and change lives every day, so we need everyone to be aware of what these stickers represent so they can be prepared to help if they ever need to."
Queensland Fire and Emergency Services (QFES) Commissioner Katarina Carroll said the stickers would provide helpful information for emergency response crews.
"The nature of road crash response is very unpredictable so the more information our fire and rescue crews have, the better," Ms Carroll said.
"These stickers, and the subsequent information card, will provide our crews with a better understanding of the situation they are facing so they can provide the best care and response to all involved."