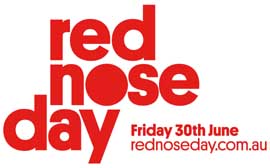 General Manager of Marketing for Red Nose Day Yvonne Amos talks on Morning Magazine 31-05-2017
Yvonne Amos talked about Red Nose Day on the 30th of June.
Yvonne said that shopping at Best & Less, Big W and Cua branches will help with Red Noses Research and Education. Yvonne also talked about there being a great disco which is for children under the age of 5, since SIDS was diagnosed the Red Nose foundation has put 16 million into research for the root cause. for all who don't know what SIDS is, SIDS is Sudden infant death syndrome.
if you would like more information about the 6 step Safe Sleeping Practice you can visit https://rednose.com.au/section/safe-sleeping
You can also visit here for anymore information about Red Nose day https://rednoseday.com.au/